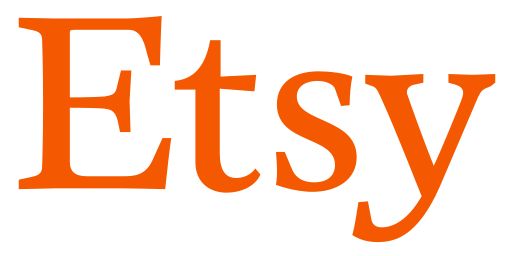 The mere fact that you are reading this article says a lot about you – you are a super-creative, artistic soul wanting to get your Etsy shop noticed by the right people. 
So, how do you succeed in Etsy?
For starters, let's look at a few statistics. Etsy has been gaining momentum over the past few years. Only in 2019, it boasted 2.1 million active sellers and over 60 million products. 
These figures tell you that amazingly creative and unique products are not enough for you to succeed on Etsy. To stand out among millions of other sellers and boost sales, you will need to observe your Etsy store as a business. And, what every business needs is a solid branding strategy. 
Now, what is the first thing you notice when you encounter a brand for the first time? Let me guess – the brand's logo, colors, fonts. In other words, customers evaluate products based on their visual appeal.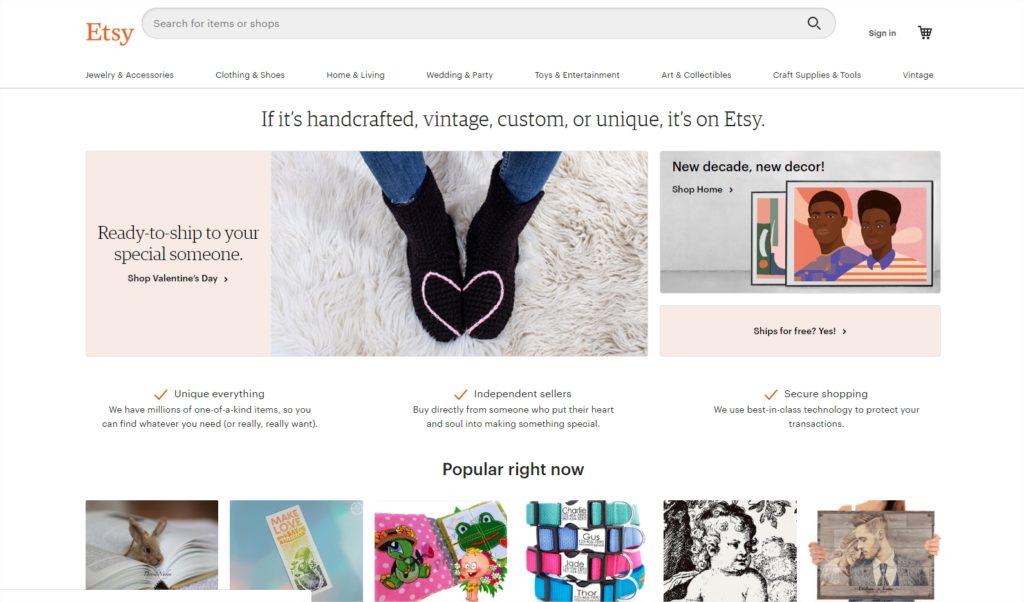 That is exactly where graphic design shines. Your store's visual assets define your missions and values and, above all, boost brand awareness and memorability.
Now, if you're not an experienced graphic designer, you probably have a lot of questions, such as What visual assets do I need to boost my Etsy shop? What tools do I need to design my store? or Where do all those people on Etsy find those gorgeous cover photos?
Kick back, relax, and grab some popcorn because we are going to show you how to unlock your creative genius and design a lovely Etsy shop.
Understanding the Key Elements of your Visual Brand 
When using graphic design for your Etsy store, the rules are simple – good composition is critical for user experiences. Every visual asset, from colors to images, needs to be consistent and in harmony. 
For starters, let's learn more about the basic visual brand elements and their impact on your Etsy store's success.
Your store's theme is tightly related to your brand. A theme defines your brand. Are you after a vintage style? Minimalistic? Maybe modern? A theme impacts other design elements, so make sure it reflects your brand's personality in the right way. Above all, make it authentic.
If KFC's logo were yellow and green, instead of red and white, would it still be as powerful as it is right now? Probably not. The reason for that is simple – every color has its specific meaning and purpose. You need to choose the right colors – ones that reflect your brand personality and resonate with your audiences.
For example, red is the most passionate color. Blue is tranquil, stable, and trustworthy. Green is natural and prosperous. Black is modern and sophisticated, while white is pure. Yellow is the happiest color in the color spectrum, while orange is playful and youthful. 
When choosing a color palette for your Etsy shop, choose colors that reflect your online brand's personality in the right way. Don't go overboard with colors. Using 2-4 colors is enough. Above all, they need to be pleasant to the eye, harmonious, and consistent. 
If you ask me, typography itself is a kind of art. Just like with colors, you need to choose fonts that will present your products and brand personality properly. For example, if you want to emphasize the artistic or feminine side of your brand, you may use script fonts that imitate handwriting. For bolder and modern designs, display fonts may be a perfect option. 
Once you choose the right font, apply it consistently across your store. Never use more than 3 fonts, as you want to make your pages memorable and trustworthy. Above all, make sure your fonts are legible on all devices.
Lines and shapes also tie to particular brand traits and emotions. For example, rounder shapes are always considered warmer, friendlier, and feminine, while straight ones stand for strength and masculinity. 
Ensure your Etsy Store Reflects your Brand Accurately
Guys behind Reportz, a digital marketing reporting tool, emphasized in a recent article how graphic design boosted their brand presence. Namely, they created 20 icons that have significantly boosted their brand perception and design workflow. The icons are tailor-made, using their brand's colors, shapes, and illustrations.
Similarly, graphic design is an important part of your Etsy store. Once you have chosen your most critical brand elements, it is time to style your Etsy store that will reflect your brand values.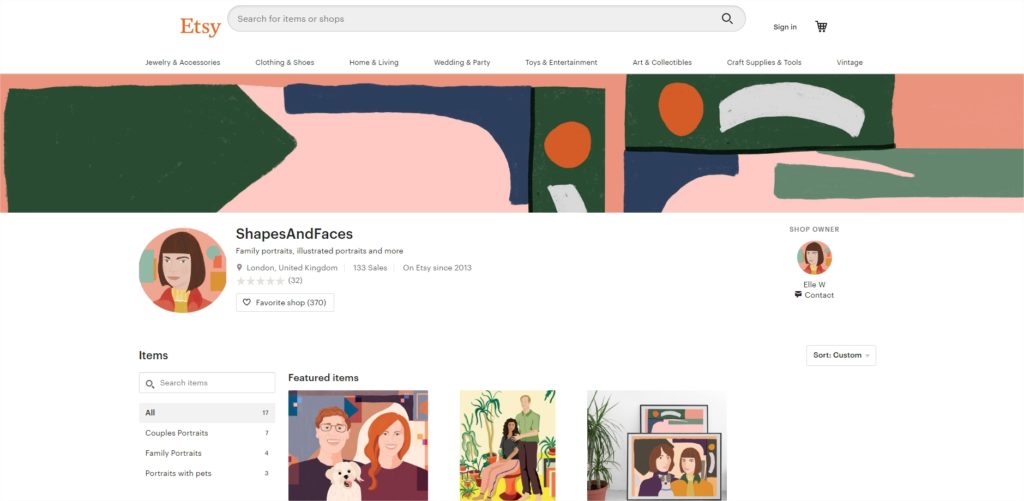 Cover photos
Consider your cover photo your Etsy store's storefront. It will grab shoppers' attention, reflect brand values, and inspire people to buy from you. Similar to physical storefronts, cover photos spread the entire width of your store. This is one of the most significant visual elements of your brand, helping you bring your brand message to life. Above all, this is an opportunity for you to make a big statement about your brand and its personality, so do what you love the most- unleash your creativity.
Now, you can create a banner photo using a wide range of tools, from Canva's Etsy Banner Layouts to Adobe Photoshop. Vexels offers a wide range of ready-made banner designs you can adapt to your store's needs. No matter what tools you use, ensure your banner photo is high-quality. Etsy has two rules when it comes to the size of your photos – a shop banner should be760 x 100 px, while a cover photo needs to be 3360 x 840 px. Above all, make sure your cover art looks great from all kinds of screens.
Consider updating your banner photo to stay up-to-date and engage audiences. For example, you could use it to inform customers about your deals and discounts or showcase your trending products.
Your logo
Your logo is the next crucial element you will want to create. It is the foundation of your brand and the first thing a customer will remember. Precisely because of that, your logo needs to be clear, simple, and memorable. Avoid trends – choose logo design solutions that will not go out of date soon. Just like with your colors, your logo needs to stand for your brand's personality, traits, and values.
There are many tools that may help you create amazing logo designs yourself, including Vexels. In their Logos section, you can find thousands of amazing logo designs, irrespective of your industry. You just need to add your name or initials and you are all set.
Shop Icon
Your shop icon as immensely important for your presence on Etsy, given that it is going to appear everywhere, from shoppers' feeds to your homepage. As such, it helps you increase brand awareness, tell customers who you are, and build strong relationships with them.
For example, CaitlynMinimalist chose a charming and mystic illustration coupled with bold letters that emphasizes the authenticity of their products. On the other hand, JLbyJanetLeigh goes with her initials, using black letters on a clear, white background. Vegetabowls chose their product photo as a shop icon to attract customers.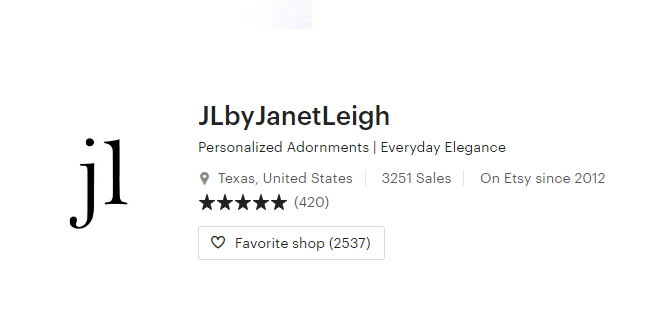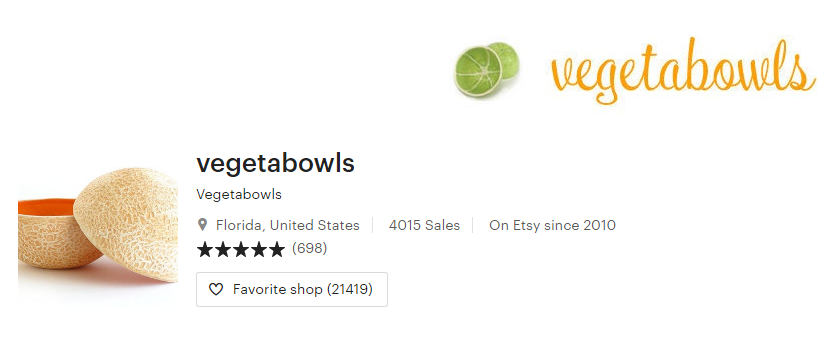 Whatever option you choose, make sure it is unique and instantly recognizable. It needs to look good on all kinds of screens. Use minimal text and clear and transparent background. As for the size of your shop icon, Etsy's requirements are 500×500 px.
Product photos
The first thing that grabs the attention of buyers on Etsy is quality product photography. When purchasing online, your customers cannot touch, hold, or feel your products. Instead, they rely on the product photos you provide. 
There's no need to take professional photos for every product you post, you can use PSD Mockups that are super easy to use templates where you post the design element and showcase the real deal.
Observe product photos as your brand's visual representation. For example, if your brand and products are vintage, then your photos should also be vintage. If you go with sleek and minimalist photos, but all your products are retro, then you have missed the mark. Inconsistencies in visual branding harm user experiences and your brand image. 
It is important to emphasize that you should be on-brand and consistent. If you look at the Vegetabowls shop on Etsy, you will see that they are using clear backgrounds and use the same filters in every photo they take.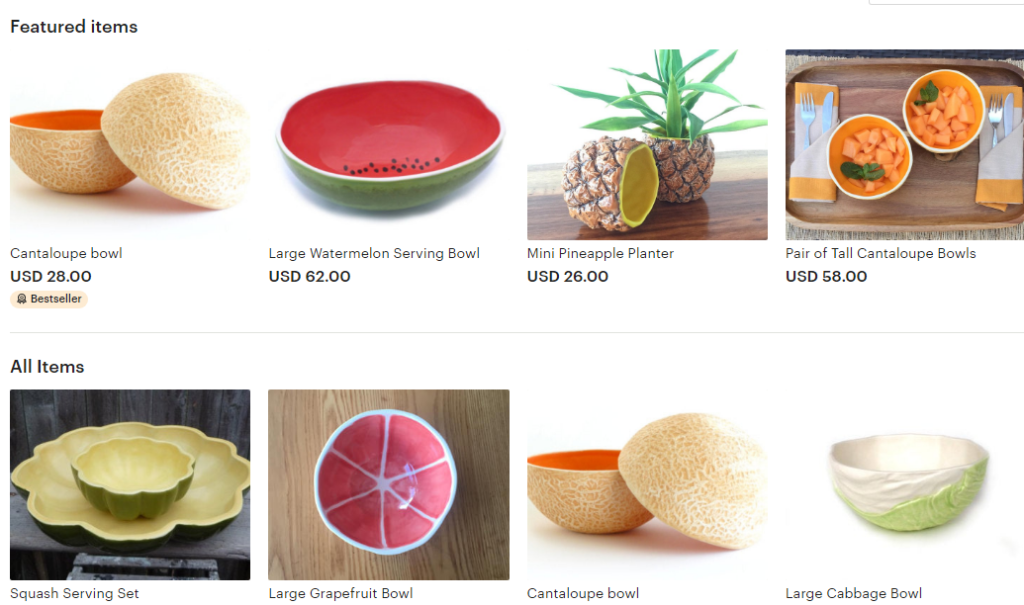 Ready to Apply these Graphic Design Tips to your Etsy Store?
What you can conclude from the abovementioned tips and examples is that succeeding in Etsy goes far beyond selling creative work. To grab people's attention, get people to remember you, and boost sales, you will first need to brand your Etsy store. And, that's exactly where graphic design shines. The good thing is that graphic design is also all about creativity. So, you can use your creative skills to design a store everyone will love. And, I hope these tips will serve as your solid starting point. 
Any questions on using graphic design to design an Etsy store? We're listening!