What's Vexels? 
Vexels is a Graphic Design Library where anyone can find whatever they need – whether you're a Graphic Designer, a Merch Seller, or an Agency, we have something for everyone.
On Vexels you can explore and discover the best ready-made graphics for personal or commercial projects – from versatile backgrounds, trendy icons, and fantastic logo templates to print-ready designs and everything in between. We've got more than 60,000 awesome design resources that will save you lots of time and money on all your projects, and we have powerful tools like our Mockup Generator that will take your projects to the next level.
So, what can you do with your Pro Subscription? 
Our Pro Subscription's great for all kinds of users, from freelance graphic designers, small business owners, marketers, and more! With the Pro plan, you'll get access to download 200 designs per month, from our collection of over 70.000 designs & graphics, all available for personal and professional use. 
In case you're new to vector designs, here's a quick guide to file formats, graphic type and programs to use. 
First of all, what's a vector image?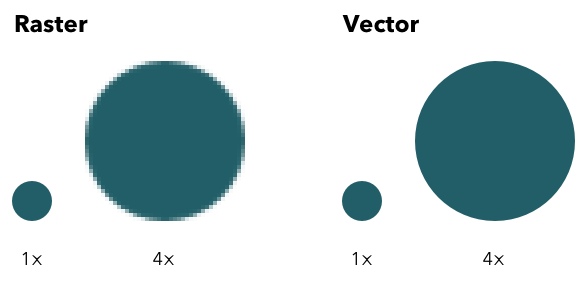 Raster files are image formats that store data in individual pixels, where the most common file types to use are PNG and JPEG images. PNG graphics are commonly used for placing logos on branding assets like business cards, business presentations, and other projects that won't require a dimension change or scaling of the image, where JPEGs are great for things like photographs. When working with raster files, it's highly recommended to know for certain what dimensions your file will need for your project, as it will not scale well if you later have to change up the image size.
Vector Files are image formats that store data as geometric descriptions, which basically means that it's a very scale friendly graphic. In other words, vector files are perfect when you're not quite sure what size you'll need, as they can be resized without losing any image quality. The most common vector file types are svg, eps, pdf and ai. Vector files are super easy to edit if you have basic Design Software knowledge, since they're saved in separate shapes that are easily editable in size, shape and color.
File Types: 
To start off, you'll always get a zip file, which is a compressed folder filled with our graphics, so in order to access the design files you'll have to right click and export this Zip Folder with either Winrar (for Windows & Mac) or a similar file extractor. 
Once you export these zip folders, you'll gain access to the actual graphics, which can be a mix of any one of these file types, depending on the graphic:
PNG:
PNG stands for Portable Network Graphics file and is an image that not only supports transparency (meaning it can have a transparent background), but it can handle detailed, high contrast images very well. JPEG is a whole other story, as it's similar in the way that it represents detailed images well, but every time you open it up and save it, you'll lose image quality, whereas with a PNG that will never happen. Another downside to JPEGs is that they don't support transparency, so if you're looking to create logos or icons, this may not be the filetype for you.
[Important note on PNG & JPEGs: these images do not scale well, if you're looking for a design but don't know what size you'll need, vectors are the way to go]
PNGs
are great for: 
Images with text

Web & Software Design

Design Elements on Graphic Projects
SVGs:
SVGs are vector graphic formats, which are highly used on Website design, App design and Software design as they have great responsiveness, scalability, and image quality. As we mentioned earlier, being vector graphics means they're resizable, can handle transparent backgrounds, and support high-quality images.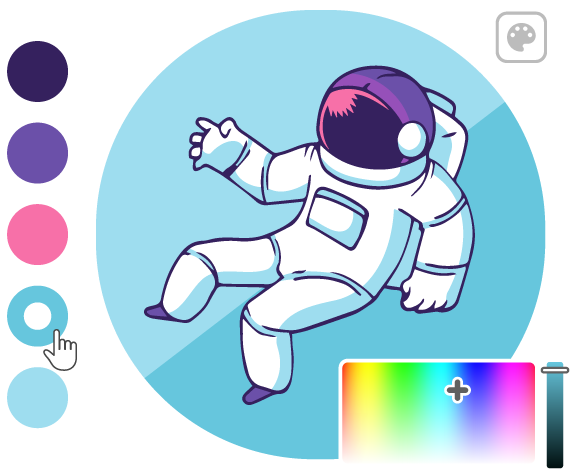 PDF & EPS:
While we normally use PDF files for documents, they're very useful for graphic design as well, as they act as vector formats, which means they can easily be scaled to whatever size you need, they handle transparent backgrounds. EPS & PDF files are vector formats designed specifically to create high-quality graphics for printing and are considered universal file types, meaning they can be opened up in most design editors that support vector formats.
PDFs & EPS
are great for:
AI:
AI files are the official file type supported by Adobe Illustrator, which is a vector graphic format and by far the preferred format for designers. Along with all the convenient vector image qualities, when opening up these files on Illustrator or Inkscape, you'll be able to have fun with your design and edit all you want, whether you want to add text or change up some shapes and colors. AI files have the benefit of layered separation, meaning the images can be separated in layers easily and edited accordingly.

We've got tons of ready made Illustrator templates for businesses and promotional purposes, check them out! 
AIs
are great for:
Digital Art Illustrations

Documents – Essays – Certificates
PSD:
PSD files are layered images used in Adobe Photoshop, where users can select and edit by layers. PSD files are raster images, meaning they're not vectors and do not support scalability without losing image quality.
PSDs
are great for:
Photo Editing

Editable Graphics

Graphic/Design Types: 
Icons:

Browse our icon collection, great for website and software design, graphic design projects, blog posts, social media marketing, business presentations, and more! Edit our icons using our online editors or with any vector design editors (like Illustrator or Inkscape). 

Logo Designs: We've got tons of editable logo templates, perfect branding elements for all kinds of business and industries. You can download some of our pre-made templates or use our Online Logo Maker. 
Posters: We've got Poster Design Vectors and our very own Online Poster Maker, where you can create your posters for seasonal and company events, business communications, and more!
Banners:

Use our professionally designed banners for your social media posts, website headers, YouTube covers, blog posts, Facebook & Google Ads, and more! Edit them using any kind of vector supporting software. We've got all kinds of banners, going from sales & discount, to season's greetings, perfect for all your business needs.

Backgrounds:

Our Backgrounds are great for websites, graphic design projects, business presentations, social media and more. Available in editable and scalable ai format, along with a pre-made jpeg file. 

Characters:

Create your own scenes using our Character Design Sets, perfect for posters, website designs, app & software design, banners, graphic design projects, and more.
Programs and Tools
Last but not least, Programs and Tools we highly recommend in order to take advantage of our graphics and help create the best version for your projects: 
Adobe Illustrator:
Used by designers and artists, Illustrator is the preferred software to create high quality vector images. Illustrator is highly recommended for creating company logos, promotional material, digital art, infographics, and more. The down side? Like most Adobe programs, it's pretty expensive to purchase in order to start creating. 
Supports: ai, svg, eps, pdf
Inkscape:
Inkscape is the free version of Adobe Illustrator, meaning it supports the same file types and can be used to create the same images. Seeing as it's an open source program, it's not as user friendly as Illustrator but once you get the hang of it, it's pretty easy to get creative with it. 
Supports: ai, svg, pdf, eps
Adobe Photoshop:
Photoshop is great for editing and enhancing images, creating graphics for your business or website, digital art, digital or printed graphics and more. This program allows for users to edit within layers, adding textures, images, lighting effects, and more.
GIMP:
GIMP is an open source program and the free version of Photoshop, which means you could open up the same file types, edit them in the same way, create and edit layers, and more. It's super similar to Photoshop and worth giving a try if you're looking to work with raster images.
Now that you know how to work with our graphics, you can start enjoying your Subscription! 
If you have any questions, feel free to reach out to our customer support team. We're always happy to help 🙂