So… What are the most profitable niches for Merch by Amazon?
This is one of the most Amazon-related search inquiry that… doesn't have a definitive answer.
Amazon is an ever-growing platform, with more and more manufacturers interested in selling their products using it. With the constantly growing number of products on Amazon, finding the most profitable niches is also relative because every seller's profit is relative and depends on many aspects.
For instance, if you sell your merch for $10 with 1000% markup, selling around 100 units a month, you'll get $1000 gross income. However, if you sell your merch for $500 with a 25% markup, selling around 10 units a month, you can make around $5000 gross income.
[Get started in Merch with our Complete 2019 Merch Sellers Guide]
Besides profit and markup aspects, you should also consider the seasonality of your merch. Are your products in-demand all year around or maybe they sell better during the Christmas holidays?
As you can see, finding the most profitable niches for selling merch on Amazon is very relative. However, there's a general statistic of the highest-performing merch categories on Amazon that show which niches perform relatively well on a regular basis.
According to Amazon, right now there are over 20 categories to sell your merch, including such niches like electronics, fashion, household merch, books, etc. According to Statista, here's how the most popular Amazon categories and niches perform (as of February 2019):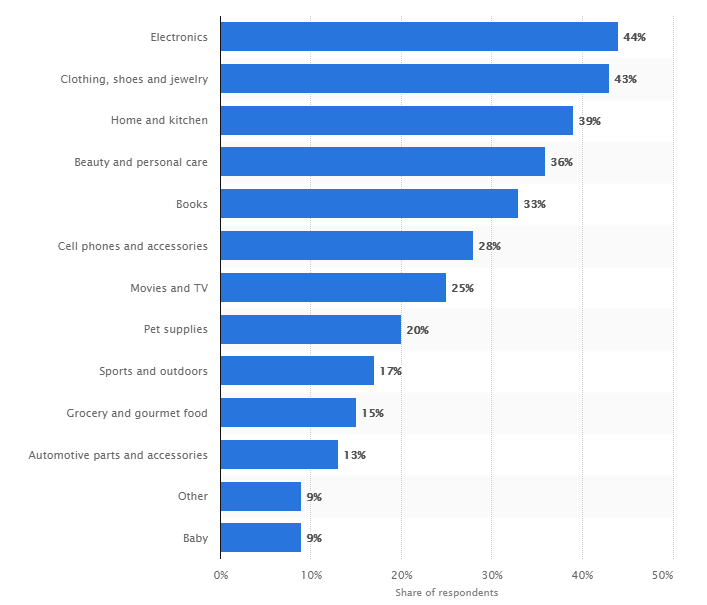 Image credit: Statista
Statista claims that this is the overall statistic of how many Amazon shoppers are interested in each category and how often they buy the merch from under every listed Amazon category.
As you can see, the top three categories are very competitive, so if you're trying to sell your merch under one of these niches, you will have to face some major rivalry with top sellers. And, if you are a small manufacturer, selling T-shirts and other merch with your print, you'd need some very effective tools to stand out.
Luckily, Amazon came to the rescue of small manufacturers, helping them to promote themselves more effectively with Merch by Amazon platform. However, among the creators on Merch by Amazon, there are not only small sellers but big brands, like Marvel and Disney, too.
So, how can you make your products stand out and make them fit those Top Amazon niches and increase your profit? Here are some facts and ideas.
Electronics and Its Niches
Electronics is one of the most high-performing and the most competitive category on Amazon. When it comes to Amazon Bestsellers, 18% of the top sellers represent the Electronics category, which constitutes the majority.
Amazon Electronics is the category that also has a huge amount of niches, including:
Accessories and Supplies;

Car & Vehicle Electronics;

Computer & Accessories;

GPS, Finders & Accessories;

Office Electronics, etc.
Among the top sellers, you will find Amazon itself, with products like Alexa, Kindle, and others. Thus, this is a very competitive category to enter, but you can help your product stand out by having it listed under several niches (i.e. if you're selling hair driers, you can list them in Electronics as well as Beauty & Self Care categories).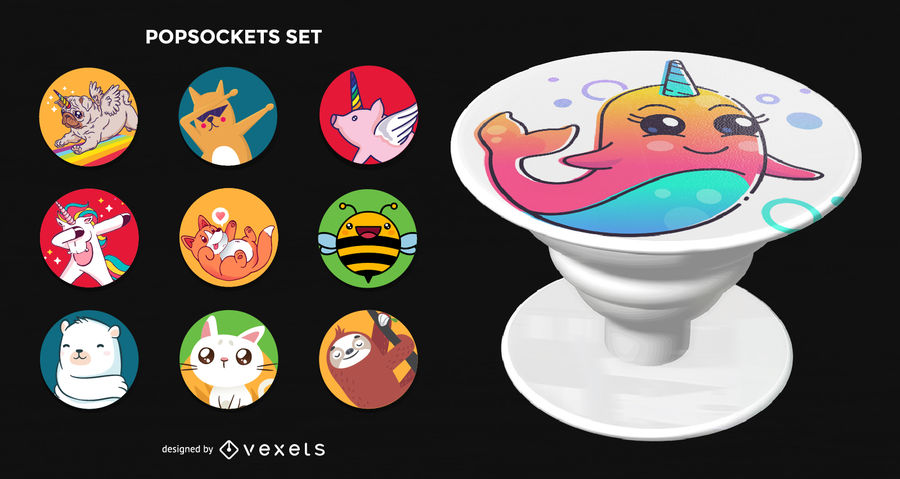 As a creator on Merch by Amazon, you can fit this category by selling your designs on PopSockets in the Accessories and Supplies niche. Right now, Merch by Amazon allows creators to use their prints for producing PopSockets, however, there are plans to increase the number of items and templates for them that will later be used by creators. Besides, PopSockets are one of the most on-demand items in this niche.
[Merch Ready Designs at a low price here!]
Fashion and Its Niches
Fashion is one of the best-performing Amazon categories. Being not the most obvious place to buy clothes online, Amazon has shown amazing results, even surpassing Walmart in terms of selling fashion-related items:
Jewelry, clothes, and shoes have become the most profitable niches on Amazon, showing the following results:
Apparel sales have brought Amazon $5.5 billion;

Show sales brought $3.7 billion;

Jewelry sales brought around $3 billion income to Amazon over the past year.
In terms of selling your merch under this highly competitive category, you help your products stand out the same way as with the Electronics category. Fashion category, however, has more niches, like Men's Wear, Women's Wear, clothes and fashion merch for teens, so you can list your products using different niches. This will make your products more appear more often in search results.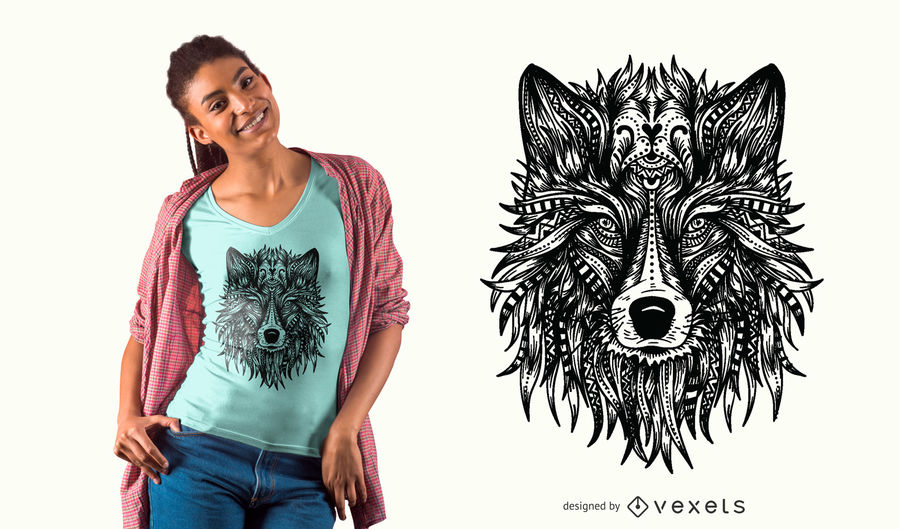 For creators on Merch by Amazon, there are multiple options for selling their prints and designs. The platform offers many templates, including T-shirts, long sleeve T-shirts, pullovers, hoodies, etc.
Amazon users often search for unique prints and designs, switching over to independent brands. So, if you're a designer who's ready to offer unique prints for fashion items, you'll fit in this category well.
Finding Your Amazon Niche
Finding your niche on Amazon does not only require taking a look at the statistics that study each category but also doing keyword research, which will also benefit while writing killer descriptions for Amazon merch later. Here are some ways for the effective keyword search for those looking for an Amazon niche that will be a suitable choice for their products:
Using Wikipedia for keyword search is a very unusual and yet effective way to find your niche on Amazon. For instance, by looking at a list of Hobbies and then searching by categories, like Indoor Hobbies or Collection Hobbies. This will lead you to the list of spheres that belong to a certain category. Pick the spheres that suit your product well and list these spheres as niches in your product description. For instance, if you sell your designs on fashion items, you can list User Experience Design as one of your niches, showing that you're ready to work with your customers to create personalized designs.

For a more in-depth keyword search, you can apply tools like Google Ads, which is an online advertising platform designed by Google. "Keyword search engine by Google Ads allows sellers to search for keywords related to their industry as well", says Peter Dickinson, a marketing head at

Flatfy

. Also, their keyword search engine can show you what's trending in the web right now and which keywords are looked up frequently. This will give you major clues on how to find your niche on Amazon.
To find trendy niches, you can also turn to all social media platforms. Discover page on Instagram, Home Page on Facebook and Twitter will give you abundant information on what Internet users are interested in.
[Check out our T-Shirt Seller's Guide here!]
The Bottom Line
The profitability of niches on Amazon is very relative, but, as you can see, there are categories that maintain good performance all year around, and you can benefit from that. Invest some time in research and try to hit as many niches as possible that are, of course, relevant to the category of your products. Having a list of niches that fit your product will help you remain relevant on Amazon and have your products listed in the top categories.
Author's Bio: Ryan is a passionate writer who likes sharing his thoughts and experience with the readers. Currently, he works as a real estate agent at Flatfy.ro. He likes everything related to traveling and new countries.