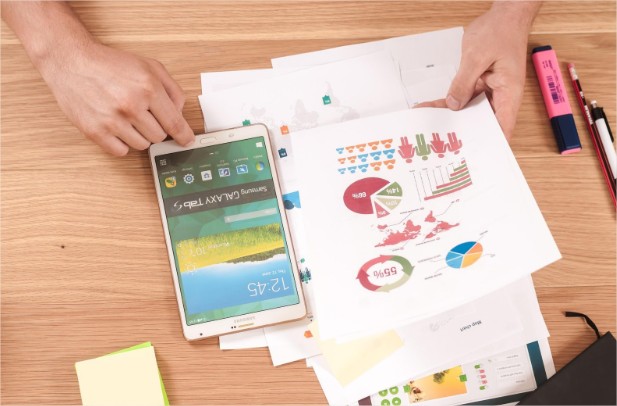 Considering that 90% of information transmitted to our brains is visual, it's true to say that humans are visual learners by nature. So it's not surprising that more and more brands are utilizing visual content to portray valuable information. 
Don't believe me. Here are some stats to blow you away.
Kissmetrics stated that articles with images get 94% more views than those without. 

Just last year, Vennage quoted that 37% of marketers were using original graphics, such as infographics, more than any other type of visual content. 

Webdam noted that posts with images receive 650% higher engagement than text-only ones.
What does all this mean?
Clearly, we are living amidst an increasing visual era. People are more likely to respond to image-based media than text. With the growing dependence on smartphones, and the constant desire to be connected with the internet, even on the move, this is by far a better route.
So there is a significant potential for generating brand identity. But the task now is to present content effectively in a way that resonates with your customers. The goal is to enhance UX by showing them something that will nurture a relationship with the viewers.
Characteristics of effective infographics
Discovering the best way to present information about your brand is challenging. Every business has a different audience. The goal is to capture the viewer's attention. Guide them through a visually compelling journey while seamlessly conveying essential information. 
The design and type of any infographic is predetermined by the information it portrays. High-quality infographics invite individuals to participate in an experience rather than merely stating facts.
Some popular types of infographics include statistical, informational, timeline, list, process, geographic, comparison, hierarchical, etc.
So how to create a stunning infographic? Here's what you should focus on:
Provide accurate information
People are going to remember what you show them, so make sure that you get all your facts straight. Do adequate research so that you come off as a reliable source of information at the end of the day. That way, customers will develop a trustworthy bond with your brand.
Create valuable content
People value time over everything else. And because there is so much content in the digital space, they are all fighting for the same spot. Therefore, it's imperative to provide something of value to your audience. Delivering irrelevant data will only push your customers away.
Maintain a balanced approach
According to thebrandgym.com, 84% skip ads on their smartphones while on the go. So if your infographic comes off as overly promotional, people may look the other way. While it's okay to promote your identity with results, no one is going to believe your stats if you keep tooting your horn.
Keep the presentation simple
The message needs to be simple and clear. A cluttered image looks messy and makes it harder for people to understand. Stick to the essentials. 
Send a clear message to consumers
Monitor the length- too long, and you could lose appeal. If there is too much information to decipher, viewers may get bored or abandon it without trying to figure out what is going on.
Be original
Plagiarism on any level is unacceptable.
Captivate the audience
The infographic should be relevant, engaging, and informational.  
Make it attractive
Utilize appropriate fonts, color schemes, and images to create a cohesive yet appealing appearance. Don't forget that blank spaces are equally as important as everything else. Give each aspect of your infographics enough room to breathe.
Why is it important to use infographics?
There are numerous advantages of utilizing infographics. Here is a closer look at some of them.
Simple presentation of information
This is an effective way of communicating with a wider audience. Images are faster to absorb as information is broken down into bite-size segments.
Consider the infographic below about the prolonged effects of sitting and standing. Often medical information is difficult to comprehend. The placement of facts in a downward manner not only makes it easy to read but mimics the shape of the spine. The content is simple, engaging, and informative. 
Source
Attracts attention
Images are much more interesting than blocks of text. A compelling infographic incorporates information with relevant text and images. With the appropriate use of color and fonts, they can make a greater impact. Saurage Research states that visuals with color can increase a person's willingness to read content by 80%. 
Aids in retaining information
The brain can process visual content 60,000 times faster than text. So infographics are a faster way to consume information. Not only do they attract a viewer's attention, but also help comprehend and retain the information better.
Facilitates brand recollection
The identity of your brand goes beyond your logo and web page. Infographics can aid in showcasing your brand. People associate images, layouts, colors, and fonts with your brand. Notice how the following infographic by Leather Skin Shop has highlighted its trendy jackets along with category, combinations and the celebrities who love to wear these. This makes it easier for customers to recall brands like these when they plan to buy such items for enhancing their closets.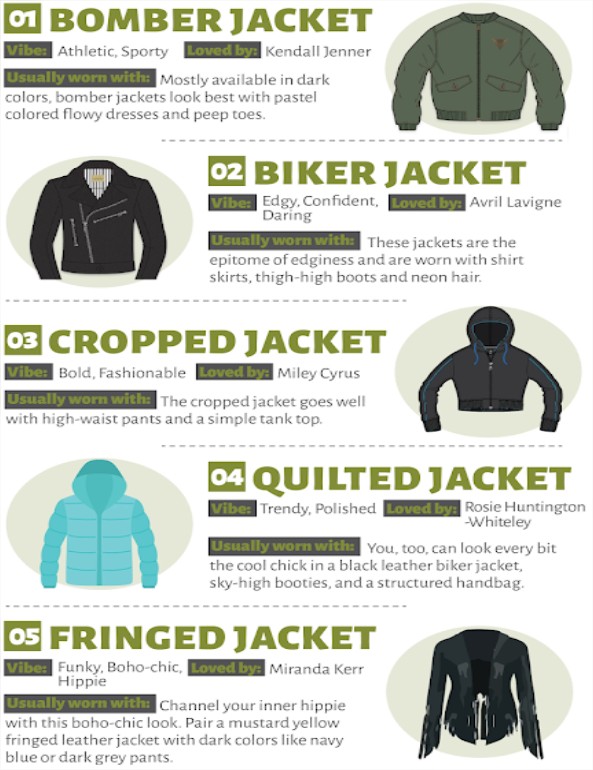 Adds a professional look
There's no negating that the use of charts, graphs, statistics, and whatnot creates a degree of professionalism. Not only do you appear as an authority figure, but the brand also gains the trust of its customers. In fact, infographics help reinforce your brand as an expert on the topic. 
Boosts SEO
Visuals such as pictures and videos are shared more than text. Therefore, infographics are likely to become viral content. That's one way of boosting your overall SEO campaign. Moreover, well-placed links can also increase SERPs.
Enhances engagement
Infographics contain a significant amount of information without overwhelming a viewer. Those with engaging content are three times more likely to be shared, especially on social media.
Consider the following example. A lot of information is available in just one block. Plus it's so easy to understand! People prefer to engage longer with such brands, possibly with repeat interactions later on.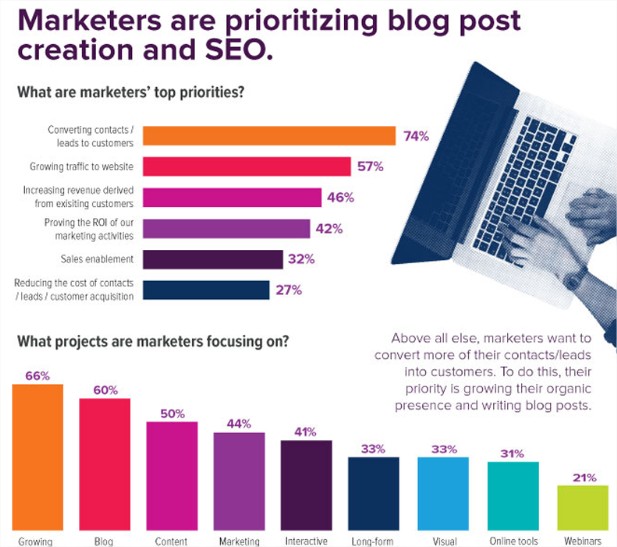 Final thoughts
Designing the right infographics can achieve more than just a way to display information. It can additionally be used as an advertising tool by uniquely communicating information. It has the power to strengthen brand identity.
More importantly, people are likely to retain visual information longer. And because well-developed infographic reflects positively on your brand, people are more likely to affiliate the message with it.
We live in a digital era where individuals are bombarded with information every day. This is your chance to form a lasting impression on your audience. Find ways to connect with them and stand out against the competition. 
About the Author:
Alma Causey is a Freelance writer by day and sports fan by night. She writes about Fashion and Tech. Live simply, give generously, watch football and a technology lover.