In this article, we'll discuss various aspects of how to sell t-shirts online on Merch by Amazon.
Anyone can be successful at selling t-shirts on print-on-demand, it's all about finding the right mindset and the best workflow that fits your own lifestyle.
Creating t-shirt designs that sell is only part of the journey, and contrary to popular belief, there's a lot of non-design work that goes into selling t-shirts on Amazon, as well as on other platforms like Redbubble, TeePublic, Etsy, and Spreadshirt, for example.
Likewise, running a t-shirt business can be loads of fun, and easy too! Nothing that good guidance can't fix for you.
After this post, you'll have a better understanding of the key aspects involved in selling t-shirts online on Amazon, from why is Amazon a great place to start selling t-shirts, up to how to design t-shirts and upload them.
What is Merch by Amazon

Why is Merch by Amazon a good print-on-demand platform

Merch by Amazon's basics

How to sign up to Merch by Amazon

How to do research for t-shirt ideas that sell

Where to find licensed designs for Merch by Amazon

How to create t-shirt designs for Merch by Amazon

How to upload designs to Merch by Amazon

How to promote your products

How to grow your Amazon t-shirt business

Which are the best tools for Merch by Amazon

What is Merch by Amazon
Merch by Amazon is a print-on-demand program launched by Amazon in 2015 that anyone can apply to. Once approved, users can start selling t-shirts and other products like hoodies, phone cases, PopSockets, tote bags, and throw pillows, by submitting designs and using Amazon's marketplace, on-demand printing services, and fulfillment capacities to serve customers in multiple countries, earning royalties per every purchase.
Why is Merch by Amazon a good print-on-demand platform
Zero inventory

It uses Amazon's marketplace, serving your products to millions of customers

Many Merch tools made specifically for Amazon

Upload process is easy

Boost your products' visibility with ads
Merch by Amazon has multiple benefits within the Print-on-demand industry, the first being one of the largest and most powerful search engines out there, and having the biggest volume of visitors to the platform on a daily basis. This means that you don't have to be all over the place in order to promote your products.
As with any print-on-demand platform, having zero inventory is one of the most attractive features, meaning anyone can start a t-shirt business without worrying about storage, fulfillment, and attending customer support. Amazon does it all for you.
Having access to a platform that already has tons of buyers hanging around is another big reason to sign up to their program instead of others, saving you the time, money, and effort it takes to build up an audience of customers.
Their upload process is pretty easy to handle too, and every year they launch new products and new markets to sell at, meaning you'll always have access to the best selling products in the most active markets.
When it comes down to research, there are multiple ways of finding the best keywords for niches on Amazon. Some of them can be done manually without additional aid, but there are many online software, services, and tools that are specifically built with Amazon in mind, allowing for keyword and BSR (Best Seller Rank) crawling that delivers detailed information about best-selling products that you can use to create your own products and listings.
Also, after proving your worth on the platform, Amazon will unlock the Ads functionality, allowing you to give your products even more visibility and generate more sales. Not many platforms offer this perk for free.

Merch by Amazon's basics
Now that you have an initial idea of how Merch by Amazon works, here are a few more details that will help you better understand the platform and how to be more efficient when selling t-shirts online.
Keyword-based

Merch by Amazon Products

Best products to sell

Where do your products appear

BSR

Tier system

Competition
Merch by Amazon is a keyword-centered platform
Unlike other print-on-demand platforms that emphasize the originality and artistry of the seller, Merch by Amazon is a print-on-demand platform where the best-performing products are those that are keyword-centered. While having a great design is important, in the case of Merch by Amazon it's even more important to have a good knowledge of keyword research and optimization. Keep in mind that Amazon is a search engine at its core, so it only makes sense to devote your research and upload process around the best keywords for your niche.
Which are Merch by Amazon's products
Merch by Amazon has a smaller range of products when compared to other print-on-demand platforms, but be sure these are the products that sell best, and that every product that they release is carefully selected. For 2021-2022, the list of products on Merch by Amazon is:
Standard t-shirt

Premium t-shirt

V-neck t-shirt

Tank top

Long sleeve t-shirt

Raglan

Sweatshirt

Pullover hoodie

Zip hoodie

PopSockets grip

iPhone cases

Samsung Galaxy cases

Tote bag

Throw pillows
Among these products, Standard t-shirts are the flagship item that shows the best sales.
Other popular products are hoodies, and accessories like phone cases and tote bags are making a splash in recent times.
Depending on your design, purpose, or even time of the year, other products might be more fitting. A few examples:
Where do your products appear
Your products are featured in the Novelty Clothing section, rather than in the broader Men's/Women's/Kid's categories, so you should check that section to get a feel for the competition.
What is BSR (Best Sellers Rank)
BSR stands for "Best Sellers Rank" and, you guessed it, it represents the selling score Amazon assigns to products based on historical sales data.
The smaller the number, the higher it is in the ranking, and the better it sells.
For example, a #10 product is selling much better than a #100,000 product.
Since many products sell across different categories, one product may have a different BSR number depending on the category you're checking.

So how is BSR used with Merch by Amazon?
The BSR number helps you figure out which products are making sales, and use them as a reference for design or keyword research.
In a contested niche, it will help you figure out which are the winning products. If you walk into a certain niche and don't find small BSR numbers, then you're in a low competition niche and it's time to create.
Most keyword research tools crawl through BSR numbers to find the ones ranking the best, so keep that in mind.
What are Merch by Amazon tiers?
To provide the best experience for customers, and to keep sellers under control, Merch by Amazon limits the number of designs that sellers can publish and keep live at any given time using a Tier system.
According to Merch by Amazon, to level up tiers their team hand-picks content creators who have sold the same amount of products as the amount of tier they are in, and level them up to the next tier. For example: if you are on Tier 100 and have sold 100 products, you're likely to level up to Tier 500 soon.
It's important to keep in mind that leveling up is based not only on sales, but also in the quality of the products the seller has.
Merch by Amazon Tiers are:
Tier 10 = 10 Designs

Tier 25 = 25 Designs

Tier 100 = 100 designs

Tier 500 = 500 designs

Tier 1,000 = 1,000 designs

Tier 2,000 = 2,000 designs

Tier 4,000 = 4,000 designs

Tier 8,000 = 8,000 designs

Tier 10,000 = 10,000 designs
Tiers go up to Tier 100,000, and there's living proof that sellers have achieved this feat, so stay productive!
Competition in Merch by Amazon
Merch by Amazon is the most popular print-on-demand platform, and that means that there's a lot of people fighting for relevance and hot niches.
Many sellers don't realize this soon enough and oftentimes fall into discouragement, which is completely avoidable.
So to compete healthily, we recommend you to stay away from the most contested and popular niches at first, and try your research into niche topics, hobbies, or interests you are very much into and are knowledgeable about, and create custom t-shirt designs based on that research.
How to sign up to Merch by Amazon
In order to prevent any kind of exploits, the Merch by Amazon program is an invite-only platform, to which anyone can apply to after filling up a form.
Applications are manually reviewed, which helps them make sure that only serious sellers and designers go through.
This process may take weeks or even months.

Merch by Amazon's application process
The application process for Merch by Amazon has three stages:
Stage 1: General personal information
Stage 2: Bank details
Stage 3: Tax questionnaire
US residents shouldn't have to do extra steps in terms of having a viable bank account, but international sellers may have to get some kind of US-based bank presence, such as the one Payoneer grants.
The most important part of the application process is the Additional Information field. You must show Amazon that you are really serious about selling online, and it's important that you make your case on why you should be accepted.
To speed up the process of getting accepted into Merch by Amazon, we recommend you to use the Additional Info field to provide a short explanation of why you are worthy of getting accepted (i.e. how badly interested you are in making money for Amazon).
Some people go as far as to publish links to their t-shirt designs on mockups, referencing either a social media channel or personal blog, or website. Any link that helps check your interest and validity of your work is useful!
How to do research for t-shirt ideas that sell
There's a handful of online research tools for Merch that provide tons of insights and data to help you find winning designs, but for the most part, you can research t-shirt ideas that sell for free.
Arguably the most basic way of finding winning products on Amazon is by looking at their BSR number.
While manually going through various products checking if their BSR is viable, Productor for Merch by Amazon is a sturdy and free extension that simplifies the process of sorting BSR right on the product listing's first page.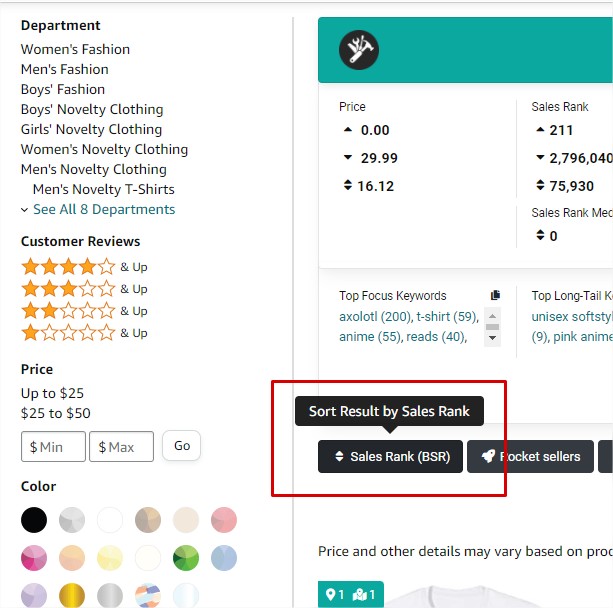 Just input a search term for the niche you want to do research on, and after all products are loaded, look for the BSR button above the search results and click it to sort products from lowest BSR to highest.
Productor also details all the keywords used, so you can take further inspiration from it.
Outside of sourcing BSR numbers, there are plenty of other methods to research for t-shirt design ideas. In our article How to Find T-shirt Trends we mention a few ways that can help you unlock tons of ideas for t-shirts that sell, check it out!
How to find licensed designs for Merch by Amazon
Many sellers don't come from a Design or Artistic background and find themselves struggling to make good products to sell.
For this kind of seller, finding licensed designs for Merch by Amazon is the safest and easiest way to acquire design power and elevate the quality of their portfolio.
Vexels is a design platform that specializes in print-ready designs, as well as downloadable design products and Online design tools that allow creating custom t-shirt designs.
In the case of Merch by Amazon, arguably the best way to get designs for print-on-demand is to use PSD t-shirt templates as well as the Online T-shirt Maker, both of which allow for creating original t-shirt designs quickly and with the highest quality.
Check out Vexels' PSD t-shirt template collection here, and fire up the Vexels Online T-shirt Maker to try it out for free.
Whenever you download a Vexels design, you'll also receive the License to sell t-shirt designs with that graphic.
Many sellers often source their graphics without permits and risk getting flagged or even terminated by Amazon.
How to create t-shirt designs for Merch by Amazon
Creating t-shirt designs for Merch by Amazon can be extremely easy, with the right tools.
Since Print-on-demand is an industry where sellers come from many different backgrounds, we realize that the most useful advice here is talking about the most accessible way for the majority of users who need an easy way to make t-shirt designs.
We believe that the easiest way to create t-shirts for Merch is Vexels T-shirt Maker:
No previous design experience required

No additional software required

Source PNG designs directly from Vexels' gigantic high-quality PNG collection

Ready-made design templates that can be freely edited

Add and edit texts featuring the most popular fonts

Generate dozens of t-shirt variations using the Color Palette randomizer

Save your progress to pick up where you left off whenever you want

Download your design in ready-for-print transparent PNG format, sized for Merch by Amazon, along with the licenses to prove your selling rights
If you have more experience in graphic design and know the basics of using Adobe Photoshop, then Vexels PSD t-shirt templates are the perfect Merch design resource for you, allowing you to create dozens of designs with just one file.
How to upload designs to Merch by Amazon
Uploading designs to Merch by Amazon is easy! The whole process is very straightforward and only demands you to have the right file size: 4500x5400px for t-shirts and most products, and 4500x4050px for Hoodies.
First, you must select the products you wish to upload designs to. Make sure you select equal or fewer products than the daily upload limit, defined by your Tier level.
Once your design is loaded, select the colors that your product should feature, and the royalties you expect from your selected products.
Product listings are the key section where you should add all the relevant keywords and terms, without spamming them too much. We strongly recommend you to check out Merch by Amazon's Content policies, as well as their guide to merch product quality to keep your account on the safe side.
How to promote your products
Relying on organic searches might be the only way to get sales at first, but even then, there are a few ways to promote your Merch products onto broader audiences that are within reach.
You can harness the power of ads once you become eligible for this feature. This is granted by Amazon, and while there doesn't seem to be a clear indication of how to get accepted into the ads program, they notify you via email.
That being said, once you get access to Ads, you can start pushing your products even more. They will appear in Amazon's search results as Sponsored products at the top of the results, seamlessly mixed with regular search results.
Social media is a great way to bring your products to a wider audience. This is especially true if you already lead a sizable community on a specific niche. In fact, many sellers create communities around a specific topic just to make it easier to promote their t-shirts. Instagram, Facebook, and Pinterest are the best platforms to do this, and they all have different ways to go about it, so try it out!
How to grow your Amazon t-shirt business
Growing your Merch by Amazon t-shirt business is far from easy, but it is simple nonetheless.
It's simple in the way that it doesn't require rocket science to pull off, yet this isn't easy because it requires time and work to make it happen.
The very first way of growing your t-shirt business on Merch by Amazon is by purchasing your own products yourself or getting friends and family to buy them from you. This is the best way to start out your Merch journey since all it matters to Amazon is that your products start getting traction. Don't leave 5-star reviews with your own account, just let that be the work of other people who buy from you. This is also the best way to tier up when you just get started.
Once you have some wind under the wings, focus on filling up your product slots as much as possible, since the Tier system pairs up with how many products you have published. Plus, the more products you have available, the higher your chances of getting sales are, given they aren't just cheap or poorly designed. To fill up your product slots, find ways to scale your t-shirt designs as much as possible, for example, creating variations based on tweaking text, design, or color details. The T-shirt Maker and PSD t-shirt templates are excellent options for this.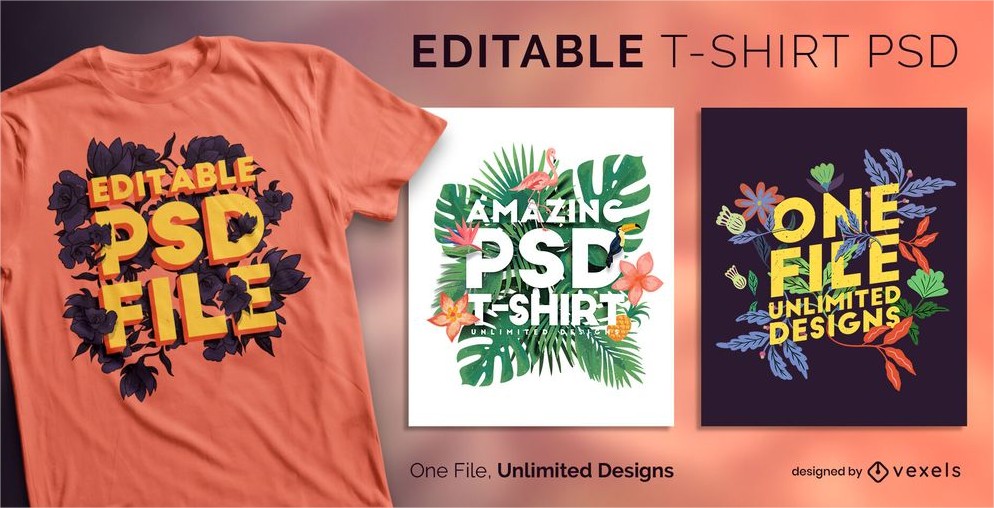 Using ads is obviously another good way to boost your products in relevant listings.
In terms of content creation, hitting on trends is one of the best ways to get sales, yet this highly depends on your proficiency to spot rising trends and executing design that's relevant and attractive to the audience.
It goes without saying that the best way to grow your business is to really take it as a serious business since many sellers just consider Merch by Amazon as a side hustle and don't really put in the effort it takes to bring their accounts up to the higher tiers.
Which are the best Merch tools for Merch by Amazon
Merch by Amazon tools are varied and cover different steps of what we call the 'merch journey'.
Research
Doing research for Merch by Amazon may take some time, and while there are paid tools that can help you out, there are also free options you can explore.
One of the best Merch tools out there is called Productor for Merch by Amazon, and it's a free Chrome extension that does a lot of work for your Merch by Amazon account. In terms of research, Productor helps sort out which are the products with the lowest BSR (i.e. the ones that sell best), as well as sourcing all the relevant keywords for those articles. This is all you need to draw ideas and bring them onto design.
Another excellent tool to source ideas and inspiration is Vexels Merch Digest, a comprehensive monthly guide that's free for Vexels members, and it's packed with ideas, resources, and tips that are relevant for anyone interested in becoming a better print-on-demand seller.
It's worth mentioning that there are lots of ways to do research for Merch by Amazon, and tools are only one part of the way. We strongly suggest you look around social media to find out what people are doing, mainly on Youtube and Facebook.
Design tools
Among design tools for Merch, Vexels offers a few options that pack both great qualities as well as full customization capabilities.
One of the design tools for Merch are PSD t-shirt templates, which are editable PSD files containing various design options, elements, and effects that can be edited freely using Adobe Photoshop, allowing you to create hundreds of t-shirt designs with one file.
Another great tool for creating custom t-shirt designs is Vexels T-shirt Maker, an online design tool that allows you to also create hundreds of t-shirts easily using the largest variety of high-quality designs available in the industry. With the T-shirt Maker, you can make t-shirt designs using its PNG library, dozens of ready-made templates that can be edited, editable texts with different effects, and even upload your own artwork. Once you're done designing, the T-shirt Maker allows you to download your final result in a print-ready file that's already exported in a Merch by Amazon-ready PNG format.
While this tool allows downloading for subscribers, it's free to try it out.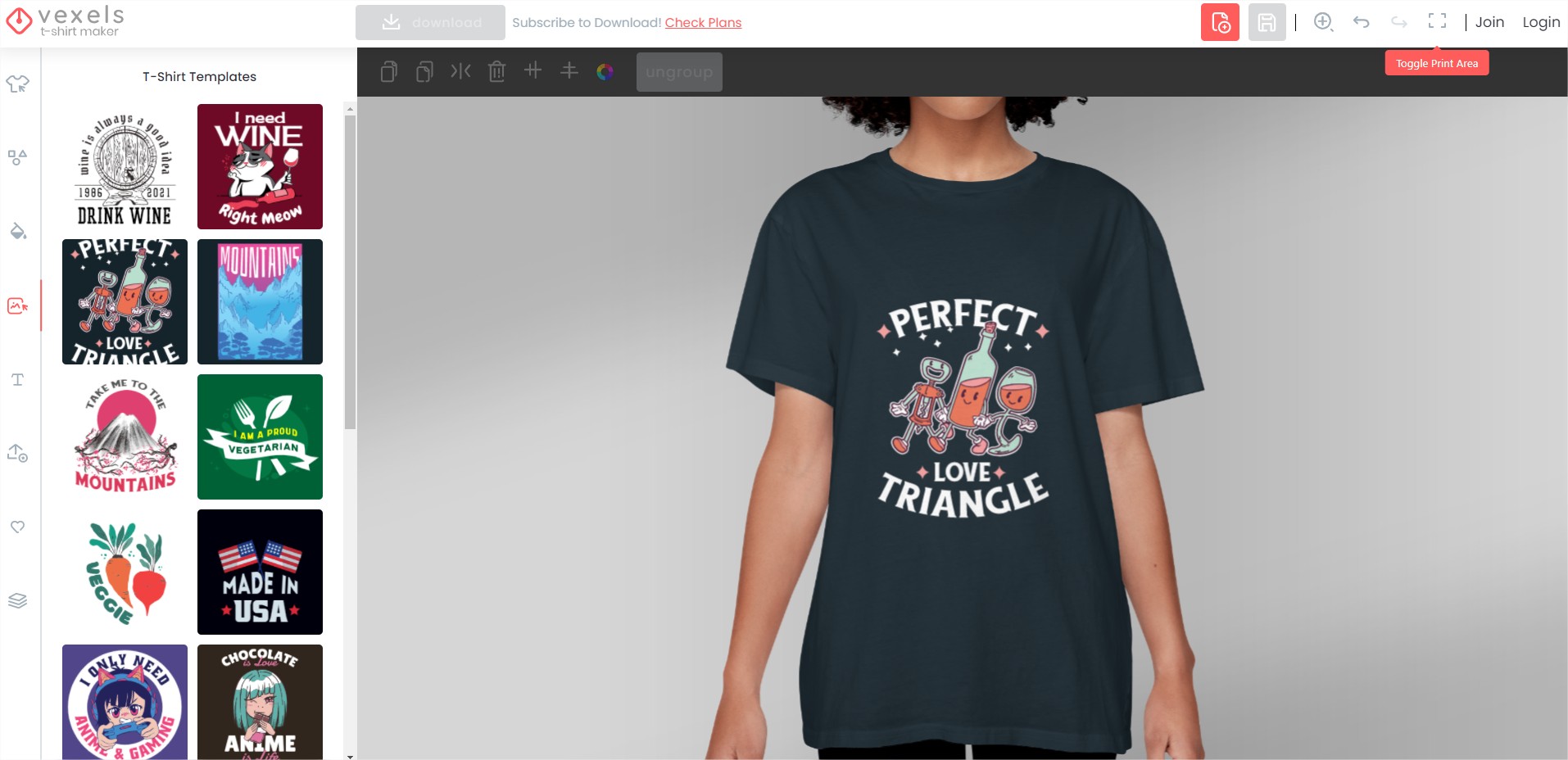 Upload automation
For sellers at any stage, uploading products can be a daunting task.
New sellers might feel it's overwhelming, and experienced sellers may feel the need to speed up the process.
Fortunately, there are upload automation tools that easily optimize your workflow.
These tools are cloud-based design and listing management services that help sellers have a better organization and workflow, mainly by giving an automatic upload function to multiple platforms at once. This saves tons of time and effort, which are precious when you're developing a print-on-demand business. A quick Google search will bring many options, so check them out!
Management
In terms of management, both Productor for Merch by Amazon and Flying Upload offers ways to keep your listings organized, something that's very relevant when you have many products up since it allows you to easily access winning products to replicate them, or quickly find products that are not performing well and need optimization.
Merch by Amazon is here to stay
Many sellers tend to give up on Merch by Amazon when they perceive a lack of immediate sales, and after years in the industry, we know that making progress in a print-on-demand business is a marathon, not a sprint.
Merch by Amazon is a business model that greatly depends on each seller, and understanding that all sellers come from different backgrounds is really helpful when trying to figure out what is the best way for you to run your Merch business.
This platform is here to stay, and we hope this article gives you ideas, tips, and tools that you can apply to your Merch by Amazon business.
To your good fortune!