Create a t-shirt design online following these steps:
Start by selecting your preferred product and/or model mockup to design on, and select the color that your t-shirt design will be made on top of.
2. Create a design
From scratch: use the Graphics tab and browse among thousands of high-quality PNGs. Pick and use anyone you like!

From a t-shirt design template: head over to the Templates tab and choose a ready-made template.
3. Edit and rearrange the elements, colors, and text as needed
Vexels T-shirt Maker offers a variety of popular design tools that give you full control over your custom tees. Use the Color editor, align tools, warp and customize texts, and explore many other features!
4. Once your design is finished, click Download
You'll receive a transparent PNG sized 5400×4500 px, ready to be used on most print-on-demand platforms, like Merch by Amazon, Redbubble, Teespring, and others! The license of your download will appear in your Profile, under the Downloads tab.

Why Creating Custom Tees Online
When it's time to create a t-shirt design for print-on-demand platforms, like Amazon's, many sellers struggle to achieve high-quality graphics that satisfy their ideas and their target audience.
The Print-on-demand industry is peculiar in that sellers come from many different backgrounds, interests, needs, and productivity resources.
The Design skill required to make great t-shirt designs greatly varies among participants, and it ends up being limited to a minority made up of artists, designers, and Photoshop aficionados who have an edge over inexperienced sellers.
Fortunately, you don't need design skills to learn how to create professional designs using an online T-shirt Maker, and you don't need additional software like Photoshop or Affinity to get ready-for-print files either.
Why is Vexels T-Shirt Maker the best t-shirt creator for Print-on-demand?
The idea behind creating our T-shirt Maker is to develop the most complete, robust, and easy-to-use t-shirt design creator that levels the field for sellers who also want to create their own high-quality custom t-shirt designs and don't have the tools or the design skills to do it themselves.
In other words, our T-shirt Maker was made to give Design power to your ideas.
Save Time and Money
With its user-friendliness and its capacity to generate multiple design variations with ease, the T-shirt Maker manages to save precious time and money that you would be spending on third-party designers with limited productivity rather than investing in yourself. Be your own designer!
High-quality Merch Designs That Are Original and Safe
Print-on-demand platforms have different policies against trademarked, copyrighted, and duplicate/hijacked content, and creating custom t-shirts with this T-shirt Maker will not only guarantee that you have quality designs, but also that your t-shirt designs will be original and safe for any print-on-demand platform.
Easy to use
The T-shirt Maker is conceived and designed to be, above all, easy to use for baseline users, and good-looking enough that experienced sellers would also enjoy creating their products with it day in and day out.
Create from zero
Use a gallery of over 80,000 high-quality transparent PNGs from all Merch niches, including elements, letterings, characters, and other objects. You can resize them, rotate them, change any of their colors, and arrange them as you see fit.
Use ready-made templates
The fastest way to make progress in your t-shirt design business is with ready-made t-shirt templates that are fully customizable, allowing you endless creative possibilities while keeping the quality bar way up high.
Browse and select among hundreds of templates and edit any and all of its elements, texts, and colors.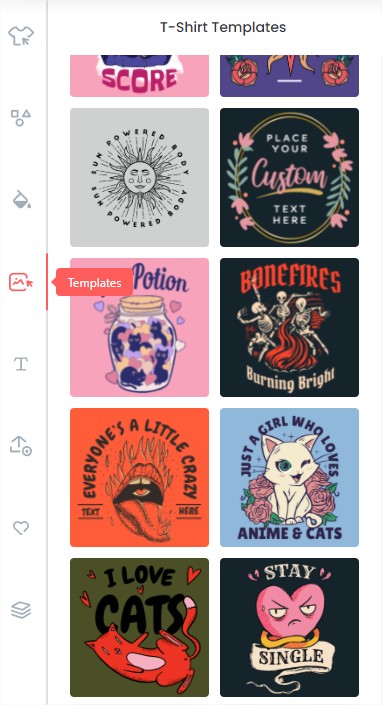 Templates are updated every week, so you'll always have ideas for your custom tees!
Multiply Your T-shirt Designs
After you've created your design, you can generate multiple versions of the same graphic by going to the Color tab and using the Color Palette randomizer, which will generate a random color scheme on the current design.
Repeat this process as many times as you want, and with as many palettes as you wish, and get a new version every time.
Also, when adding an element to your design, a new batch of elements suggestions based on your last one used will appear in the browsing menu, giving you even more customization alternatives.
Create t-shirt designs on your Phone
Vexels T-shirt Maker has a Mobile version, allowing you to create t-shirt designs on the fly and save your progress to continue editing and exporting at home.
Upload your own custom image
If you have a creation, photo, or other images on your computer that you want as part of your t-shirt design, you can use the Upload feature and make your t-shirt even more unique!

Almost Like Photoshop
Layers tab

: If your t-shirt design has many different elements, you can use the

Layers tab

to make sure you're editing the right thing.

Group and Ungroup

: Likewise, if you're managing multiple resources, you might also want to use the Group and Ungroup function to better manipulate your design.

Mirror

: This useful feature allows you to apply interesting effects to your design, for example, you can duplicate elements and mirror one of them to create an interesting effect, or create text that is meant to be written backward, like in some workout tees where the product is meant to be used mostly against a mirror.

Merch design guidelines

: Turn the guidelines on whenever you need to have a reference of where exactly your design elements are placed within the t-shirt design frame, and turn them off when you need a clear preview of what your design will end up looking like.

Edit colors

: Each text and element you select can have each of its colors manually edited, giving you further control and customization over your final design.

Download Design + Mockup

: Use a mockup to promote your products on social media! When creating your t-shirt design you can select different models, types of products, colors of products, and backgrounds. When you download your final design, you'll receive a ZIP file including a print-ready 5400×4500 px transparent PNG, as well as a JPG image featuring the mockup that you've created.

Save your progress

: Use the Save feature to keep a record of your progress and pick up where you left off. You can visit all of your designs in your Profile, and keep editing any of them!
T-shirt Design Ideas
Looking for some ideas and topics to get you started using the T-shirt Maker? Check these!
Workout tee

Puns

Dad shirt

Anniversary shirts

Pets

I can't live without my _________

I only need _____ & ______ please
Looking for more t-shirt design ideas? Check out our post about 23 T-shirt Design Ideas That Sell on Merch By Amazon.
T-shirt Maker FAQs
The T-shirt Maker is an online design tool anyone can use to create original custom t-shirt designs in minutes, without design skills and without any additional software.
Where do the PNGs and design templates come from?
All of the artwork available for you to create is made by Vexels' talented in-house team of artists, illustrators, and designers!
Can I save my t-shirt design progress?
Yes, you can save your progress at any time and pick up where you left off. To do this, go to the tab 'My Designs' in your Profile.
Do I have to pay for the designs I make with the T-shirt Maker?
Merch plan subscribers can create and download t-shirt designs created with the T-shirt Maker without any additional cost per download.
Do I get the license to sell the t-shirt design I just created?
Yes! Licenses to your custom tee designs are generated in your Profile once you Download your final design.
Will my design be uploaded to the platform? Will other users be able to see and use my design?
Your creations will never be uploaded to our library, and no other user will be able to see or use your custom t-shirt designs.
Can I use the T-shirt Maker for free?
You can try all the T-shirt Maker features for free. If you wish to download your final result, you must be an active subscriber.
What makes your custom T-shirt Maker better than others?
The Vexels T-shirt Maker stands above all others when it comes to graphic design quality, having all of its graphics created by a talented team of artists, illustrators, and designers based locally, with vast experience in the Graphic Design and Apparel industry, and inspired in data-driven projects.
Moreover, our T-shirt Maker is constantly being updated and upgraded with new relevant features and improvements in order to stay at the forefront of Merch design technology.
What files will I receive when I download my final design?
Your download file contains a print-ready transparent PNG file along with a JPG mockup image, based on the mockup options you've chosen while creating your design.
Is my downloaded t-shirt design ready for print?
Yes! Your download file will contain a print-ready transparent PNG file that's ready to be used on print-on-demand platforms.
Where can I upload the design I just created?
You can upload your custom t-shirt design on any platform you wish.
Together with your print-ready file, you'll receive a JPG mockup image you can use as you please. If you wish to create even more mockups with your design, use our Mockup Generator at https://mockups.vexels.com/