Valentine's Day is the first big seasonal opportunity of the year, and it's only right for us to give you some Valentine's Day t-shirt design ideas to help you stay productive.
Here's our Merch design hack for Valentine's Day: Do it with LOVE!
Valentine's Day is traditionally considered as a celebration of romance and love, yet Love is a universal language, and Love t-shirt designs take many different forms, shapes, and niches!
Love t-shirts can be about pretty much anything that can be loved, not just significant others or family members. Think about it: do you have a pet? A favorite artist? A hobby? There are all sorts of things out there to be loved and make a reference to.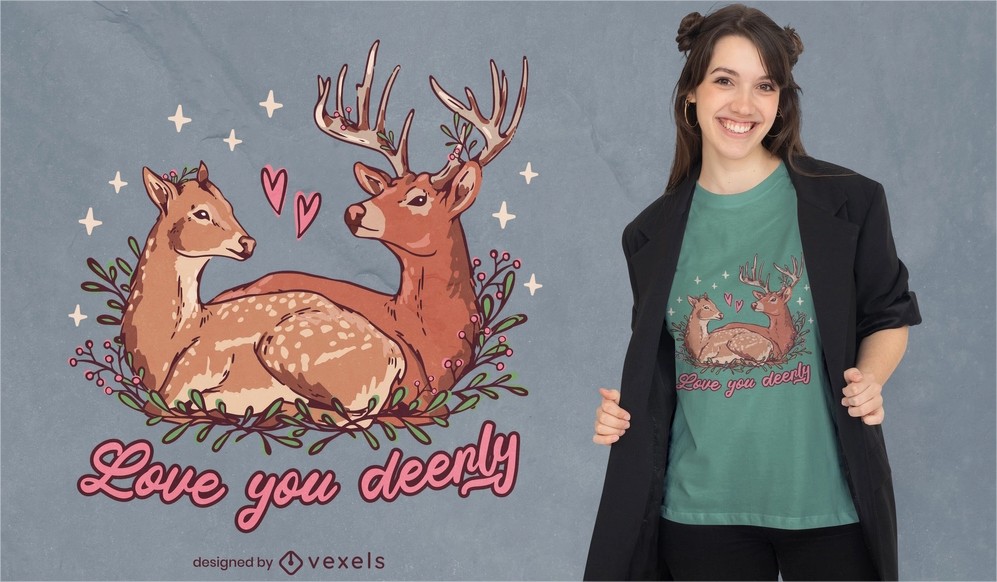 When looking for Valentine's Day t-shirts designs, think about it as an opportunity to express love and passion for any given person or object.
Valentine's Day designs can even be evergreen if you correctly apply the 'love' concept to them.
Also, as a Merch seller, it's important that you think about possible uses for your products, chiefly as a Valentine's Day gift. For example, a t-shirt with a funny, loving, or otherwise relatable design can be a great gift idea (together with a box of chocolates, of course!), yet it doesn't have to necessarily be about Valentine's Day.
Here are 13 t-shirt design ideas for Valentine's Day:
1. Day of the Dead t-shirt designs
The Mexican-origin tradition, also known as Día de los Muertos, is all about honoring the memory of loved ones who are no longer with us, be it a relative, a friend, or a loved one. It's also a time to share and enjoy with the living ones. All of this offers ideas you can bring for Valentine's Day.

2. Anti-Valentine t-shirt designs
A subgenre of funny Valentine's Day tee design, anti-Valentine's joke around being single, the hardships of love, and the feeling against the celebration of the holiday.
3. Husband and Wife t-shirt designs
One of the classic designs that always work, where almost always there's a text involved.

4. Same-sex love t-shirt designs
Love is love no matter what your preference is, so here you have another way of opportunities for your Valentine's Day t-shirts. Look for gay and LGBT tee designs here.
5. Pet love t-shirt designs
Many people love their pets dearly, and they are great targets for pet t-shirt designs that are relevant to them. Many funny pet t-shirt designs are about how much a person loves their dog or cat. Consider pet lovers as potential customers during Valentine's season!
6. Animal love t-shirt designs
Some animals are not fit to be pets but are fit to be loved anyway. Horses, sloths, llamas, even dinosaurs are animals that many people love, but love may be expressed in some other way.

7. Funny Valentine's t-shirt designs
Love is funny in many ways! Some joke about how much they love another person, others joke about how crappy love is and how they fail at it. Funny love can be ironic, sarcastic, hilarious, or lowkey and witty. What's your type of humor like?
8. Cupid t-shirt designs
Cupid is a divisive character: he is either loved or hated. Why not make t-shirts about both?
9. I love _____ t-shirt designs
When your partner loves something too much, a t-shirt about that very thing they love is sometimes all it takes. Be it woodworking, football, or knitting, you can give a Valentine's Day spin to it by adding a Cupid or other love elements.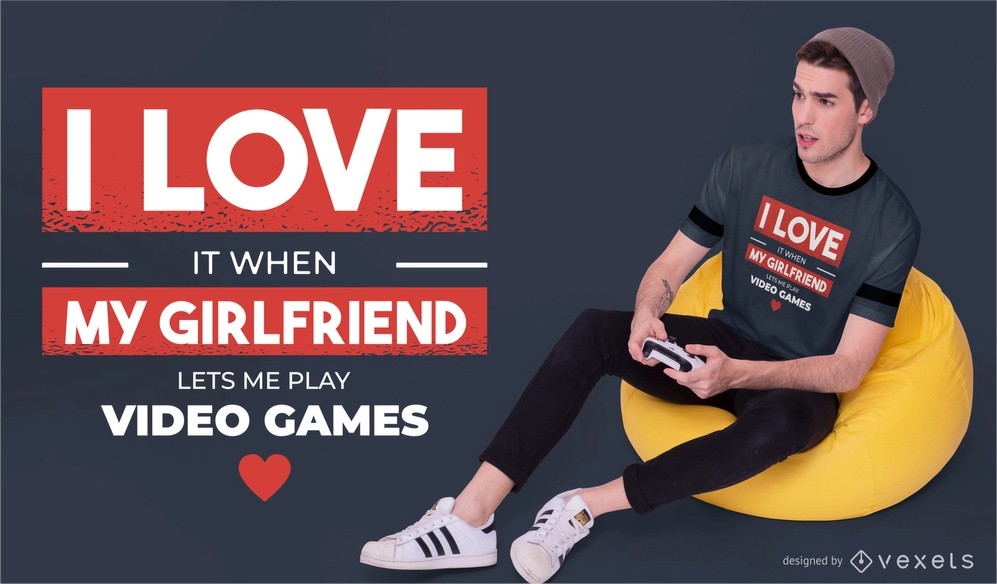 10. Couple t-shirts
One of the most widely accepted types of Valentine's Day t-shirt designs is matching couple t-shirts. They are usually meant to be complimentary of each other in a loving or in a funny kind of way.
11. Self-love t-shirt designs
In times of growing self-consciousness, self-love and affirmation t-shirts can be a nice gift to give, so consider this underdeveloped niche.
12. T-shirt designs about being single
There are a lot of single people and a lot of funny t-shirt ideas about being single or not married. For us, this is a great concept to use not only for Valentine's but all year round!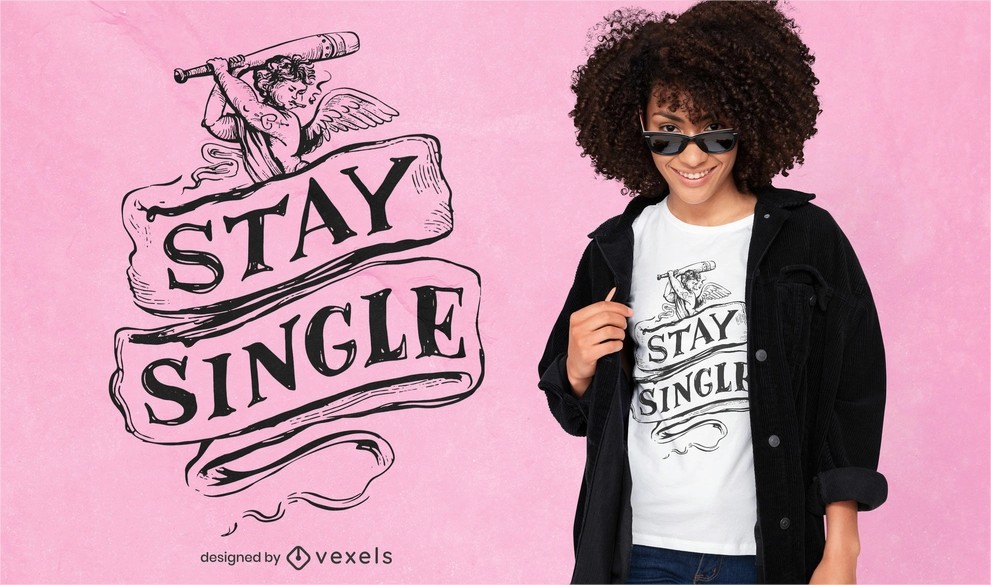 13. Love graphic t-shirt designs (without text)
Sometimes an image is all it takes to get the message across, so explore and combine Love elements like hearts, arrows, ribbons, and flowers paired with others like food, animals, or sport objects.
Bonus idea! Since Valentine's Day is a great holiday for gifts, consider Valentine's Day mugs as a great idea to create products for this holiday, as they make up for amazing gifts for loved ones!
Looking for more t-shirt design ideas? Check our blog post 23 t-shirt design ideas that sell.
Create Valentine's Day t-shirt designs easily using an online t-shirt creator
Now that you are packed with ideas, it's time for design!
Hop onto Vexels T-shirt Maker, and create a Valentine's t-shirt design from scratch, or customize any of the hundreds of ready-made templates available. New templates are updated daily.
Go to https://www.vexels.com/t-shirt-maker and try it out for free.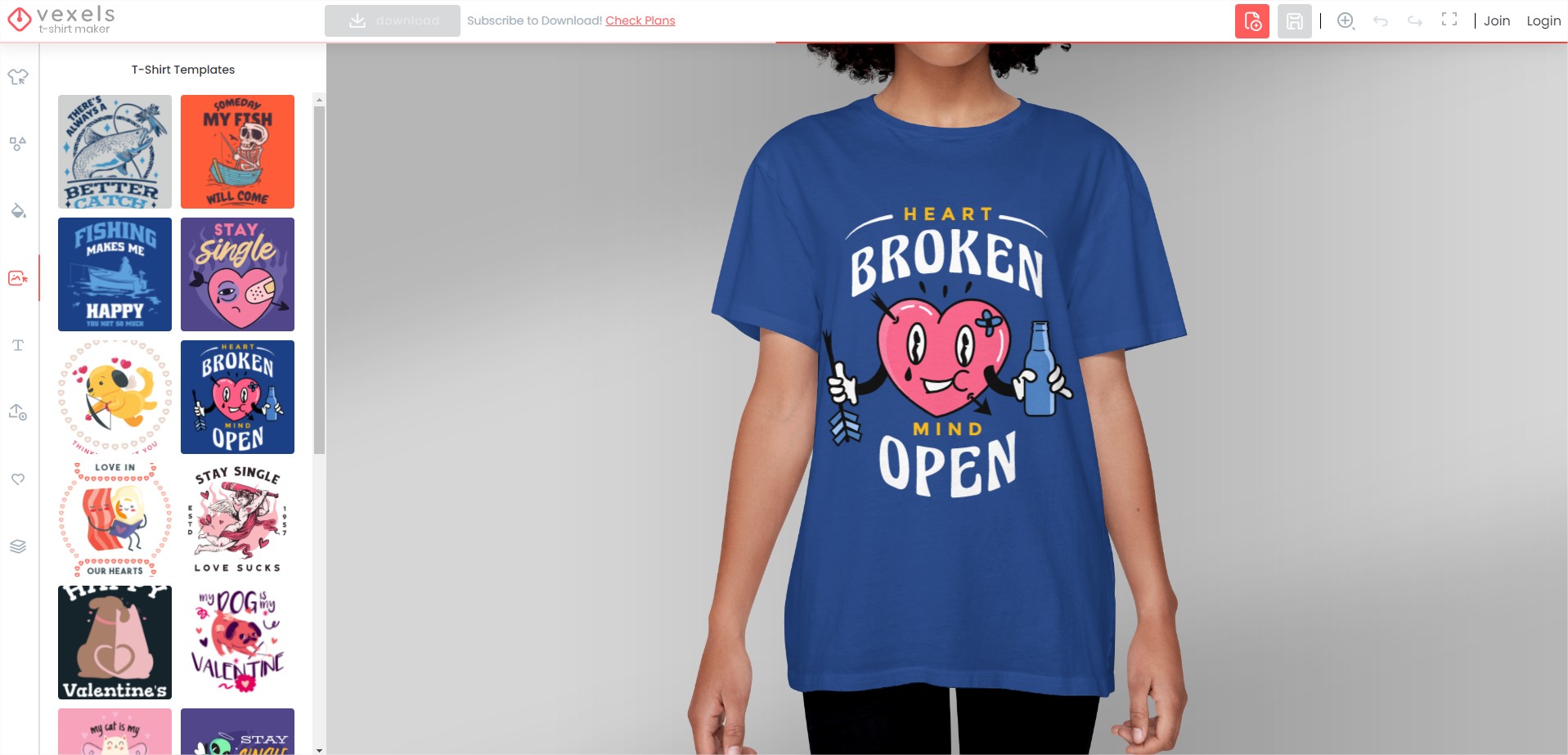 Need help creating your custom t-shirt design? Check our blog post on how to create a t-shirt design online.
Create Original Valentine's Day t-shirt designs using PSD t-shirt design templates
If you're looking for more design power for your products, you might want to look into our scalable PSD t-shirt templates, which are powerful PSD files packed with high-quality elements and effects that can be edited with Photoshop.
New PSDs are added every week, and they're all created by our in-house team of designers specialized in the apparel industry.
Check more of our PSD templates for t-shirt designs here.
Increase your chances of getting noticed: create product mockups online
Product mockups are a great way to increase the visibility of your product and function as a deal-closer.
The common way to create a product mockup is using PSD products with Photoshop, but we have a better option for you, and that's our own online Mockup Generator.
With hundreds of mockups specialized for Print-on-demand, you'll have plenty of options that best suit your business style.
Aren't you promoting your products on Social Media yet? What are you waiting for? Building a community is one of the best ways to promote your products and make sales, and mockups created with the Mockup Generator make up for great high-quality content that would otherwise be impossible to do alone.
Try the Mockup Generator for free here.
Leave a Like, and Subscribe to our YouTube channel!
Check out Vexels YouTube channel, where you'll learn everything you need to know about Vexels products, print-on-demand tips, design hacks, tutorials, and much more.
Be sure to leave a like, comment, and subscribe to get our latest content.
Until next time!