Are you struggling to come up with catchy quotes for your merch products? Whether you're designing t-shirts, mugs, phone cases, or other products, having an attention-grabbing quote can make all the difference. 
A great quote can create an emotional connection with your audience, making them more likely to remember your store

It can communicate your brand's message and values in a memorable way, helping to build brand awareness and loyalty.

It can increase the perceived value of your products, making them more appealing to potential customers

Designs that include relatable quotes are the best-selling designs on different PODs such as Merch by Amazon or Redbubble!
But sometimes, it can be challenging to find the right words that resonate with your audience or niche. In this blog post, we'll share some of the best tools for creating memorable quotes that will help you stand out from the competition and attract customers to your products.
1. Quote Generator: Our amazing tool is specifically designed to help you easily and quickly create t-shirt quotes, or your favorite product, for any topic of your choice. Simply write your desired topic, or choose from our given options, and the Quote Generator will deliver you a number of insightful quotes that are sure to inspire and captivate your audience.
But that's not all – with this tool you also have the power to customize your quote to your exact specifications: choose the length and tone/mood that best fits your topic, and our tool will generate a quote that perfectly aligns with your needs!
2. Google Trends: This online tool it's great for brainstorming ideas. It can help you see what topics are currently trending or have been trending over a certain period. This can help you identify popular topics that people are interested in, which can be a great starting point for creating a quote that resonates with your target audience. It also provides you with related keywords and phrases that are commonly searched for alongside your main topic, and it can show you how the search volume for a particular topic has changed over time. This information can help you create a quote that is timely and relevant to current events or cultural trends.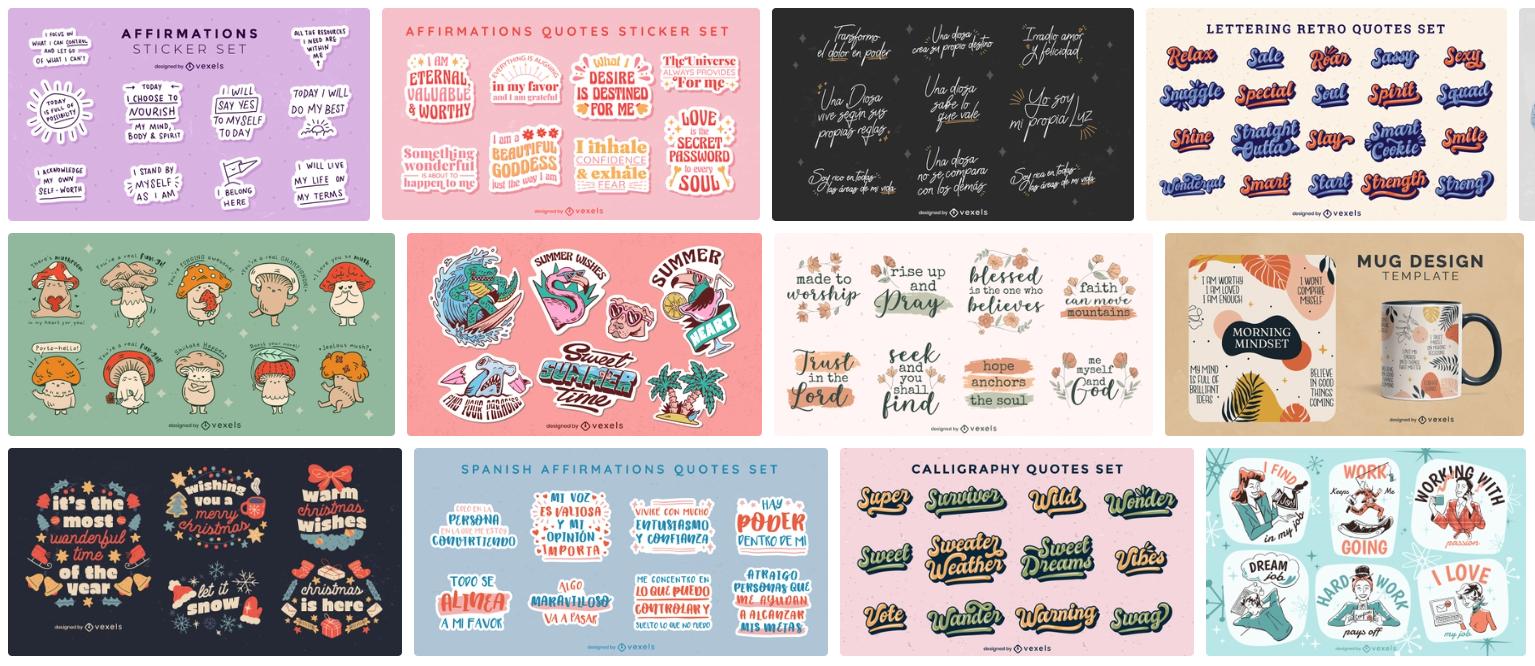 You can also browse from our lettering designs for inspiration!
3. Google Keyword Planner: A great help with keyword research. This tool helps you identify popular search terms related to your topic or niche by providing data on search volume and competition for specific keywords. It allows you to enter a keyword or phrase and see how many people are searching for that term on Google each month, as well as how competitive the keyword is in terms of advertising. This information can help you choose the right keywords to use in your quote or product listing to increase visibility and attract more potential customers. Additionally, the Keyword Planner can suggest related keywords that you might not have thought of, which can help you expand your keyword list and improve your chances of being discovered by interested buyers.
4. Wipo Global Brand Database: WIPO is a useful tool to ensure that your quote does not infringe on any existing trademarks. It allows you to search for existing trademarks that may be similar to your quote. This can help you avoid any potential legal issues that may arise if your quote is too similar to an existing trademark. Also, if you plan to trademark your quote, WIPO's trademark search can help you verify if the trademark is available. This can save you time and money in the long run, as you do not want to invest in a quote that cannot be trademarked. 
5. T-shirt Maker: Once you have a quote that you're happy with, it's time to make your designs. Our online graphic design tool allows you to create professional-looking designs and graphics easily, including catchy quotes. This tool has a wide range of customizable templates, fonts, and graphics that you can use to create stunning designs in just a few clicks. It also has a user-friendly interface that makes it easy to navigate and create designs, even for users with no design experience.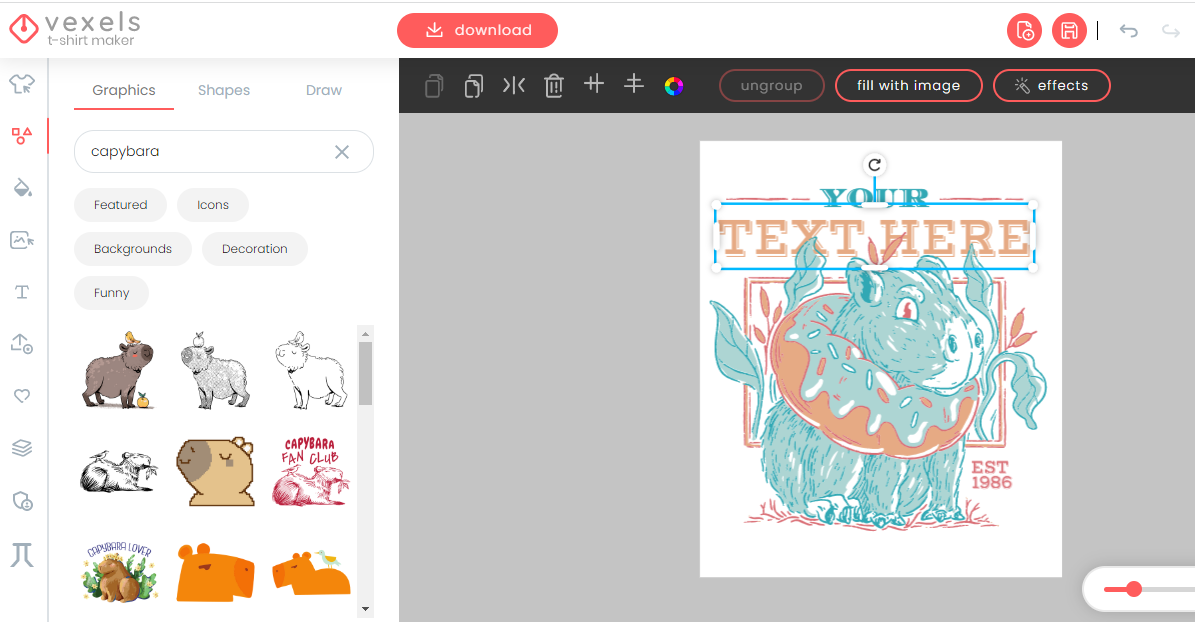 If you're feeling creative, check out our blogpost on how to create your own quotes in 3 simple steps!
And for more on Merch keyword research, these ones are the best:
6. Merch Informer: This tool provides a list of suggested keywords based on your initial search term. This can help you find related keywords that you may not have thought of before! It's also useful for competition analysis: Merch Informer allows you to see how many other products are using a specific keyword or phrase, to help you avoid oversaturated markets and find untapped niches. 
Also, Merch Informer comes with tools to help you optimize your product listings, including keyword density analysis and suggestions for improving your title, description, and tags.
7. Productor: Productor by Amazon is a product research tool that helps you find profitable products to sell on Amazon. While it may not be specifically designed for keyword research, it can still provide useful information about what customers are searching for and what products are popular in a particular niche. One way Productor can help with keyword research is by allowing you to search for products within a specific category or subcategory. This can give you an idea of what types of products are in demand in that niche, and what keywords customers may be using to search for those products. Productor also provides information about the sales volume, revenue, and competition level of each product, which can help you determine the potential profitability of a particular keyword or product.
8. Merch Titans: This tool provides you with data and analytics on the performance of specific keywords on Amazon. It gives you data on the number of searches, competition, and estimated revenue for each keyword, and it also generates a list of related keywords that you can use to optimize your product listings. Merch Titans also allow you to analyze your competitors and see which keywords they are using to rank for their products. This can help you to identify gaps in the market and find new keyword opportunities!
Remember, the key to success in the Merch business is to stand out from the crowd, and a catchy quote is an excellent way to do just that. So don't be afraid to get creative and experiment with different tools until you find what works best for you. Good luck!