Confused about whether you should opt for a mobile application or a responsive website for your eCommerce business? In this blog, we weigh in the pros and cons of both these options so that you can make the right choice.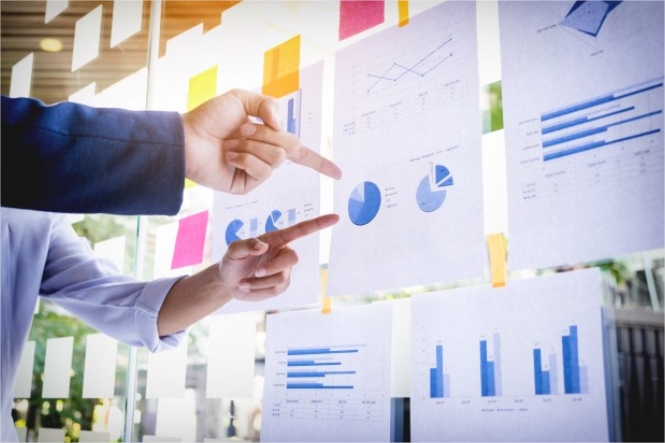 If you look around, you may notice people glued to their phones all the time, simply browsing the web or using a mobile app. As per StatCounter, out of all the global internet traffic, 52.07% came from mobile, between December 2018 – December 2019.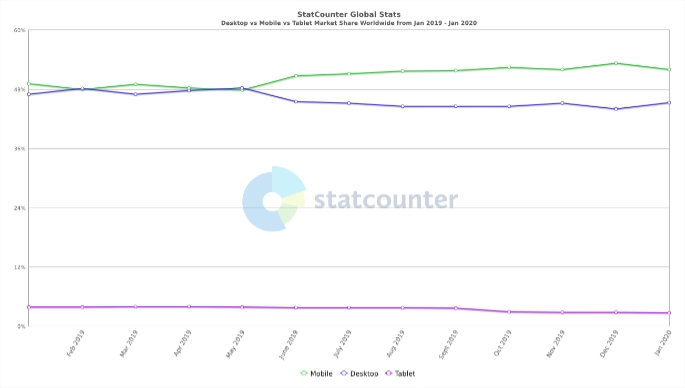 Source: statcounter.com
If that wasn't interesting enough, 46% of online shopping orders were generated through smartphones globally as of the 1st quarter of the previous year, according to Statista. That indicates the importance for an eCommerce business to be mobile-friendly. Either via responsive websites or dedicated mobile apps. 
But the question here is which of the two is better for eCommerce? Let's dig deeper to find out.
Responsive Website Design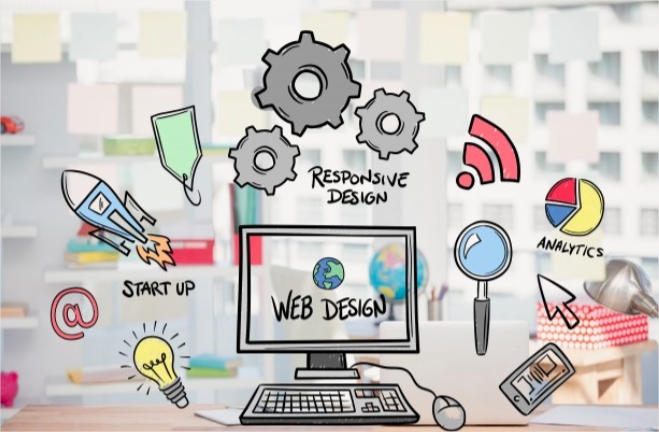 Having a responsive website design for your eCommerce means having a website that looks great and appealing irrespective of varying screen sizes of laptops, desktops, smartphones, and tablets. Let's explore its advantages and disadvantages. 
PROS
A responsive eCommerce website will provide your prospects with the ability to access your business on the go, anytime they please. All a user needs to do is, open the browser on their phone and visit the site. Moreover, unlike mobile applications, responsive websites don't require download and installation, saving precious space on your smartphones. 
Adaptability across devices
A responsively designed eCommerce website tends to adapt to the screen size it is being viewed on seamlessly. In simple words, it would look equally appealing on mobiles, tablets, laptops, and computers. Such kind of device adaptability significantly enhances the user experience, which in turn, helps boost conversion rates.   
Optimized for search engines
With responsive eCommerce websites, it becomes possible to optimize the pages and images with the right keywords and alt tags. As a result, you can obtain higher search engine ranking, leading to more traffic and leads. Interestingly, top search engines, including Google, love websites that are mobile-optimized. 
The lifecycle of a responsive website is longer than that of a mobile app. Wondering how? With mobile apps, there are chances that users might uninstall the application and never install it again. However, users can keep coming back to visit your responsive website as per their need and liking.  
CONS
Although your prospective consumers can visit your responsive eCommerce website round-the-clock, from anywhere in the world, they need an active internet connection to do so. That's because responsive websites do not offer offline viewing options like a majority of mobile applications.  
More often than not, the responsively-designed eCommerce websites are packed in with detailed content and high-resolution images to let the prospects get accurate information on the products and services offered. As a result, the website pages tend to take longer to load. Furthermore, the time taken for information processing is also longer. 
A combination of such issues hampers performance as well as causes irritation among the visitors, encouraging them to switch to your competitors. 
While responsive websites let you present your eCommerce business with robust functions, including secure payment gateway, they still lack many vital functionalities, such as camera and push notifications, commonly found in mobile apps. 
Mobile Application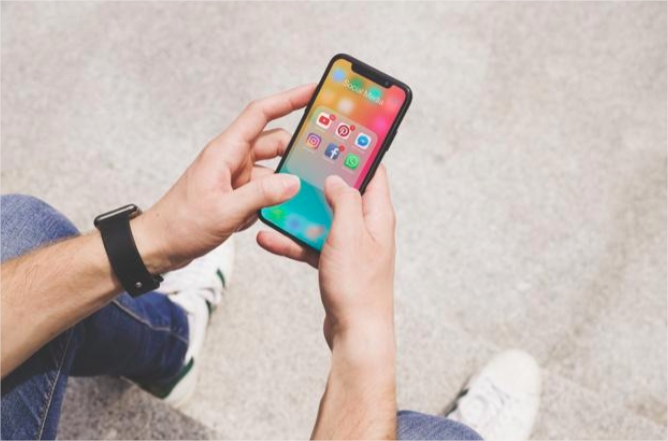 A mobile application is a software application that is designed specifically to run smoothly on mobile devices, such as tablets and smartphones. Let's have a look at the benefits and cons of an eCommerce mobile app.
PROS
When compared to responsive websites, eCommerce mobile applications are developed to offer faster performance, optimally utilizing the mobile devices' operating system. This leads to task completion in a more efficient way. That, in turn, boosts the overall user engagement and experience considerably, potentially increasing the conversion rates.  
Your eCommerce mobile app, unlike the responsive website, would require to be downloaded and installed on your prospects' mobile devices. However, it's a one-time process as once installed, the users would be able to access the app whenever they want, irrespective of their location. Additionally, you can offer offline mode in your app, enabling the users to access it even when they aren't connected to the internet. 
With a dedicated mobile app, you can offer a host of exciting features for your eCommerce business. From sending push notifications to your consumers and offering a personalized experience to adding touch identification for better security, a dedicated eCommerce app is more user-friendly, playing a significant role in increasing consumer loyalty.  
Unlike responsive websites, a mobile app can let you get rid of third-party platforms and connections which often become a threat to the security and privacy of users' personal data and app activity. As a result, user security is enhanced to a great extent and helps retain customers. 
CONS
If you want to reach more customers, you've to ensure that your eCommerce app runs smoothly, regardless of the platform. That means it has to be coded to be compatible with both Android and iOS platforms, effectively. Management of different codes and similar, regular updates often becomes a difficult and tedious job.
As you will need an app for two major OS, Android and iOS, the app development cost would increase considerably, requiring you to stretch your budget. On the other hand, getting a responsive website developed from professional web development companies is cost-effective. 
In order to be listed on the app store, a mobile app has to adhere to a set of guidelines and obtain the necessary approval. The whole approval process takes considerable time. Responsive websites don't have such requirements as they are easily available on the internet. 
Conclusion  
Mobile apps and responsive websites both have their own set of benefits and disadvantages when it comes to eCommerce businesses. That makes it tougher to choose between the two. We explored some important aspects above, but other factors also hold equal importance, such as your business domain, goals, budget, and target consumers. Therefore, doing a proper analysis would help make an informed decision. 
To gain the best of both worlds, it would be great to have both – a responsive website and a mobile app – if budget isn't a constraint for you. 
Author bio:
Varsha Solanki is a Digital Marketing Strategist at Space-O Canada, a mobile app development company. She has 3 years of experience in the Information Technology industry. She spends her time reading about new trends in Digital Marketing and the latest technologies.