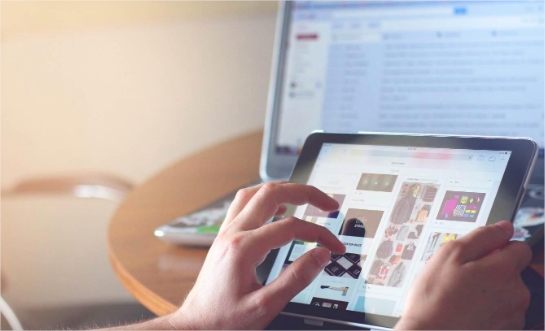 Thinking about creating a newsletter for your brand? Here's everything you need to know and consider when designing a newsletter in 2020. 
Email marketing is important because this tactic helps businesses build relationships with customers, nurture leads, and drive conversions. In the United States alone, 99% of users check their email daily and approximately 50% of users check their email more than 10 times a day. Email is also the preferred method of communication by users who want to receive updates from brands!
Whether it's b2b or b2c, email marketing is an important component of any digital marketing strategy. In fact, 93% of b2b marketers use email to distribute content and 80% of b2c professionals believe email marketing increases customer retention. With these data-based marketing statistics weighing heavily in your favor, there's no reason not to put effort towards email marketing ideas in 2020. Call it your marketing new year's resolution, if you will.
Below, we'll go over everything you need to know for email marketing 2020.
Content Marketing and Email Marketing 
If there ever was a dynamic duo of marketing, it would be these two. Content marketing and email marketing make the perfect pairing because they complement each other. Without content, there would be no production and no email to send. Content, is quite literally, the stuff within the email grabbing user attention and keeping it there. Without email, the content wouldn't reach its target audience. It would go nowhere because email is the distribution side. These two aspects of marketing, production and distribution, work hand in hand to ensure seamless communication between brand and consumer. 
Keep in mind, when crafting your effective newsletter ideas one of the main things to consider is your call to action. Apart from reading over the content in your email, what else are you asking of your audience members? If you're a b2c company, are you looking to increase purchases and drive revenue? If you're a b2c company, do you want users to make an appointment or schedule a call? First, think about what you want to ask your users, and then wrap it up in two concise words: subscribe here, share now, purchase now, and learn more…etc. these are just some examples of widely used CTAs. Next, you will need to choose a clear location within your newsletter where readers can easily see the CTA. This will help with your newsletter engagement and drive maximum ROI.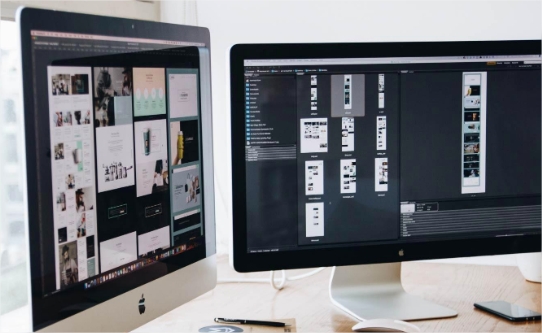 What to Consider when Designing a Newsletter
There are many different components to a newsletter. All of which need to entice your audience while also adhering to brand guidelines. From the arrangement and design to the subject matter and pictures, everything needs to be cohesive; otherwise, it will be a distraction to your users and central messaging. Below, we've compiled 10 tips to consider when creating your newsletter and noted some newsletter design trends of 2020. 
Topics:

Think about the topics you want to discuss in your newsletter. Remember the subject matter has to be important to your audience. Whether it's informative content or for their entertainment, think about what your users can take away from the newsletter.
Tone:

When it comes to your newsletter, you quite literally need to set the tone. Consider what your business offers and how your tone will align with your branding. Will you have a more formal voice with your audience they can trust for the hardcore facts? Or will you go with a relaxed tone they can go to during the quiet moments of their day? Think about the tone your current social media channels have or how your website content is written and mirror it in your newsletter. 
Frequency:

In addition to tone, you will need to think about the frequency with which you want to send out your newsletter. Once a week is enough for some businesses. Others, a daily newsletter is more suitable to the content they're promoting. Think about what your newsletter offers to your audience members and whether or not your particular messaging is better purposes once a week or once a day.
Layout:

Designing the layout of a newsletter means establishing an order of importance with your subject matter first. Think about what you want readers to see first, second, third, so on and so forth. Naturally with newsletters, reader attention is highest at the beginning, so this is where you will want your most important pieces of information showcased such as your logo or CTAs.
Attention Grabbing Subject Lines:

Speaking of importance, your subject line is the first thing your reader's see. It's your team's chance to create a good first impression on your audience. For brands that are using a more informal tone, use humor and popular lines from TV and movies to grab their attention. 
Features:

It's true that newsletters have a high return on interest, however, if your business is looking to increase its revenue, having features and advertisements on your newsletter with partnering brands is another great way to gain some additional cash. Features are also a great way to increase your business' authority by aligning your company with other authoritative brands in your industry. 
Color Scheme and Imagery:

Your newsletter is an extension of your brand. That's why, along with the tone and subject matter, the color scheme and imagery need to adhere to brand guidelines as well. Think about how you can extend your brand into your newsletter. 
User Input:

This newsletter is first and foremost for your audience. Therefore, they should be able to contribute to the newsletter in some manner. Allow users to chime in on popular topics featured on your emails and feature their opinions as well. 
User Feedback:

Just like their input, user feedback is important too. If you hear a lot of users are having trouble reading your content because the color scheme is too jarring or if they felt insulted because of a major topic you discussed last week, you would pay attention without hesitation. 

Analysis:

Measuring key performance indicators of your newsletters will improve the relevance of your content and increase your subscription base. Logging your CTRs, time spent reading your newsletter, and engagement will show your team what is connecting with your audience and what isn't. 
Examples to Follow
There are dozens of great newsletters out there for users with different interests. You can get book recommendations delivered straight to your inbox or have the daily news waiting for you in the morning. These are just a couple of our favorite newsletters you can draw inspiration from.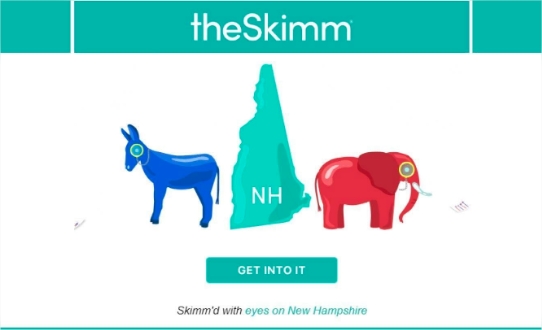 TheSkimm is a media company that has a daily newsletter with all the information you need to start your day. From politics to entertainment, it's all summed up in one enthralling read. P.S. If you need ideas on how to create attention grabbing subject lines, this is the newsletter to subscribe to.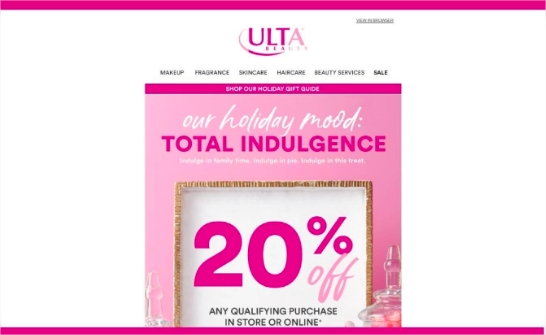 Ulta is a beauty store chain that sells cosmetics, makeup, skincare, fragrance, and other bath and body items. Their newsletter features daily discounts for users and new products the store has to offer. P.S. If you want examples of eye-catching CTAs, especially for holiday email campaigns, this is the newsletter to subscribe to.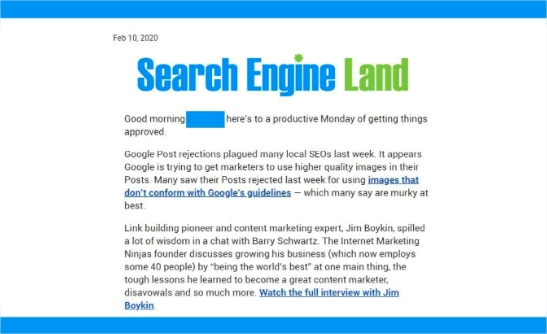 SearchEngineLand is an SEO blog that covers topics ranging from SEO and SEM to local and mobile search. Their newsletter features the hottest trends in the search industry and tracks business development across industries. P.S. If you need an example of a formal yet inviting tone for b2b brands, this is the newsletter to subscribe to.
Key Takeaways
Email and content marketing are the shield and sword that will help you rule your digital kingdom! One cannot exist without the other and when the two are combined, they create one effective digital marketing plan. Before you go, here are the key takeaways and newsletter design trends for 2020 you need to know:
Email marketing is a popular tactic for B2B and B2C brands

For every $1 you spend on email marketing there is a $42 ROI

When creating your newsletter, consider what topics are informative and entertaining for your consumers

The tone of your newsletter should match the current copy on your website and social channels

Give your users options with how frequently they receive content from your brand

Remember to structure your newsletter based on the order of importance of information you're relaying to your readers

Be creative with your subject lines to make a good first impression

Features are a great additional source of cash while also giving your company the opportunity to be seen collaborating with other authoritative brands in your industry

The color scheme and imagery of your newsletter need to adhere to your brand guidelines as well

Include user input to keep your audience engaged in your content

Listen to the constructive criticism from your audience to enhance your newsletter

Measure KPIs to determine the relevance of your content and use the hard facts to make adjustments to your strategy as necessary
As email and content marketing continue to dominate across the marketing industry, we hope this blog post has shown you popular email design trends for 2020. If you have any questions, leave them in the comments below, good luck!
This blog post is written by Therese Palmere, she is a content writer for Aumcore.