Print On Demand is a booming business around the world and it keeps growing continuously. Not only the number of people who are publishing t-shirt designs is increasing, but also the number of platforms on which those designs can be uploaded and sold.
The more print-on-demand platforms you are selling on, the more time-consuming the process of manually uploading the designs is. There are plenty of tools available that promise to make this process easier for the user.
Flying Upload is such a tool and today we are going to check it out.
Edit Designs and Upload them parallel to multiple platforms
The main purpose of Flying Upload is that it will enable you to upload your designs to multiple POD platforms parallel and at the same time.
You start by selecting up to 500 designs that you want to upload to Merch by Amazon, Redbubble, Zazzle, Spreadshirt & Co. As soon as the description and tags are made – Flying Upload also supports you in this field (later more about that) – you can select the platforms and start the upload.
The upload itself entirely happens automatically. In the meantime you already can start working on your next designs or do some niche research.
Images will be resized automatically for the ideal fit to each platform. Especially for the different articles on Merch by Amazon (t-shirts, popsockets, etc.) this is a very nice feature.
For every upload made a report is provided at the end which gives you an overview if all designs have been uploaded successfully and if there have been any errors.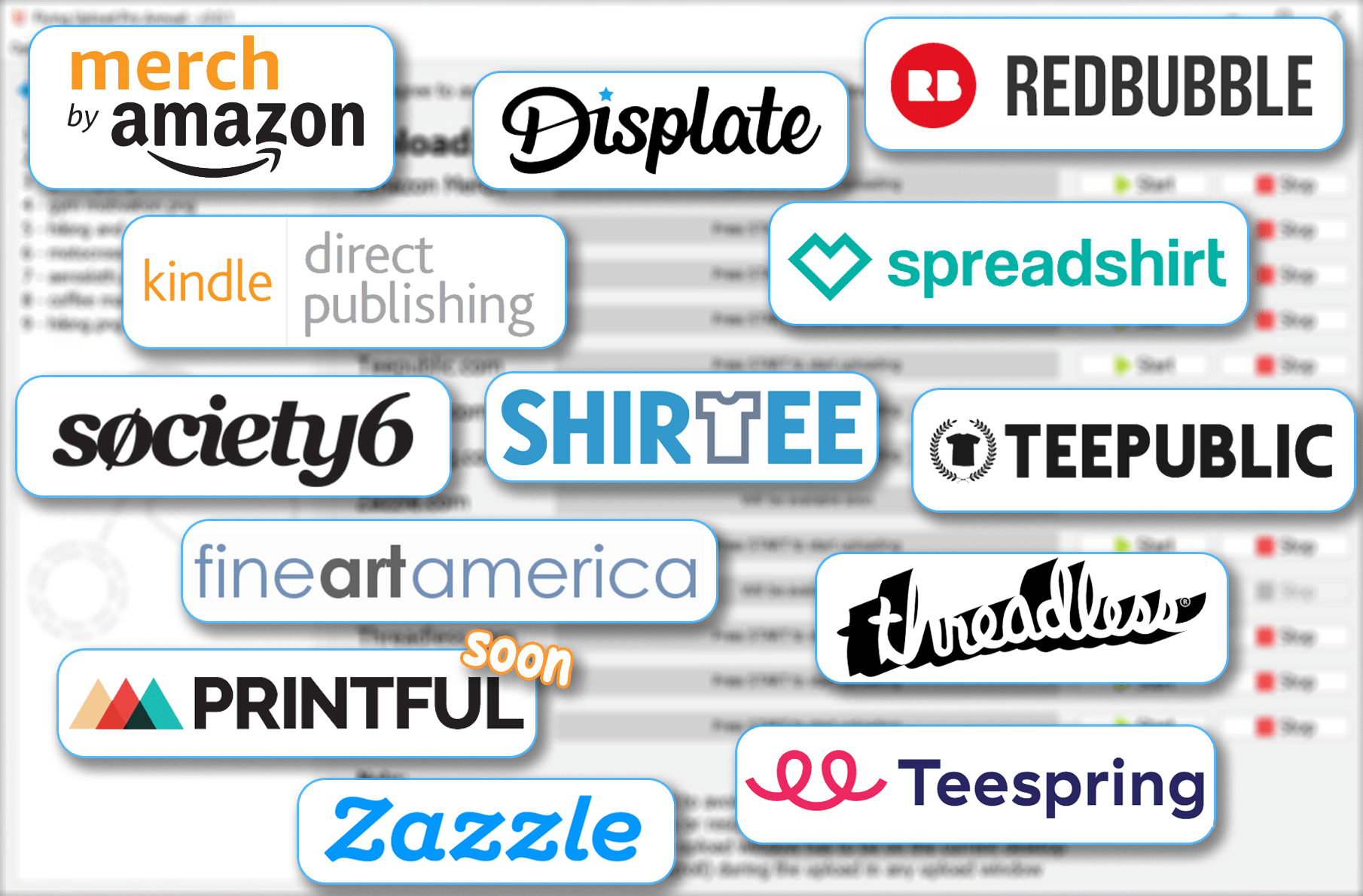 Trademark Check
The trademark check of Flying Upload recently got a big update. Now you can check trademarks in different languages just with one click (as shown in the GIF below).
Potential risks will be highlighted red immediately. By double clicking on a word you will get more detailed information on why the word might infringe a trademark.
The trademark check includes all official institutions for the Merch by Amazon Marketplaces (excluding Japan) and covers all relevant nice classes for POD.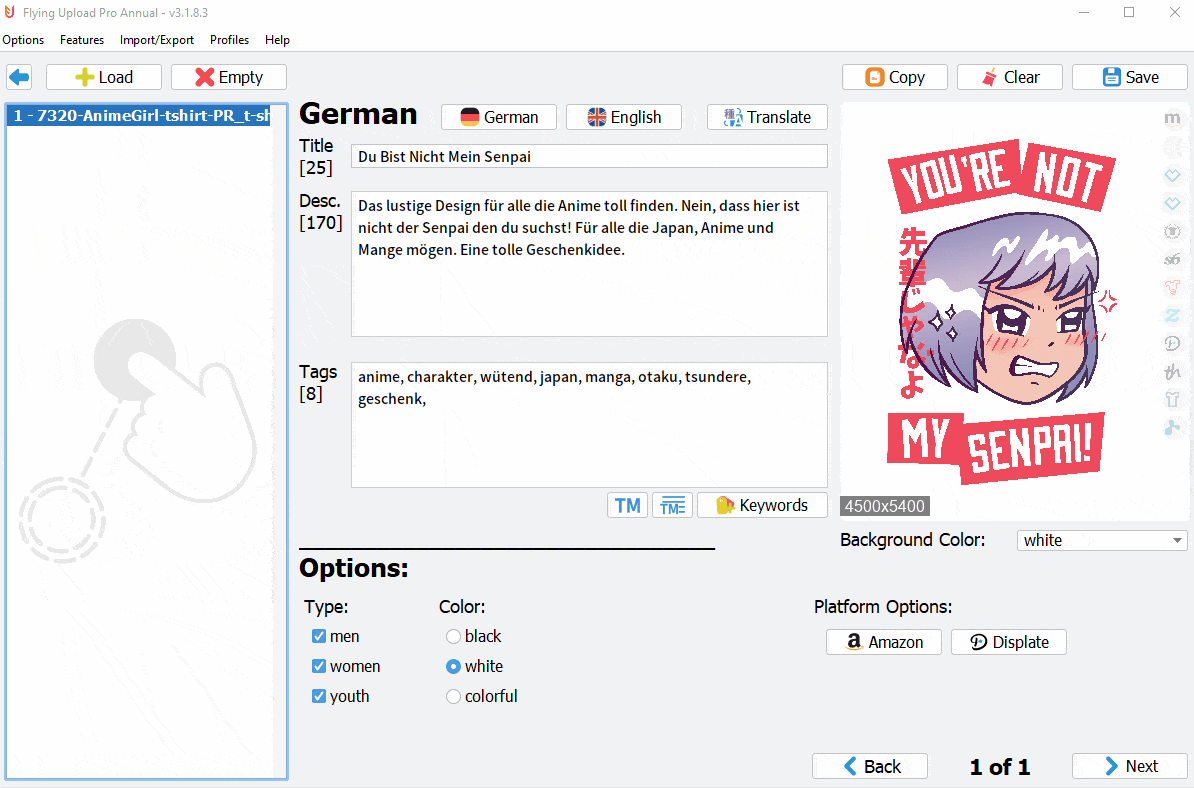 Put more relevant Keywords to your design
Sometimes finding the best keywords for a design can not be easy. Flying Upload also supports you here.
With the Keyword Finder and the Keyword Suggestion Manager there are two helpful features included that will make the keyword search easier.
The Keyword Finder displays lists of synonyms, long keywords and used keywords. The keywords easily can be added to the design by one click.
The Keyword Suggestion Manager even goes one step further. You choose a keyword for your design and then automatically a description and relevant tags will be added. You afterwards still can edit them.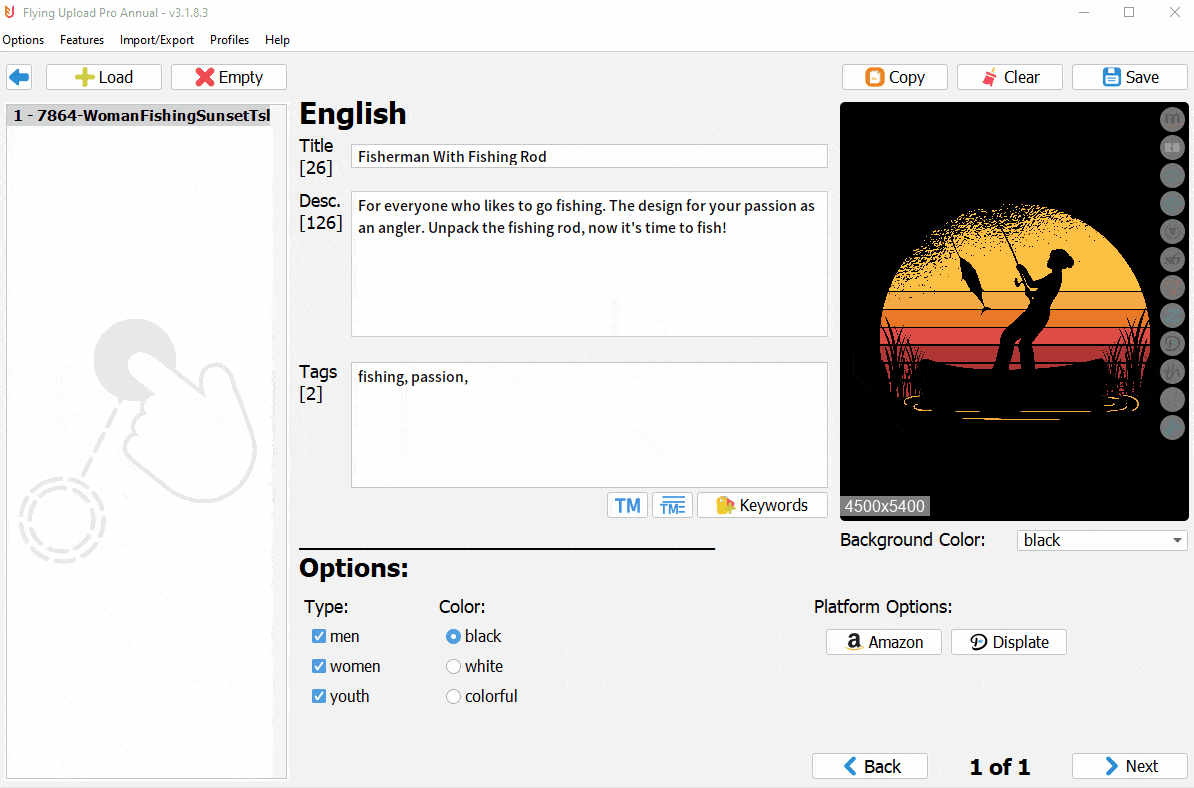 Upload Manager
The Upload Manager allows you to save design configurations as templates and reuse them whenever they want.
A template automatically sets all inputs and makes tagging easier and faster. For each template shortcuts can be set to make the use as quick and easy as possible. Each template can be configured as default and then will be used automatically.
Also a history is included, which displays all the different platforms where you already have uploaded your design.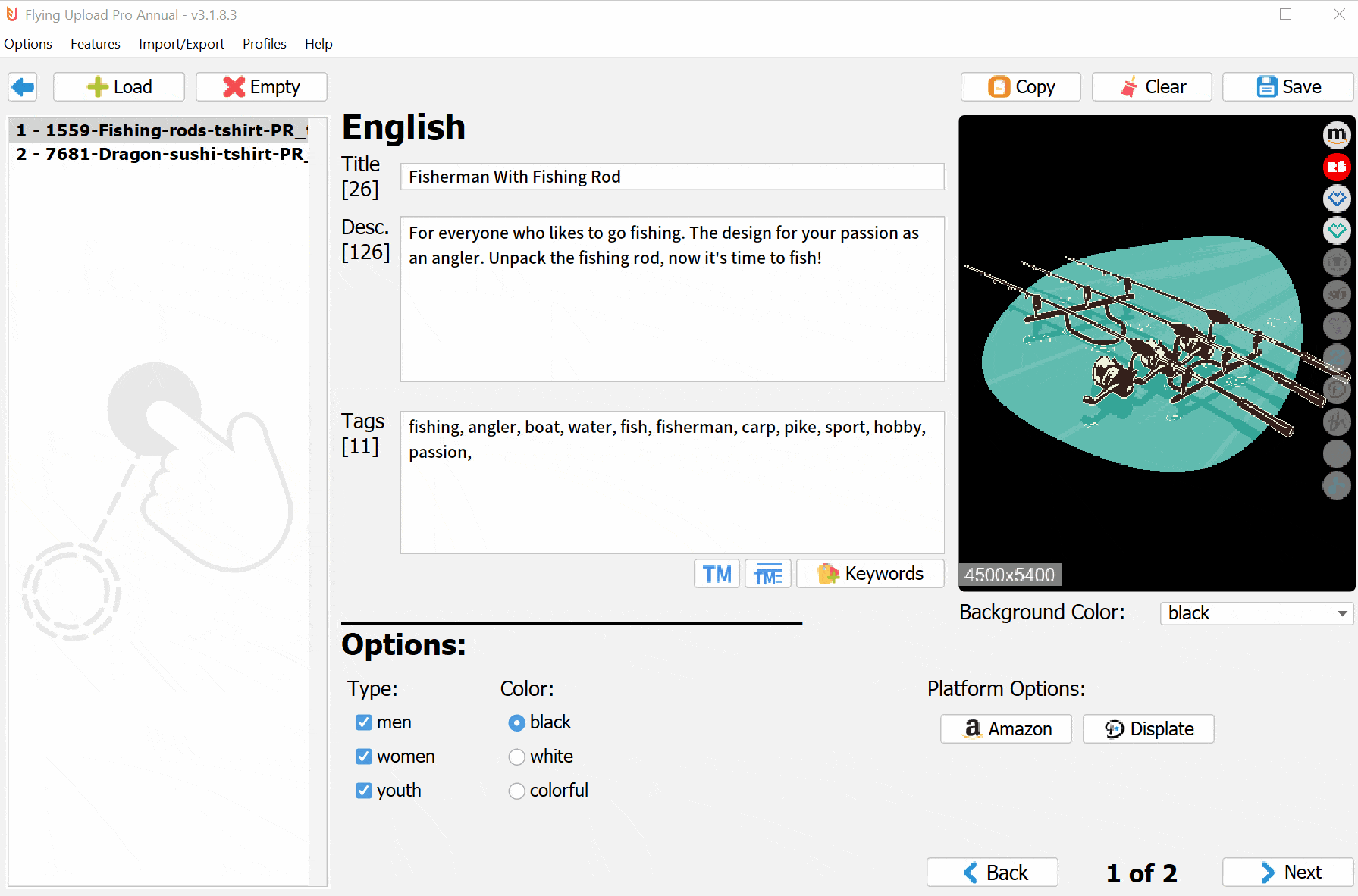 Automatic Translation
The POD business is global. It can be of very big advantage to upload designs not only to one market or country, but also to others. Obviously this only will work if designs are well described and tracked even in foreign languages.
Flying Upload provides you with automatic translations into German, English, French, Italian and Spanish which are based on Google Translate. Of course Google Translate cannot be compared to a human translator as it has its weaknesses when it comes to translating longer descriptions or very specific keywords. Nevertheless it is a welcomed help, when uploading designs in foreign languages.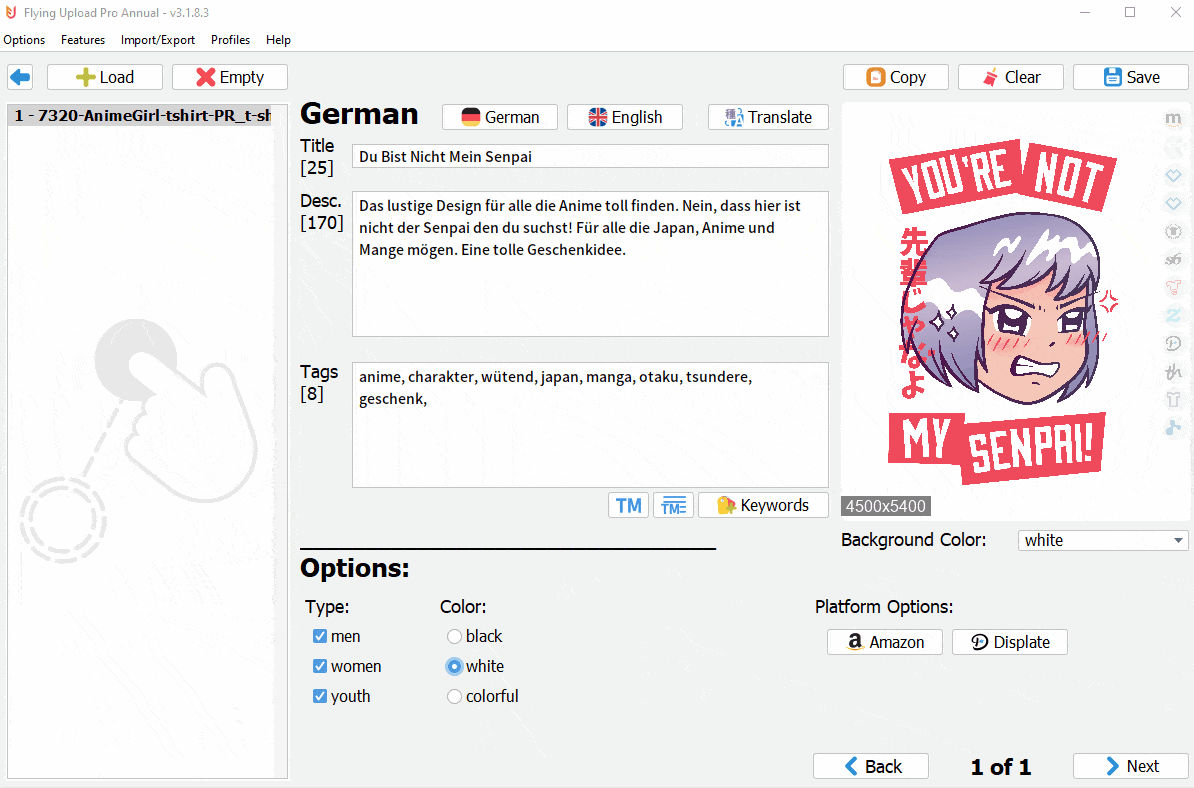 KDP
If you are doing KDP Flying Upload has a separate subscription plan for you. It basically includes the same features like POD (Trademark Check, Automatic Translation, KDP Category Search / Suggestions, Upload Manager), just in an interface optimized for KDP.
Furthermore a Color Book Generator which lets you create a coloring book automatically from images and a Cover Generator (PNG to PDF) are integrated in the KDP tool.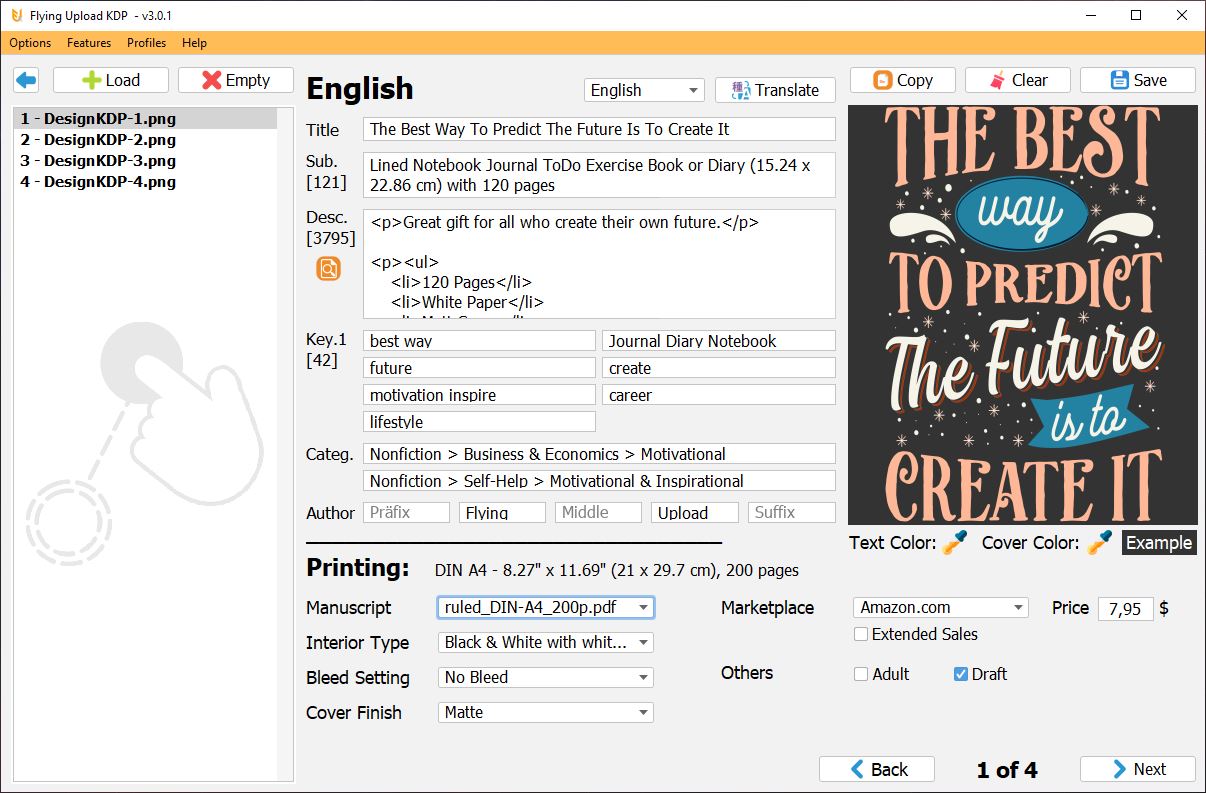 Plans
Depending on the size of your business and the number of platforms you want to upload to, you can choose between three different plans – Beginner, Advanced and Pro. The most attractive plan probably is 'Advanced' as it includes unlimited uploads to the most popular platforms (Merch by Amazon, Redbubble and Spreadshirt) as well as the trademark check.
If you are new to the business or just want to try out POD automation for the first time we recommend the free version of Flying Upload to get started with. The Trademark Check as well as the Keyword Finder are not included and the uploads are limited to a maximum of 30 every month, but still it is a good way for you to get warm with the tool and check out if Flying Upload could be something that you can profit from.
Bonus feature
Just entering the POD world? Vexels+Flying Upload is a great combination, but feel free to check out tools exclusively for mockups (like Bulk Mockups), advice for PODs & more. We know we have a lot of everything, but different niches require different solutions. The merch world is your oyster!
Conclusion
Flying Upload is a robust and powerful tool with many different features. Actually it is a perfect continuation of the package Vexels provides you with as it is tying up with the POD process directly after the designs are being finished.
At the beginning it can be quite a challenge to find out how everything works and how to get the most out of the tool (especially if you are new to POD automation). To make the first few hours of using the tool easier, Flying Upload has some great tutorial videos on its website. They will guide you step by step through the different stages of successfully uploading a design.
All in all Flying Upload is a great tool to automate your POD business and can be a massive time saver. The bigger your business is, the more you will profit from it.