This is a guest post written by Neil Lassen from Merch Informer. Merch Informer is the Leading Merch Research Software for print-on-demand products on Amazon, Etsy and other PODs.

I have never been one for fashion or into shopping online for things I do not really need. What I HAVE been into for many years has been finding interesting ways to make money while staying home and enjoying one too many coffees.
Since I got started in College, I have tried just about every online venture there is. I have run hundreds of websites, dropshipped, run Shopify stores, sold physical products via Amazon FBA, and launched iOS and Android Apps. All of that being said, the one thing I keep coming back to over and over again is Print on Demand.
Specifically print on demand (or POD for short) selling Merch on Amazon!
Being one to constantly test out new methods and techniques, I had tried my hand at running traffic to Redbubble and Teespring pages years ago. This was a LOT of work, and there was very little to show for it.
This was until late 2015 when Merch by Amazon was launched!
Merch by Amazon was a brand new platform launched by Amazon and it completely changed my world. This new platform let you upload artwork to the system. Amazon would then put that artwork on t-shirts, hoodies, long sleeves, sweatshirts, and pop sockets and then give YOU money every time it sold. There was absolutely no inventory, and zero customer service. The best part though, was that I did not need to drive any traffic since there are millions of shoppers on Amazon.com anyway!
The Early Days – Long Days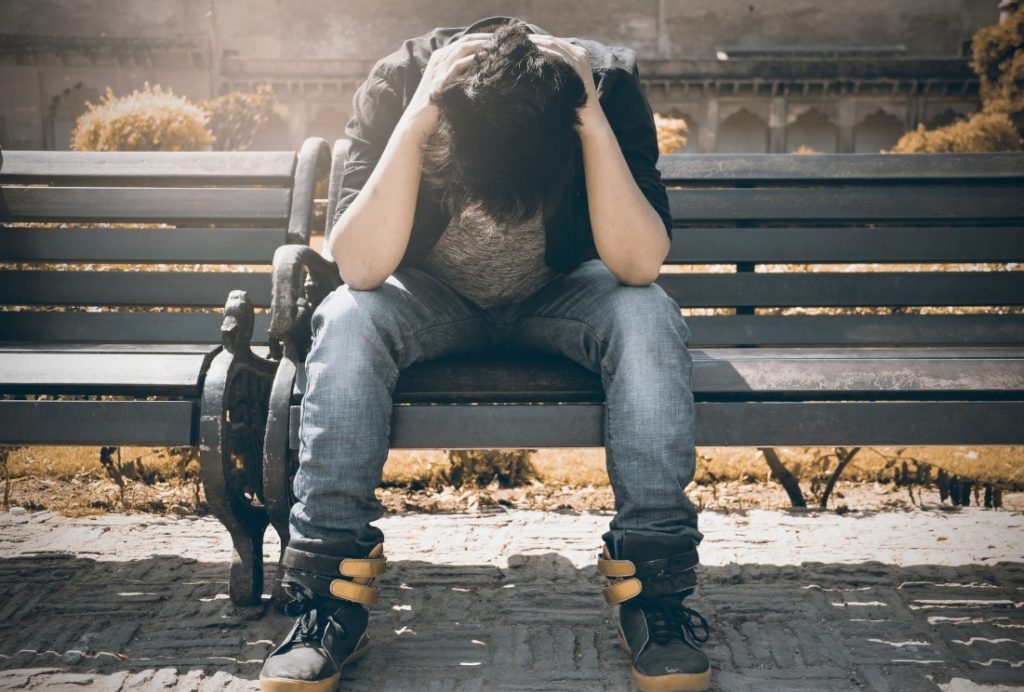 In the very early days, there was no information on how to best use the platform so everything was all about testing. If you had no idea how to design a t-shirt design, you had 2 options. You could either outsource the designs, or learn some basic design skills. I chose to learn some basic design skills (just enough to get by) and began to put up my shirt designs on Amazon. Within a week, I saw sales start to flow in from traffic that was already on Amazon.
I have since moved on to outsourcing my designs or using services that offer creative works like Vexels. I just had to prove the method of uploading to Amazon actually produced an ROI before I really put the foot on the gas!
Very soon after I started, I realized that if I was going to be successful selling t-shirts on Amazon, I HAD to understand what customers were interested in buying and what they were purchasing.
If you just put up designs that YOU like, you will probably be disappointed in your sales numbers. As I mentioned in the intro, I have never been into fashion, so I had to research exactly what customers were buying on Amazon.
I spent hours every day simply going through Amazon page after Amazon page creating spreadsheets of ideas that were hot. The hours got longer and longer till I was working on my Merch business 8-10 hours JUST doing the research for everything.
Since I had other things to do as well, this was getting incredibly stressful and I knew there had to be some sort of way to speed up the process.
Speeding Up Merch Research
Around this time, I was experiencing a lot of burn out (which a lot of print on demand sellers eventually face) and new I had to change something.
I teamed up with my now business parter who was also running a Merch POD business and we began to build what is today the software Merch Informer.
Merch Informer was build for one single purpose, to speed up the time print on demand sellers were spending on research and give the business data that is crucial for success.
What started off as a simple idea has turned into a full suite of software tools including: the core software of 14 modules, a web designer, 2 apps, 5 Chrome extensions, a Merch video course, and a very extensive Print on Demand blog.
Research Example
We all know that the fun part of any print on demand business is the designing or getting your created designs delivered to you. However, research is what will make or break your business so let's go over an example of how it works.
Let's say that you have no idea where to start or have absolutely no ideas that are coming to mind. You would first want to log in to Merch Informer and check out the Merch Hunter. This is going to show you the best selling designs on Amazon on any given day. This data right here lets you know EXACTLY what is hot and what people are interested in buying.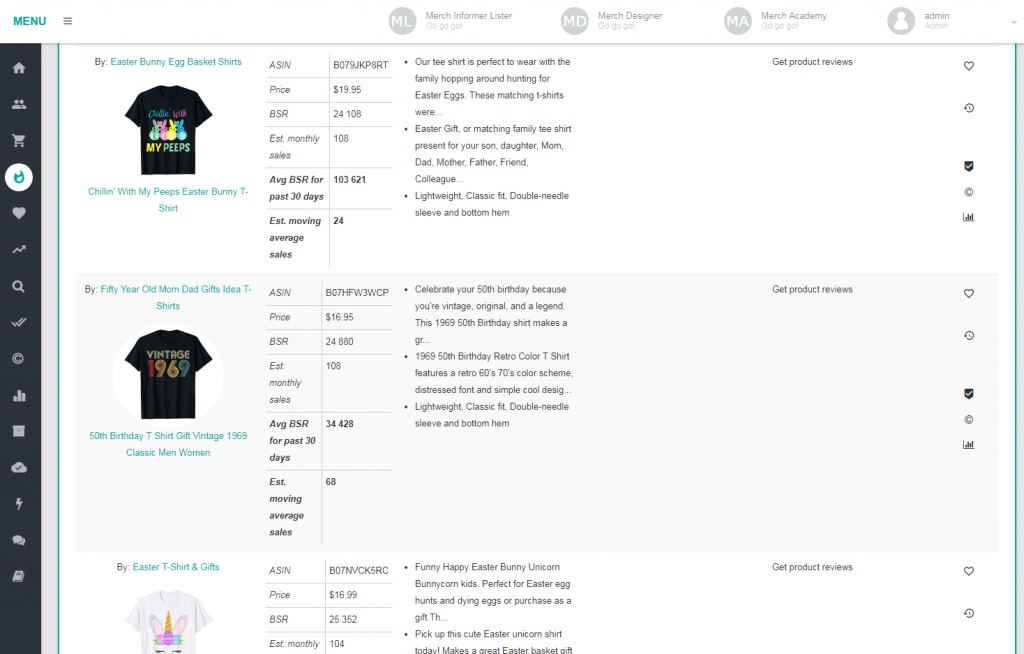 Right away we see that since Easter is coming up, people have started buying Easter shirts! In fact, some of the best sellers are selling over 100 a month on Amazon on just a single shirt.
From here, we can see that this has been a seller for the last few weeks and the sales velocity is improving.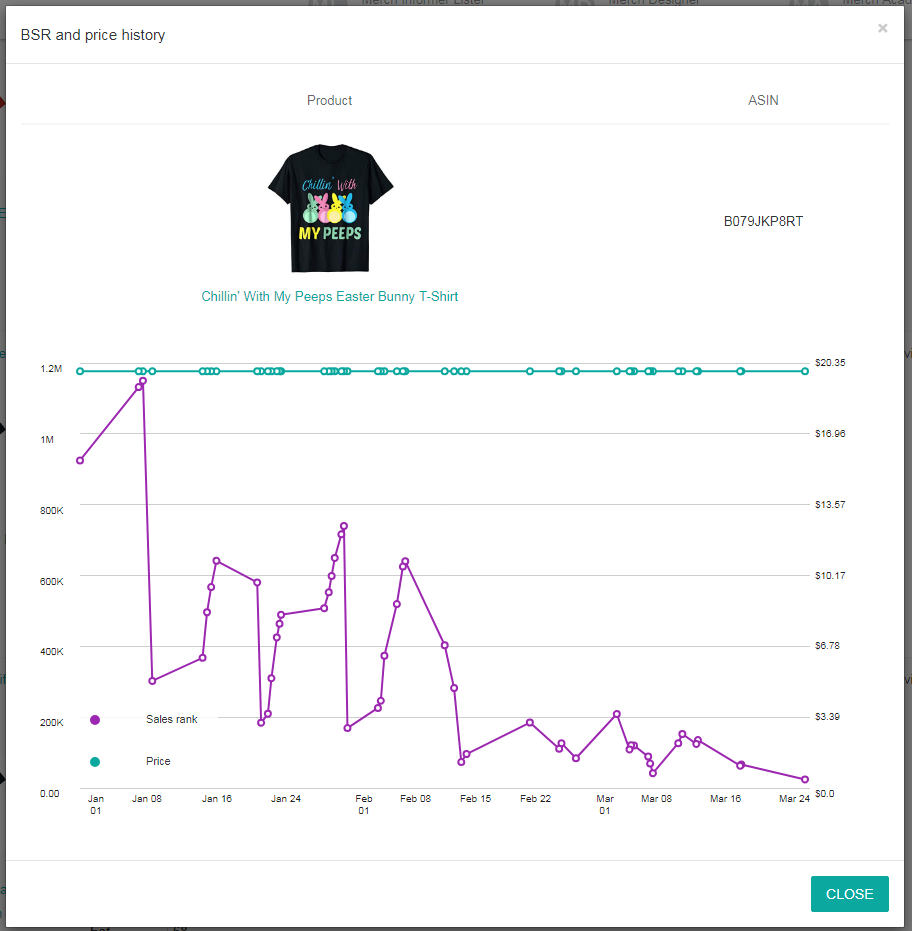 This data right here tells you that they have kept the price high, and sales are increasing.
This is a simple example of research, but now you know that you can create your own unique Easter design or get one from Vexels to throw up on all the print on demand platforms.
Keywords
Now that you have an idea of what is selling and what kind of designs you want to get, you still have one more part of the research process left.
You need to know what keywords are being used so that you can use similar keywords on all the print on demand platforms that you are a part of. What this is going to do is give you the search visibility that you want so that your new products get in front of the right customers who are interested in buying!
This is extremely easy with Merch Informer.
Head over to the product search module inside of the software and simply search for the niche. In this case, you are looking for Easter.

Just like that, you have the most used keywords in the best selling products that are selling in the Easter niche on Amazon.
Using these keywords and the research you have done previously, you now know how to construct your print on demand listings and start getting sales.
You can now focus on the fun part, getting your unique designs!
Expanding Your Print on Demand Business
What many people miss when doing print on demand on Amazon or any other platform is that your business has assets. These assets are your collection of designs in your catalog! You can use these on multiple platforms and all over the internet.
These do NOT need to just be on clothing either!
You can put your designs on phone cases, pop sockets, shower curtains, shoes, and even no content books. That's right, you can use your design assets from the research you did above to sell journals and notebooks. I have been dabbling in this since you can sell these on Amazon (remember they have the most traffic!). If you are interested in how that works, we recently wrote a blog post on Book Bolt on how you can use your design assets from Vexels to sell Books on Amazon.
The bottom line is that you should be looking to sell your designs on any platform that has an audience. These include but are not limited to:
KDP
Etsy
Redbubble
Teepublic
Zazzle
Society6
Teefury
Wrapping It Up
Selling print on demand on the internet is one of the most fun internet businesses you can set up! It does not need to take you all day to accomplish great sales, nor does it need to stress you out.
Using Merch Informer to do your research and combining it with powerful services like Vexels can cut your time down from 10+ hours a day to under an hour to run a full time business that is fun, exciting, and rewarding.
Merch Informer may not be for the Mercher who is looking to put up a few shirts to buy for themselves. However, if you are looking to turn your passion into a business, Merch Informer has helped tens of thousands of people start and see the sales start flowing into their accounts!