The late 2010s and early 2020s have seen nothing but the rise of content creators along with the further development of the Creator digital business model.
The opportunities that the digital industry enables for all kinds of creatives, plus the lockdown period that forced us all into staying at home longer, led to innovative ways to stay creative and meaningful while creating new sources of revenue.
Where once people used to go for entertainment, now people started creating their own content and growing their own audiences.
While in the past the ability to make money online was only attainable to people with both the marketing and technical skills to convert sales, individuals armed with nothing but a large following quickly learned that they could turn their views into sales, and a safe, practical, and profitable way of doing so are with print-on-demand.
Enter Content Creators.

What are Content Creators?
Broadly speaking, Content Creators are individuals who conceive and produce content that's appealing to medium-to-large dedicated audiences.
That being said, Content Creators can have audiences of any size since there are creators for almost any niche or topic you can think of.
Interestingly enough, content creation is an activity that can be addressed in a way that suits the creator's resources and capabilities best. For example, some food content creators focus on showing the ingredients and cooking procedure, while others prefer to exploit their charisma on camera by showing their faces and reacting to the food they just cooked.
In any way you slice it, all content creators have a degree of appeal and engagement that audiences find entertaining, helpful, or relatable in some way.
What characterizes Content Creators from occasional Youtubers is that they're recognized for following a cohesive line of content and having a dedicated and loyal base audience.
What kind of content do Content Creators make?
Content creators make content based on the things they're keenly knowledgeable and/or passionate about.
There's not just one type of content that trumps others, nor there's just one topic that's the best among the rest.
Content can be in the form of videos on platforms like Youtube, short videos on TikTok and Instagram Stories, as well as illustrations on places like Instagram, and live streams on Twitch. Some content creators take it to blogging and writing and express themselves better on platforms like Twitter. If it can be shared, it's content.
In terms of topics, pretty much anything you can think of! (within the legal boundaries, of course) From useful to purely for entertainment, content creators are good at recognizing what they can bring to the table on a specific subject.
This characteristic allows Creators to freely explore different possibilities if one style, topic, or form isn't working for them.

Photo by Jenny Ueberberg on Unsplash
How do Content Creators make money?
Creators also have multiple streams of revenue from their content creation activities, some of which are:
Ad revenue: Traffic is one of the cornerstones of online business, and content creators are known to bring eyes (views) wherever they're at.
Donations: Often overlooked, the support given via tips and donations with services like Ko-fi is also part of a creator's revenue stream.
Content subscription platforms: Platforms like Twitch and Patreon feature a subscription model that enables exclusive benefits and content for subscribers.
Selling Merch: An excellent way for giving audiences a sense of belonging by supporting the creator while generating revenue at the same time. An example of this would be

selling t-shirts

or stickers.

Online teaching: Many experts eager to share their knowledge take it to content creation and specialize in learning content, making this ideal for online learning platforms like

Skillshare
In cases where creators have a large following that's appealing to a specific organization or business, paid sponsorships are also a way for them to make money.
How do Content Creators make money with Merch?
More and more content creators are resorting to print-on-demand as a zero-risk way to offer their community an affordable way of supporting their favorite creator, while greatly strengthening their engagement.
Fans will take any opportunity to get a grip on the latest merch drop, be it a cool t-shirt or awesome stickers or button pins.
But this is easier said than done.
In general, content creators are mostly focused on well, creating content. That leaves little time to set up a store and manage it, which is exactly what print-on-demand services like Printful shine in, giving creators a high-quality printing and fulfillment service with zero upfront costs that easily integrates with marketplaces like Shopify and Etsy.
Other print-on-demand platforms that creators are known to use are Redbubble and TeeSpring, where they just upload their artwork and the platform takes care of the rest.
That leaves us with another stepping stone: creating the design.
Most content creators are not designers themselves and oftentimes resort to third-party design services to do the artistic work for them.
Successful print-on-demand design platforms like Vexels provide creators with all the key design tools that allow them to generate their own custom high-quality branded design without hassle, fully original, and fully safe, ready to be used on any platform.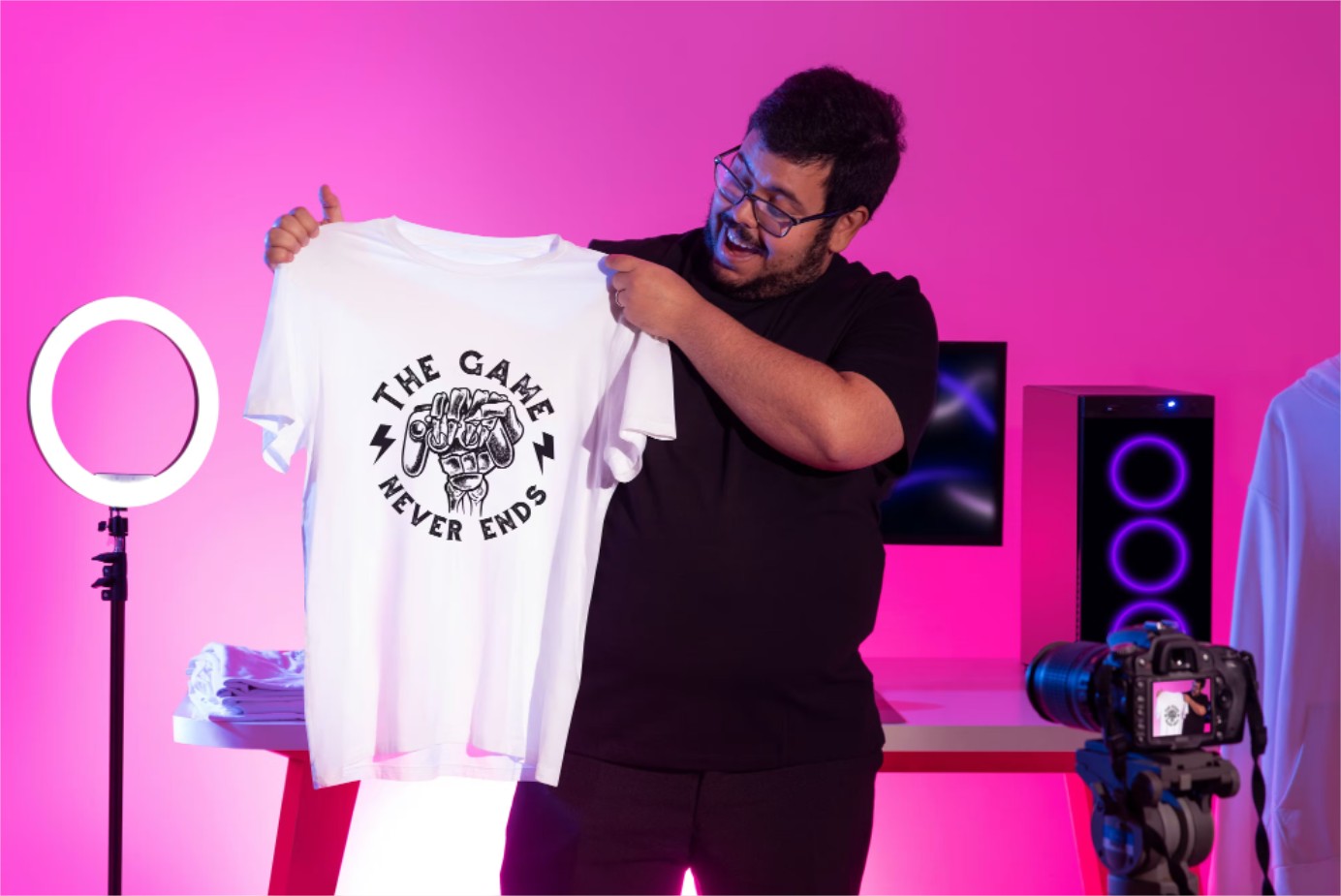 Among the chief tools for this task, creators can make their own designs on the T-shirt Maker and showcase their products with the best mockups using the Mockup Generator.
Print-on-demand platforms are ideal for this kind of model since they allow Creators to forget about taking care of all their logistics, which is a key production aspect to deal with.
How to Become a Content Creator?
Theoretically, anyone can become a Content Creator, but the truth of the matter is that it demands hard work and it doesn't pay out as quickly or as much as you'd think from the start.
Successful Content Creators work first and foremost on their Content and audience, which will then bring revenue, and in most, if not all cases, through hard work, dedication, and a few failures along the way.
The good thing is that if there's a thing you're passionate about, if you have some kind of talent, or if you're just too interested in becoming a Content Creator, you can find all the tools you need to become one online.