Yes! You can get the job of your dreams if you feel you comply with the profile required. You just have to show that in your CV! Employers spend around 20 or 30 seconds scanning each CV, so the first step is to bear in mind that your CV is representing you while you're not there! It's the first impression any employer will have about you. And even more in this industry, you'll be already showing your graphic skills and personality. Take advantage of your best marketing tool! Be brief but consistent… how?
Follow these useful tips!
Quick Tips
Create a personal brand identity: logos, font, images should follow a same line, every detail counts
Reflect your personality, make sure you stamp your personal touch
Prioritize a readable font over the fancy one
Use subtitles and dividers for each part to find specific areas quickly
Include some pop of color
Include some sparks of creativity but watch out, a small wink is enough, don't go too far
Adapt your CV according to each job
Never more than two pages long
Please don't use Microsoft Word!
Resources
On VectorOpenStock  we have several resources that might help you to create that great resume.
Here are some ready templates you can jump in:
Or even better you can create your own resume using our infographic vector that comes loaded with useful icons, software logos, graphics, bars, flags for languages and much more: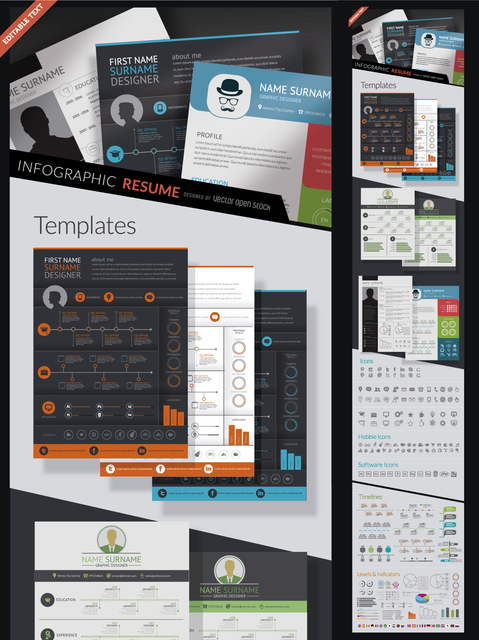 Cover letter
Write a brief cover letter. It shows that you really care about the job you're applying for. Adapt the text to the particular job and please, don't copy and paste the same letter for different jobs cause your potencial employer will notice that! Show some enthusiasm and express why you're the right person for the job. Keep it short and sweet!
Short Bio
Start your CV  presenting yourself. Say what motivates you the most to work as a graphic designer and try to achieve a sense of closeness. Include your picture or even your self portrait!

Personal information
Name, degree, e-mail address and phone numbers. Include your personal logo, it shows professionalism and you'll be demonstrating part of your abilities. Portfolio o website URLs (if you don't have one, put efforts in having one, it's essential!).
Education/Degrees
Leave just the most important degrees. The most recent ones always go first! A good idea is to organize your achievements in a timeline. See examples below.
Work experience
Illustrate your working history with a timeline, it's clearer and easier to read. Include dates, position and a brief description of each role. You can find some good vector timeline resources in our brand new infographic resume kit.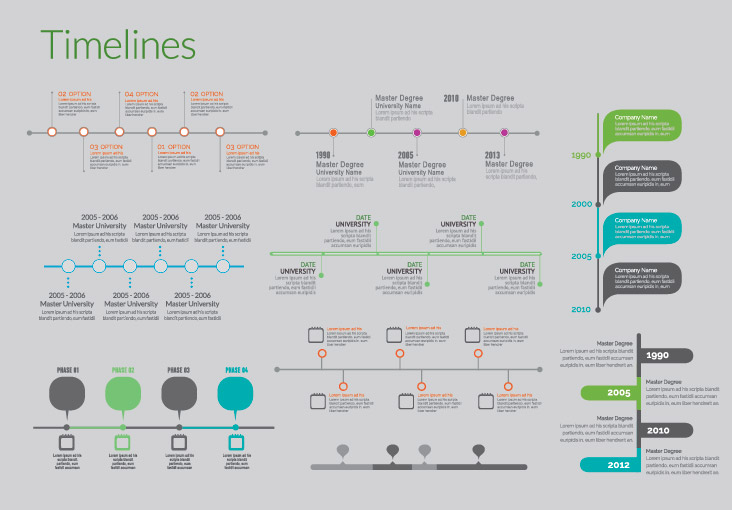 Languages
A good idea is to represent  languages you speak with flags, and your degree of expertise with graphics showing percentages. Find flags and expertise indicators in our infographic resume kit.

Design skills
List the software you work with and represent your level of expertise visually (could be bars, stars, circles, etc.). Include first the ones which are required for the job you're applying. You can pick what you need from our infographic resume kit.
Personal skills
Beyond the professional skills, you are a human being, your potential employer will be interested in you as whole. A list of positive characteristics of your personality is desirable. Ok, you can exaggerate a little bit… but don't lie.
Interests & hobbies
This is also part of you as a whole, hobbies talk about yourself outside work. List 3 to 5 hobbies you enjoy and make sure to use icons to represent them, that would be much more appealing than simple words, you can use our hobby icons from our infographic resume kit.

Final thoughts
Be visual, clean and concrete. Stick to the truth, stamp you personal style and please don't use Microsoft Word! 🙂 Here are some nice examples we have hand picked for you, get inspired and go for it: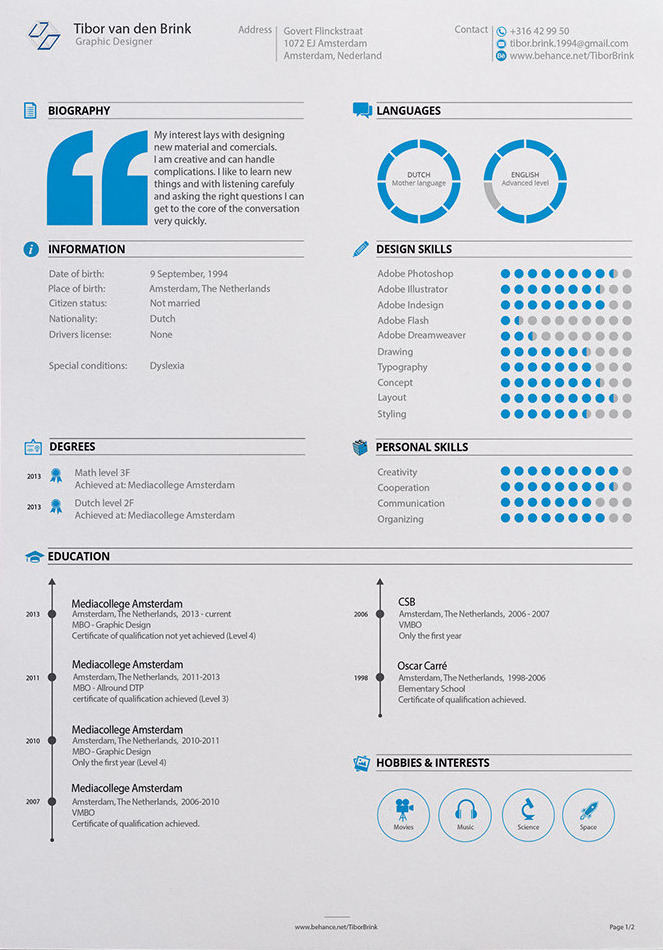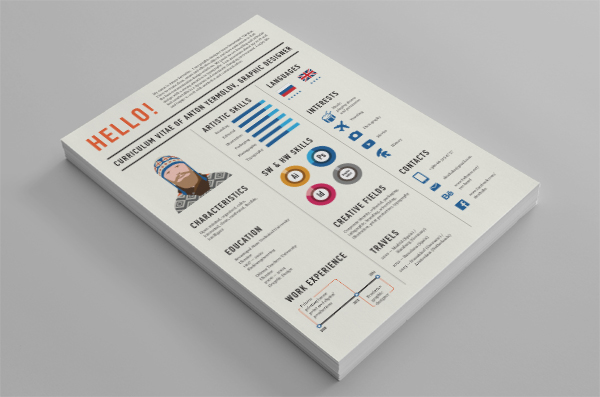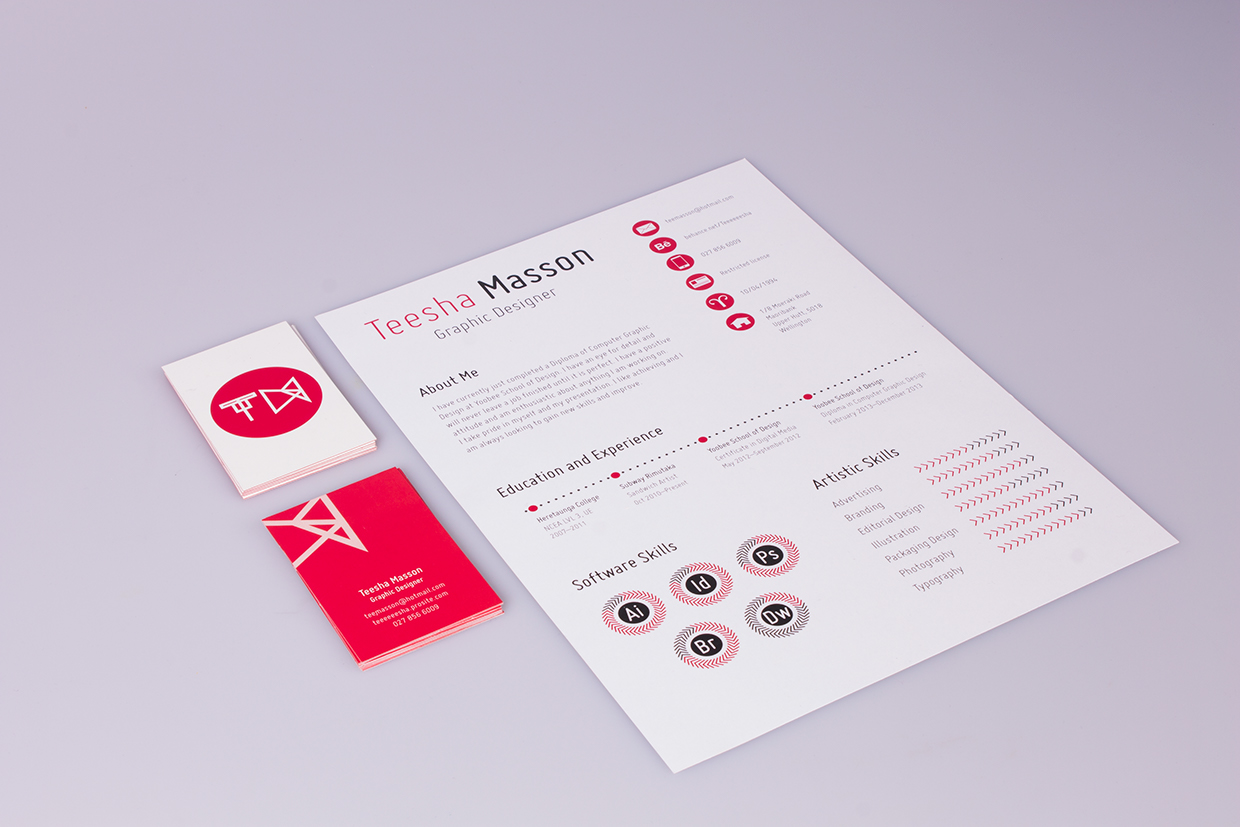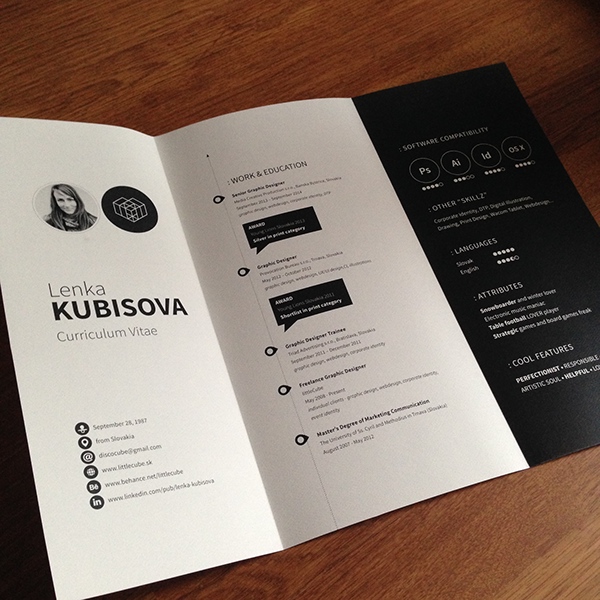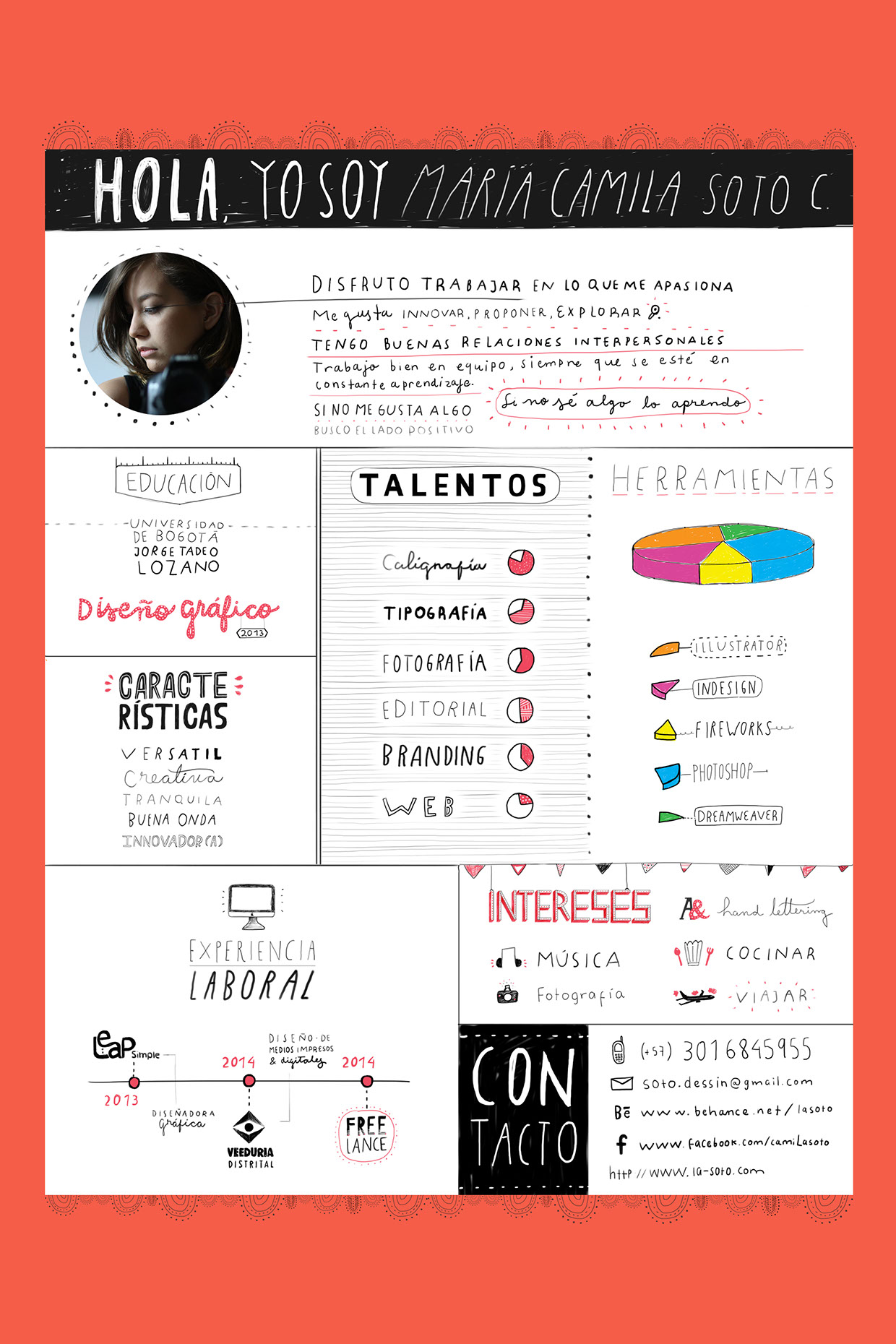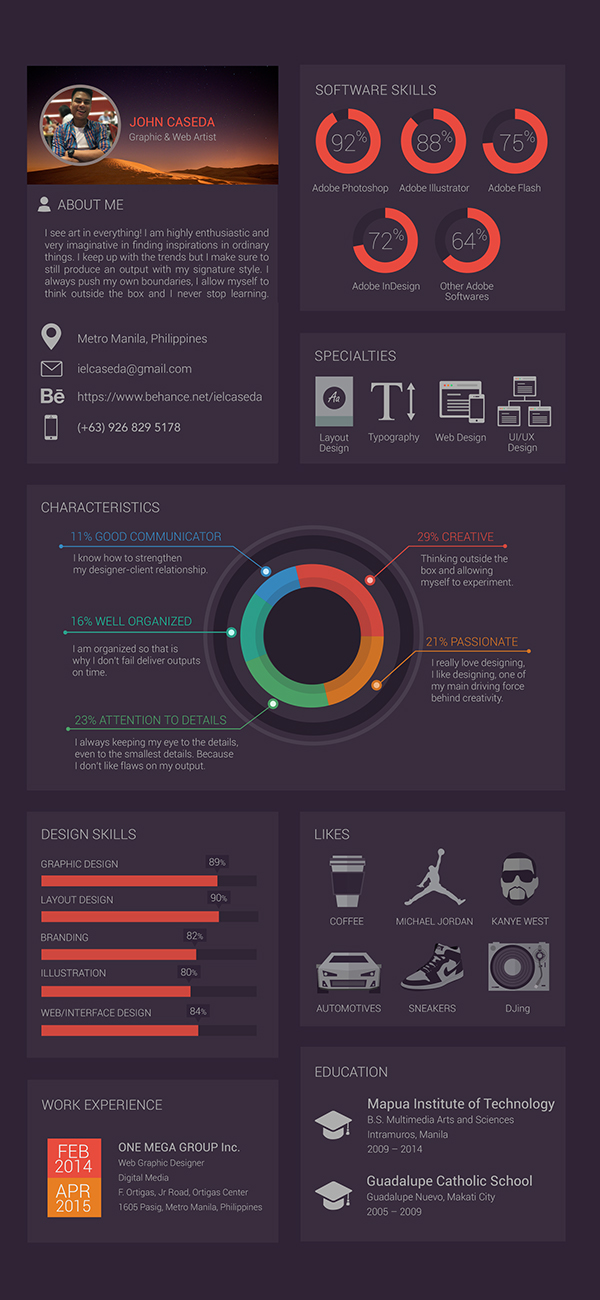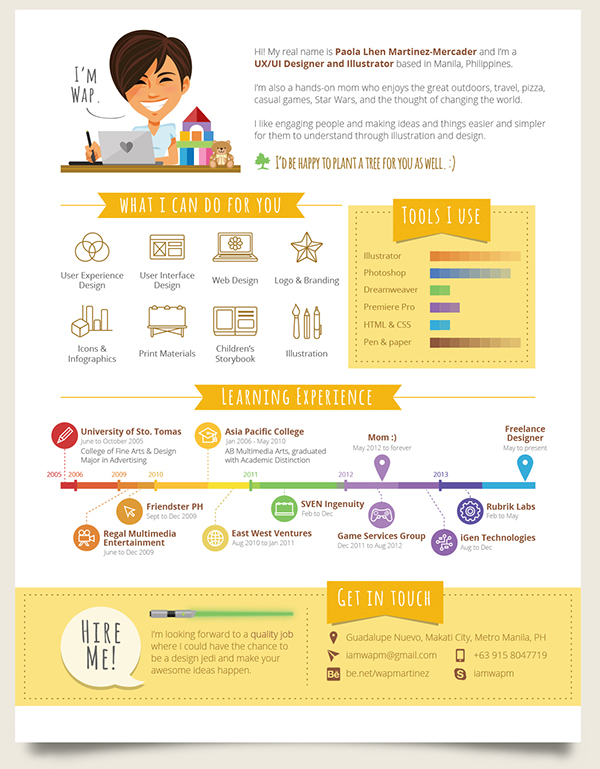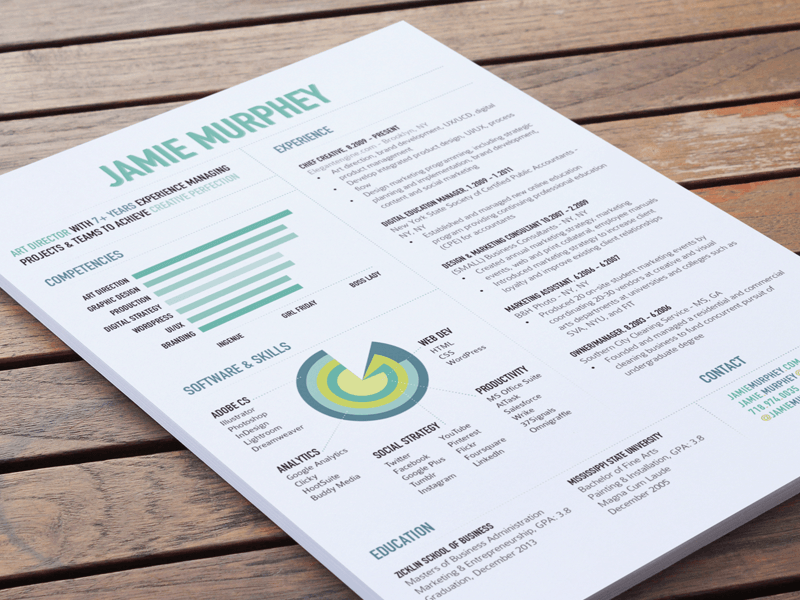 Now you have all the tips you need, ready to create yours and get THE job?