Mobile devices have become an integral part of our everyday life. Moreover, statistics show that 55% of traffic (and sales) come to online stores from mobile devices. While increased sales and drive related revenue are among the main goals of all online retailers, not everybody knows how to achieve these goals using e-commerce mobile app design tips. To give you insights on how the design of mCommerce apps impact a customer's decision to buy, we have analyzed e-commerce industry leaders and gathered five design tips they use for their mobile shopping apps. If you want to increase your online store sales channels via shopping app development, consider adding these tips to your mobile app design.  
Transparent delivery pricing
A high cart abandon rate is a nightmare for all online retailers because an average online store loses 75% of its sales to cart abandonment. In fact, the main reason why shoppers leave your online store is unexpected additional costs, including the absence of clearly mentioned shipping costs that drive away 25% of shoppers. 
While many e-commerce mobile apps display shipping costs on the checkout page, we strongly advise showcasing the price of order delivery near the product cost on the product page or in the product shopping cart. Let's looks at how Sephora, the biggest seller of beauty products, applies this strategy. 
Apart from showing the order total, product list, and delivery cost in the shopping cart, Sephora offers free delivery when the total order price is more than a particular sum of money, which is also a proven strategy for driving sales in online shops.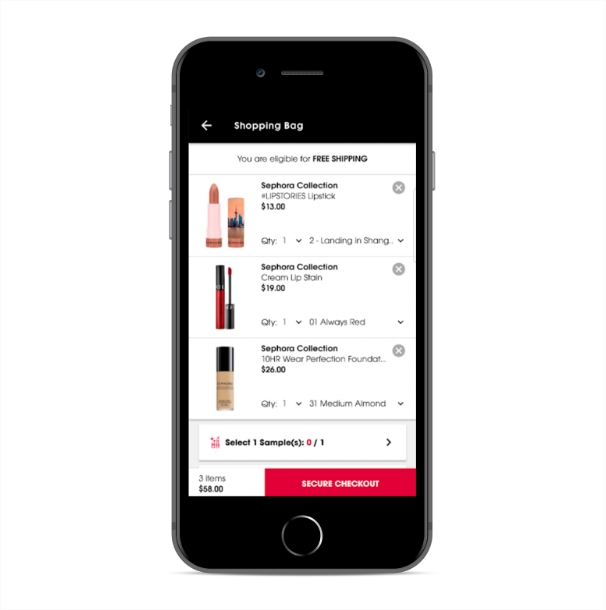 Special offers section
Some online shoppers chase deals. About half of mobile users have installed mobile shopping apps to make use of app-only coupons or discounts, while 62% expect personalized discounts based on their past purchases. If customers can not easily find the section with special offers in your shopping app, they will look elsewhere. Therefore, to increase the conversion rate, add a section with special offers and discounts on the first screen of your mobile e-commerce app. In this way, your app will engage shoppers in the sales funnel from the first second, and they are more likely to buy something. 
CiyaShop, a mobile shopping app, uses this exact strategy.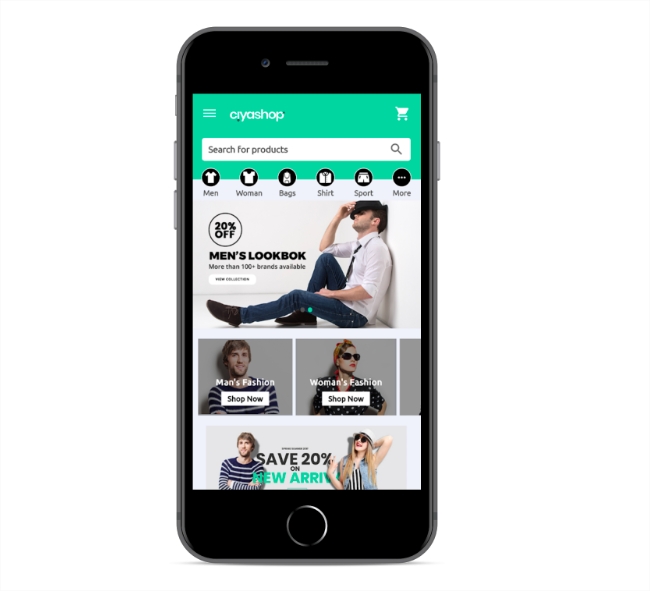 The app's first screen includes a special offers section with a call-to-action button placed between the search field and product categories. 
Promo codes for first-time shoppers 
The majority of online shoppers hesitate to buy a new online store mobile app, which keeps your conversion rate low. In this case, to motivate such shoppers to make their first purchase, use special offers or coupons targeted at new users only, which motivates the attention of 30% of online shoppers.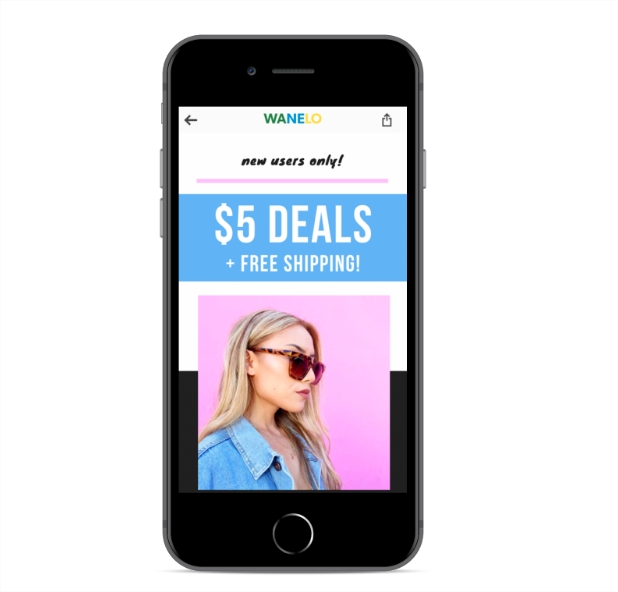 Wanelo, a digital mall mobile app, is an excellent example of applying this strategy. After the new app user has logged in, the app shows a screen with the amount of discount provided, free shipping options and CTA to make new shoppers leave their hesitations behind. 
Product video demonstration
The main reason why 56% of customers shop in-store is the ability to touch, smell, or try the product. Moreover, some shoppers believe that due to the smaller screen sizes of mobile devices they will miss important details about the purchase. Thus, they keep away from mobile shopping but still use mobile shopping apps for product research. However, you can integrate videos with your products to your mobile app design, show all their details, and give shoppers an understanding of how your products look in real life.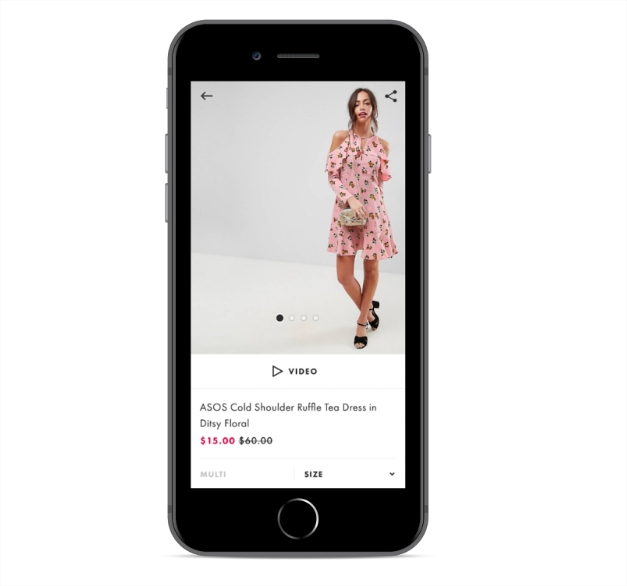 Asos, a clothing retailer, adds videos to all their product pages and keep shoppers aware of how one or other dresses look on models. 
New arrivals and best sellers sections
When you add new products to your catalog, your customers won't find out about this unless you inform them. At the same time, 75% of online shoppers expect to see new products constantly. This is why it is a common practice to add a new arrivals and best sellers sections to the main screen of mobile online store apps. In this way, by showing what other shoppers are buying the most, you will give your customers some direction toward the sales funnel. Here's how Rent the Runaways does this on their shopping app. 
Their home screen includes both new arrivals and best-selling items. Thanks to this mobile design tip, the company shows its most profitable products and increases revenue. 
In a nutshell, mobile shopping app design is a powerful tool, not to be ignored, since it creates the look and feel of your app. By using the design tips we have described in this article, you can increase the revenue of your online store, decrease shopping cart abandon rate, and convert hesitant app visitors into buying customers.