UPDATE: Some time after this post, The Vexels Team put together a larger, more extended version of this post right here. We recommend you to check it out!
Dear Vexels,
I have been trying to set up a new business and I've thought about selling T-shirts online. A couple people I know have been diving into merch selling and they are having enough success to both make a living out of it and have some extra fun. My main problem is that I don't know where to start, and even worse, I don't know anything about design, but I do love awesome tees!
What can I do?
Much love,
James
Hey James,
That's a darn good question you put forward, because there are so many ways you can go about that. Here we'll lay out a general guideline which will give you a better idea of what you should consider and/or do when starting your own t-shirt business.
Based on our experience and research, you need 5 essential components to start a t-shirt business:
The Designs
The Store
The Maker
The Shipper/customer support
The Marketing aka The Getting-Your-Brand-and-Tees-Out-There
Here's a breakdown of these components.
1) The Designs
So you're not a designer.
Big deal! There are ways to get designs out there, but first you have to ask yourself a couple questions:
Who's gonna buy them?

Why

your

tees and not someone else's? (aka what's your added value?)

Are your ideas catering a viable audience or are they somewhat biased?
You don't want to end up selling t-shirts to yourself, nor do you want to sell t-shirts that already exist. You want to get unique tees which people want to wear as a representation of their own selves (jeez that got deep all of the sudden). A good way of figuring this out is to do some hands-on market research by asking friends, groups and niches if your idea is a good one, if they would buy your merch or if you should make a pivot before committing with full-force.
Once you're dead sure about what kind of tees you have to make, it's time to get the actual designs! Here are a few ideas:
Hire a designer to work with. There's tons of ways to go about this: you can go either full time or hire a freelance designer to work remotely with. Nowadays that's an easy and highly reliable way of getting unique designs. You don't need to have thousands of designs at first, so getting 10 awesome designs at first will definitely be a solid starting point.
Get your designs from a Graphic Stock. Here at Vexels we're juiced with the tee-craze and have lots of awesome t shirt designs of our own. If you contrast the cost of the basic plan (which grants you commercial use) against the sale of

just

two tees you're already winning in value. The big upside is that for a pretty low cost you get instant access to thousands of designs and Premium contents which you can profit from other than just your tees.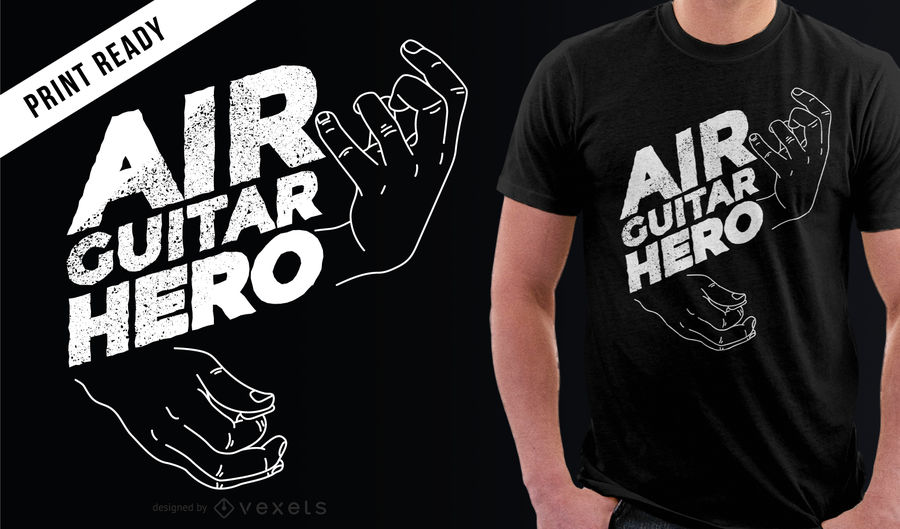 Pro Tip! You can also create your own custom T-Shirt design using online T-Shirt Maker like this one!
Other places you can get your design from:
Fiverr. Get designs for as low as $5, but keep in mind you'll get what you pay for.
99designs. Make a request and an offer on how much you're willing to pay. Get submissions and make your pick. The one who gets chosen gets paid.
Freelancer.com (and pretty much every freelancing site out there). Hire freelancers from around the world.
Airtasker – The Australia-based task and job freelancing board is another option you can check out.
Onlinejobs.ph – One of the top freelancing sites at the moment where you can get awesome rates for design
Ever wondered how retailers get different designs on seemingly the same model with the same pose and the same blank tee, and even make the tee change colors magically? Those photos are called mockups, and simply put it's a photo/image which allows other designs to overlap on it to give the idea of how the final product will look like.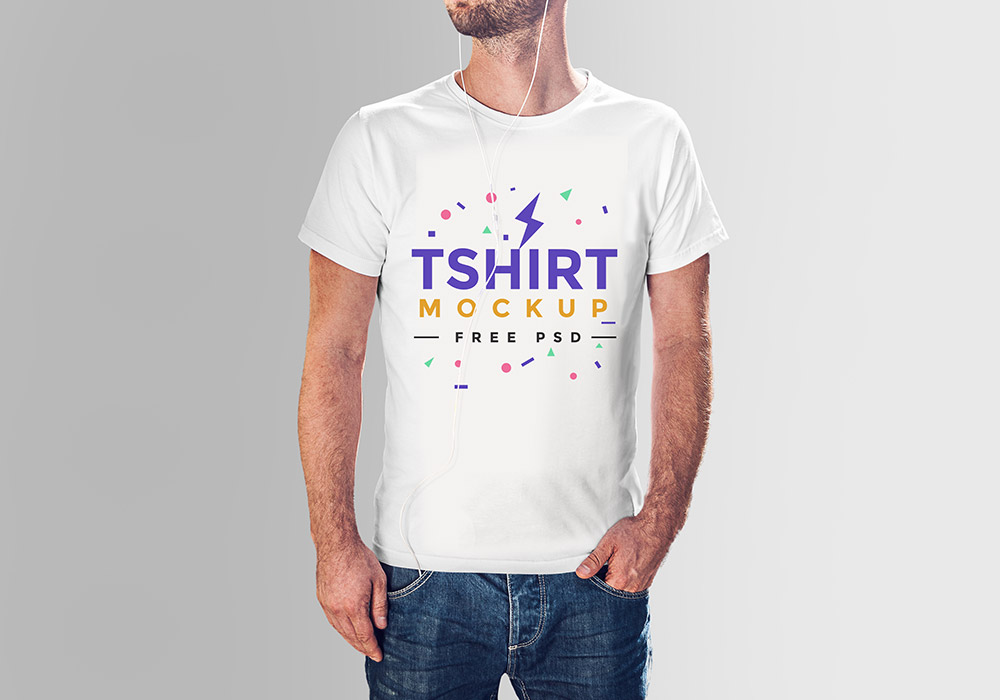 So how do you make/use these "mockups"? If you have basic Photoshop skills you can make them yourself by downloading free "t-shirt mockups" and slapping your custom design onto them. Usually they come with instructions on how to use them. If you're still shy of that idea, you can check for online mockup options like mockupeverything.com and shirtmockup.com and just upload your design while letting the engine do its work.
That being said, if you're seriously considering getting into this business, cut the fears, get that Photoshop fired up, download a free tee mockup and get down on it. It's surprisingly easy, and there's always YouTube.
2) The Store
If you're positive on being pro and embark on this journey in full, there's no beating around the bush on this one: get a powerful ecommerce platform. Our picks are no-brainers as the most powerful out there:
This is arguably the bread-and-butter of online ecommerce. Shopify streamlines a lot of the rough patches of the road. You'll only need to pay a monthly fee, and setting up your store is quite easy. They have amazing templates for your store as well as tons of tools for the sole purpose of ecommerce. Their support is outstanding, they pretty much live for ecommerce.
The only reason why WordPress is not our top choice is because setting it up takes a bit more skill and maintenance, whereas Shopify's got it all bundle up in their service. Arguably the main hiccup is that you need a hosting of your own, but installing WP is a piece of cake. Apart from that, if you're already a WP aficionado you're definitely want to consider this option.
There are other options which are low-risk and easier to set up such as Etsy and Zazzle, and even Amazon Merch (which is currently invite-only). While we don't recommend against them, our top choices remain to be Shopify and WordPress/WooCommerce.
Get your own domain! This is an absolute must, since it cements your status as a serious and compromised business. To get one, GoDaddy is where it's at.
Finally, how are you gonna accept payments? You need a Payment Gateway. Shopify has PayPal already built into it, but if you're not going down that road you can get PayPal for Business. Stripe is another sturdy option to go for.
Okay, so now you have the designs and you have the store. Who's gonna make the actual tees now?
3) The Maker & 4) The Shipper
It was not until recently that we came across a wonderful option which caters both needs to print t-shirts and ship them, not to mention having much needed customer support. That's where Printful fills the gap. Just hook Printful to your ecommerce and let them to the heavy duty. Boy we wished we had known this sooner!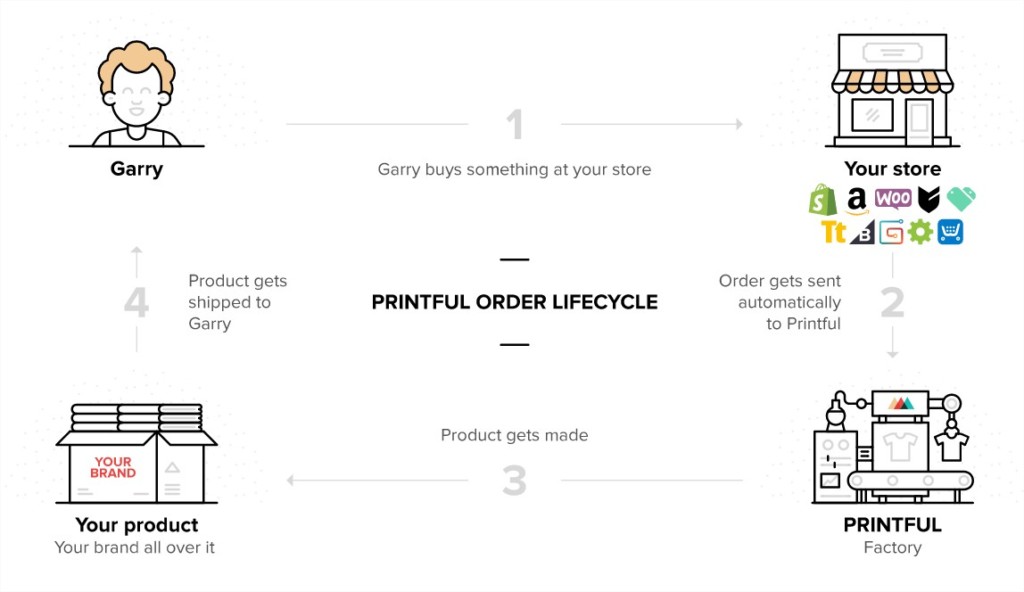 Printful's seamless flow
Be sure to check them out and explore their full features, since they have loads of perks which perfectly fit the t-shirt online business idea.
5) The Marketing aka The Getting-Your-Brand-and-Tees-Out-There
Now you need to get this whole baby out there! Let's go over the available promotion channels:
Arguably Facebook and Instagram take the biggest cake slices on this one. Twitter and YouTube not so much. It's all about them visuals, and specially Instagram suits this role perfectly. You want not only to sponsor your products, but to build a community of like-minded people who fancy your designs as well as your company.
Google AdWords is another sure-fire way to go about promoting your website and designs. We feel this is one of the least personal ways of getting to your audiences, but it's relatively cheap and ultimately your site needs traffic too, so take if for what it's worth. Facebook Ads runs along similar tracks, as in it's a huge network of people to blast your ads to, but it's definitely more specific than AdWords in lots of ways since it gathers tons of more specific data. Our take is that both should be used together: one ad platform sifts through searches and the other one through Social.
Tackle the niches where your customers are at
Reddit, forums, Facebook groups, you name it. Get into those places where your target audience is and start asking questions, get some answers, show what you got and be willing to share the goodies you have and people might crave.
SPECIAL NOTE: team-up!
Maybe you're the ultimate beast and can tackle all things at once, but that's unlikely the case. There are lots of battlefronts to face in the path to success, and you're not expected to be an ace on each of 'em, so get a partner!
To wrap it up, the point of this guide is to give you a solid starting point on what are the best tools and practices to kickstart your t-shirt business, but it's by no means a definite guideline on what to do exactly. Only you are deeply aware of your possibilities and limitations, and you should make your own choices based on that. We urge you to do your research, do your numbers, get personal one-on-one advice from people who've already walked down that road and can give you key insights on how to be successful at it. That being said, in the end it's all about you, James. And we wish you the best of lucks on that.