Uploading your art on Redbubble is a fantastic way to earn a side income, and if run properly, you could turn it into one of your main sources of revenue.
Redbubble is one of the major Print-on-demand platforms, enabling artists, designers, and Merch sellers in general to earn money by uploading their artwork onto a variety of products, publishing them on Redbubble's marketplace, and earning royalties per each sale.
If you're into creating original artwork using PSD templates or even online design tools, in this article we'll show you how to upload your designs on Redbubble so you make sure you're making all the right decisions and making the most out of your store.

How to upload artwork to Redbubble
Uploading a design to Redbubble is easy, follow these steps:
Step 1: Click on your Profile avatar and then on the red button that says 'Add New Work'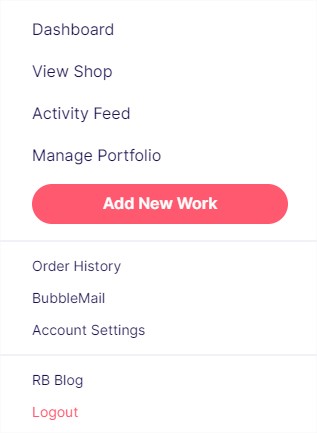 Step 2: On the 'Add new work' page, click on the 'Upload new work' button. You could use the 'Copy an existing work' option, but we'll stick to a new design this time.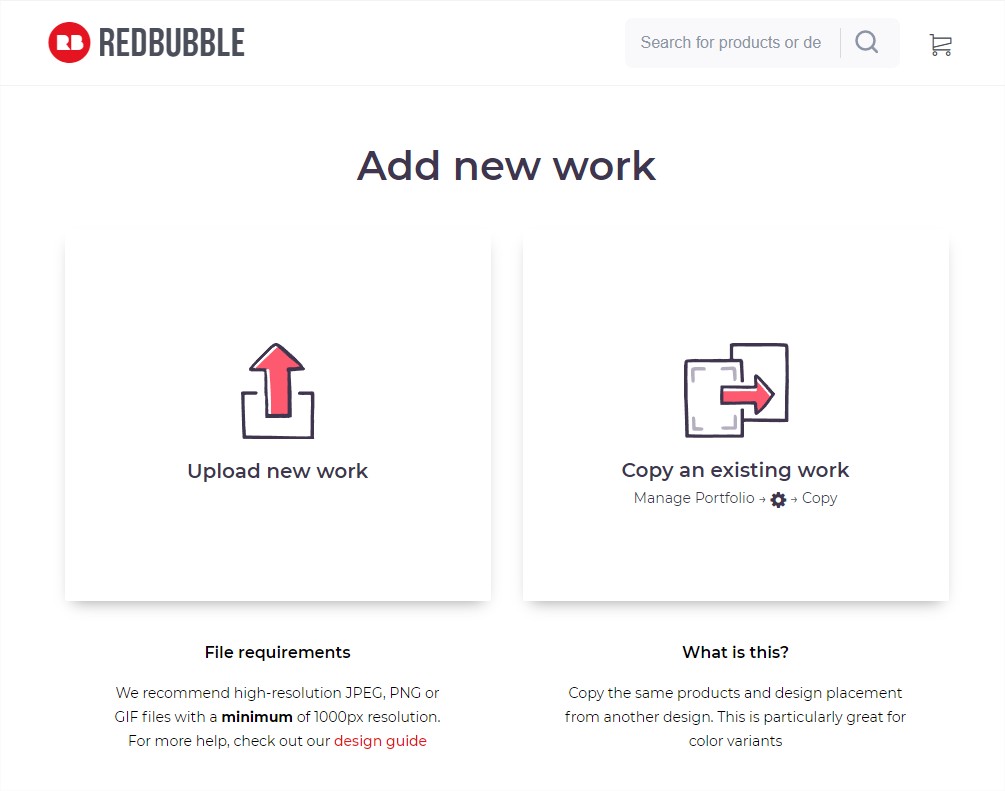 Step 3: Complete the Title, Tags, and Description fields for all the languages you're planning to publish your product. Featured languages are English, German, French, and Spanish. According to Redbubble's best practices, a minimum of 15 descriptive tags are recommended.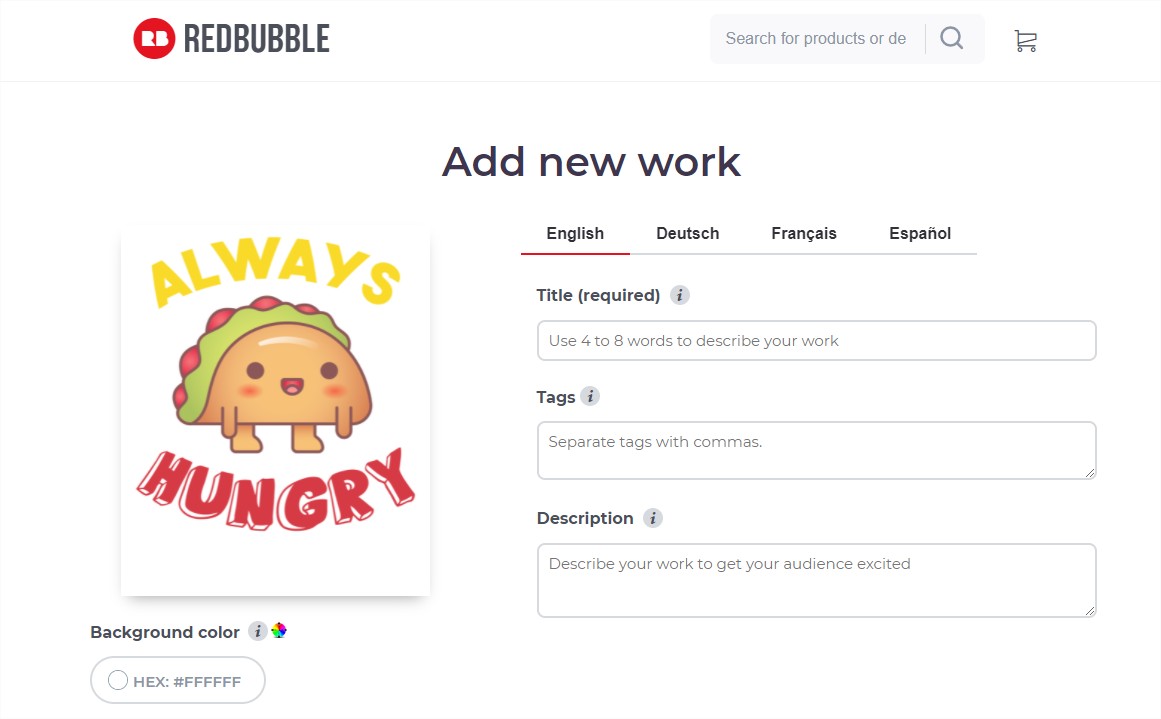 Step 4: Select a background color that will be the base color for all your products, except for stickers and a couple of shirts.
Step 5: As soon as you upload your artwork it's added to all of Redbubble's product range and enabled as products to sell. Here you must disable which products you won't be selling, as your design may be adequate for t-shirts, but perhaps not for water bottles.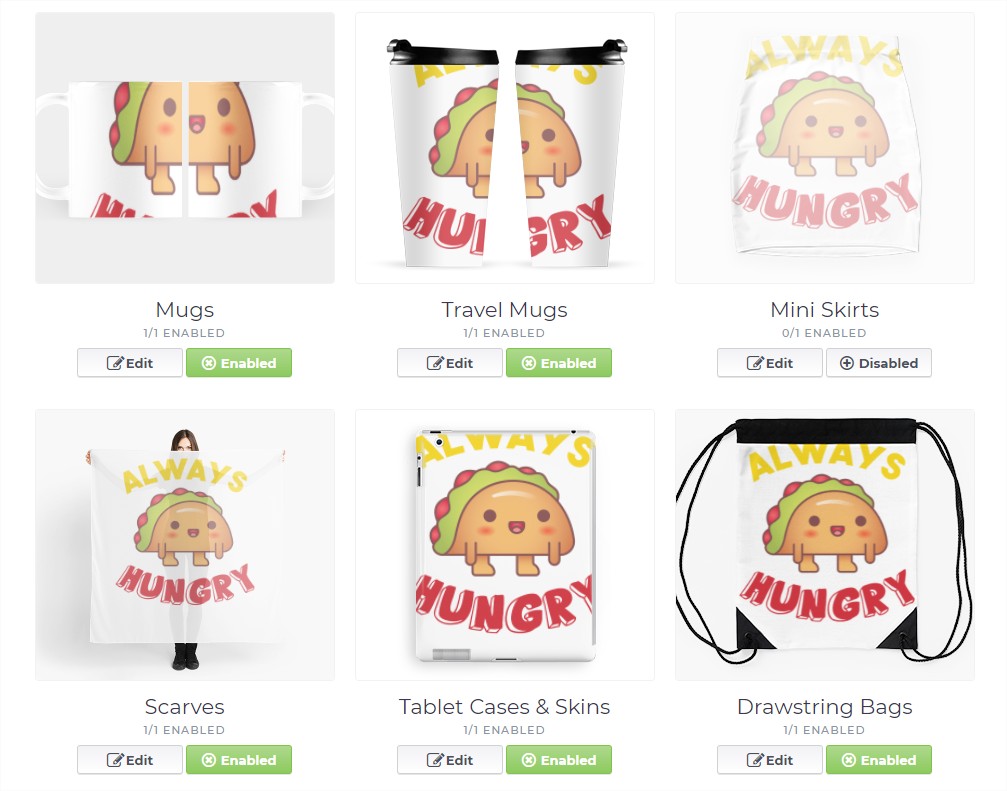 Step 6: When you finally have your desired products enabled, edit the default color of the product, the placement, and the size of your artwork to best fit your product by clicking on the Edit button. Different products may have different artwork placement options, so be mindful of that. Remember to hit 'Apply changes' when you're done!
Step 7: Complete the upload process by stating if your artwork is for mature audiences (hopefully not) and if you have the rights to sell products with your artwork (hopefully you do).
Step 8: Click on 'Save work', and you're done!

About Kids clothes
Kids clothes are not automatically applied when you upload your artwork, which is important to note as many sellers are into funny but adult themes like drinking and partying.
If your piece is suited for kids, follow these steps to enable kids clothes:
In the uploader, enable Standard Print Clothing

Click the 'Edit' button

Choose the Availability tab and mark the Kids Clothing option

Hit 'Apply changes'

Redbubble content best practices
In order to ensure the quality of print on products, it's important to learn about how you should create your artwork so it's suitable.
Artwork dimensions
High-resolution files make good prints, and by 'high-res', we mean the Resolution (measured in pixels), not the file size in bytes (or MB, megabytes).
Since Redbubble features many different products that widely vary between their sizes, it's suggested that you create somewhat large-dimensioned artwork, with 7632×6480 pixels being the largest recommended (fit for king-size covers).
It's also worth noting that images sized over 13,500×13,500 pixels, or above 300MB in file size are not accepted.
For the specific resolution sizes for each product, head over to Redbubble's dimension requirement page.
Artwork file type
In the case of Redbubble, the accepted artwork file types are JPEG, PNG, and GIF. PDF and TIFF files are not allowed.
Color profile
When designing, there are two color profiles: sRGB and CMYK.
The first one works for viewing the design on digital media, i.e. screens, whereas the second is meant for printing, which means that you should focus on creating artwork using the CMYK color profile in order to elaborate artwork that's more faithful to the finished printed result.
Upload limit
In its efforts to filter out bad designs, Redbubble imposes an upload limit of 60 designs per day, which extends across all of one user's accounts. We feel this is fair, and it pushes you to create your best designs ever.
How to create designs for Redbubble easily
While Redbubble has strict policies regarding stock designs, there are options to create custom t-shirt designs easily without the need of being a professional designer or artist.
Vexels T-Shirt Maker can help anyone turn their ideas into t-shirt designs with ease, just by browsing and using PNG graphics with custom texts to create original compositions, or editing ready-made templates with different colors, designs, and your own words.
This t-shirt maker is one of the most complete online design tools for print-on-demand, with graphics and templates being updated daily just so sellers always have options to design original t-shirts with.
Vexels T-shirt Maker enables sellers to design awesome and safe t-shirts for Redbubble with just a few clicks, and you can try it out for free today.