How to Create a T-Shirt Design in Photoshop
Not being a designer shouldn't get in the way of creating an independent business, and to that end, PSD t-shirt design templates come across as the perfect answer.
For many sellers, creating professional-level t-shirt designs is deemed as an unattainable task due to not having polished design skills and resources, leaving them to rely on subpar, expensive, or hard-to-manage design solutions that don't end up really solving much.
In recent years, print-on-demand sellers have benefited from the development of specialized tools and resources that tackle a variety of pain points that would otherwise be business-breakers.
One of such pain points is the need to produce multiple high-quality designs in a short period of time, something that in the past could only be done by swift, seasoned artists.
Individuals who are interested in starting an online business selling t-shirts usually lack professional design skills to achieve high-quality results, quite understandably so since they may come from different backgrounds unrelated to apparel design.
To create a t-shirt design in Photoshop, we'll start by picking a PSD t-shirt design template that works with our design idea.
For this example, we'll use this free PSD sample ready for you to use.
Step 1: Open the PSD file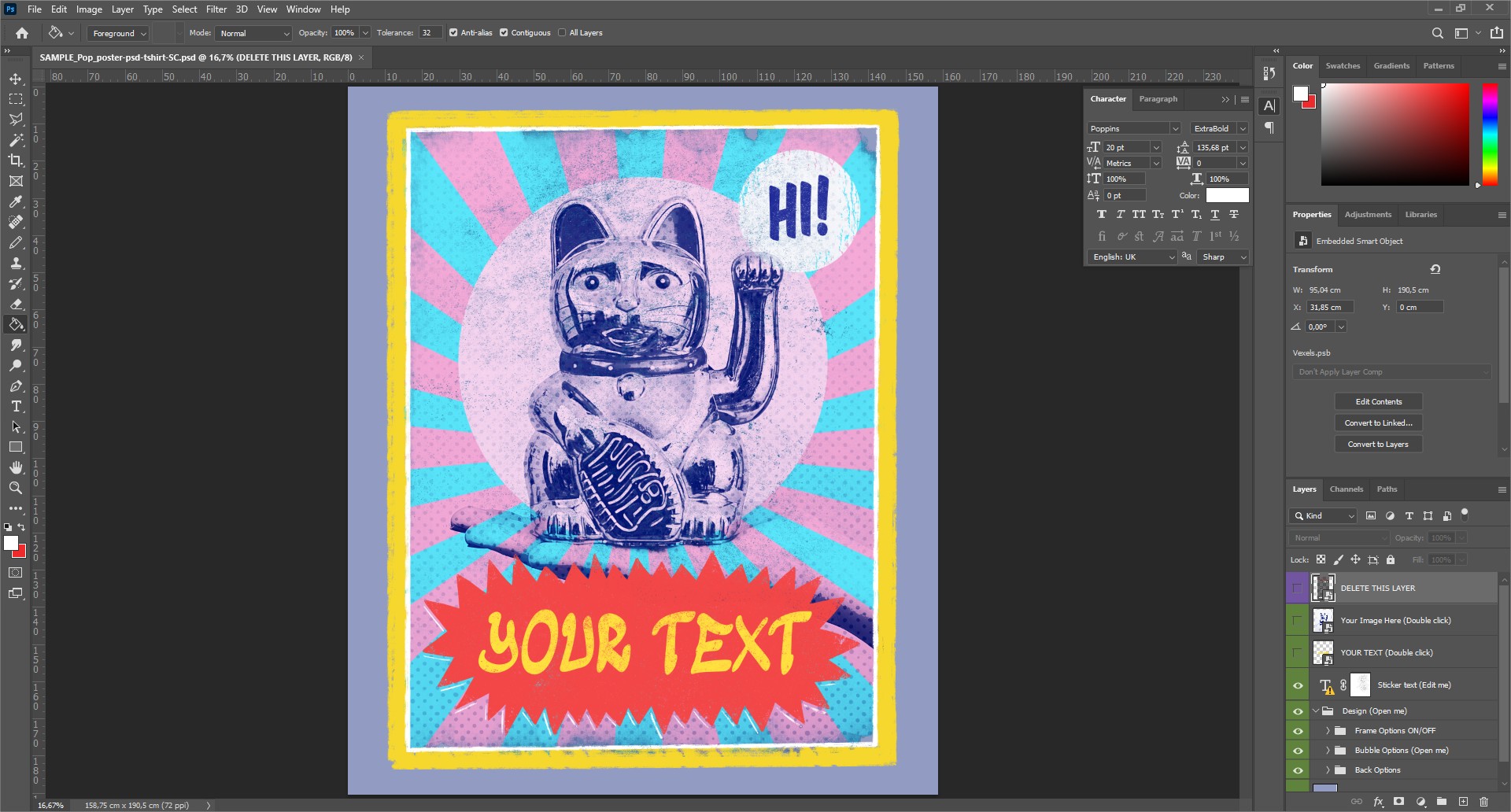 Step 2: Double-click on the Smart Object thumbnail to change the image
Step 3: Drag and drop an image from your computer on the newly opened tab and adjust its size to fit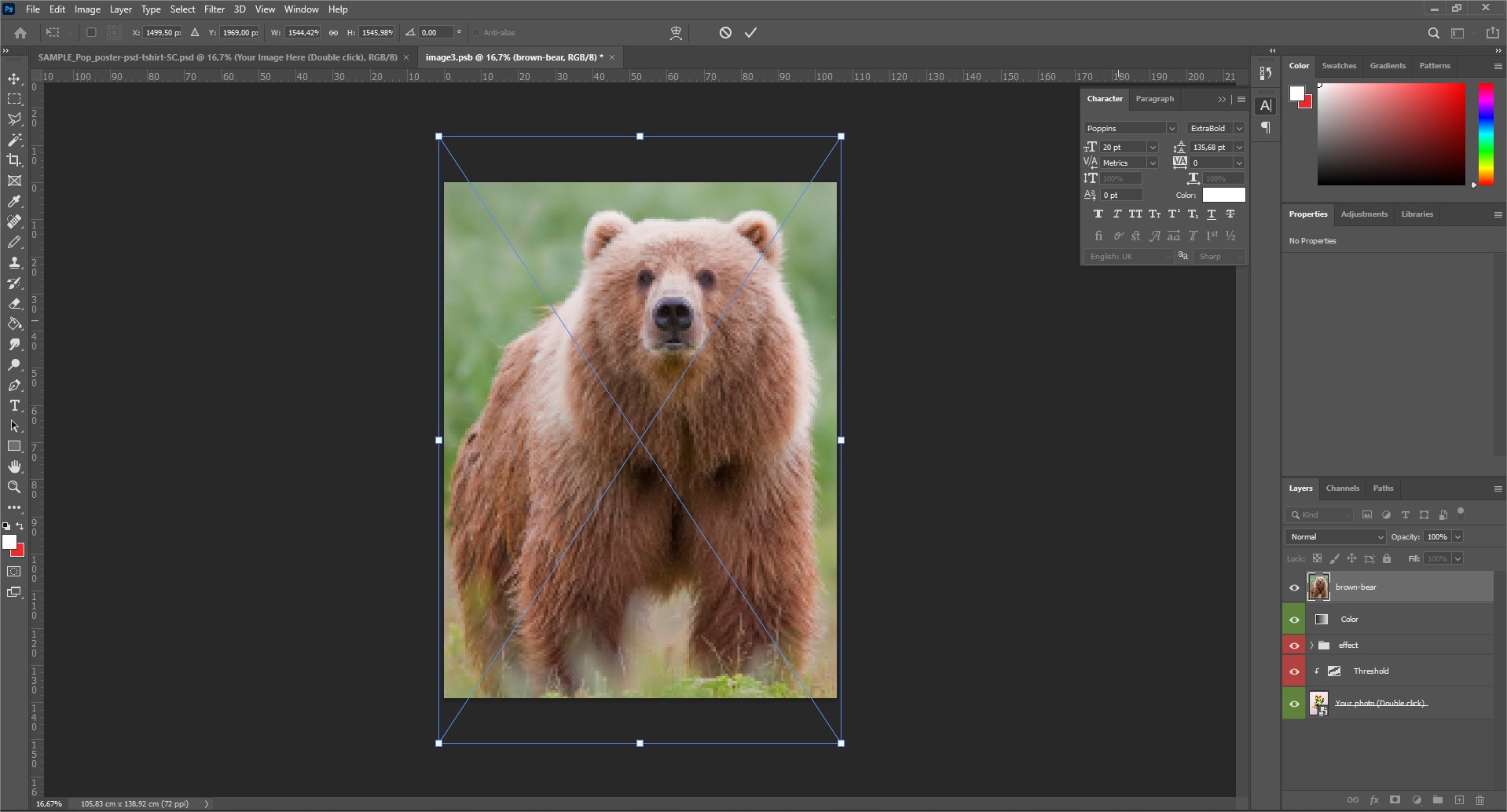 Step 4: Move the new image layer to right above the previous sample image layer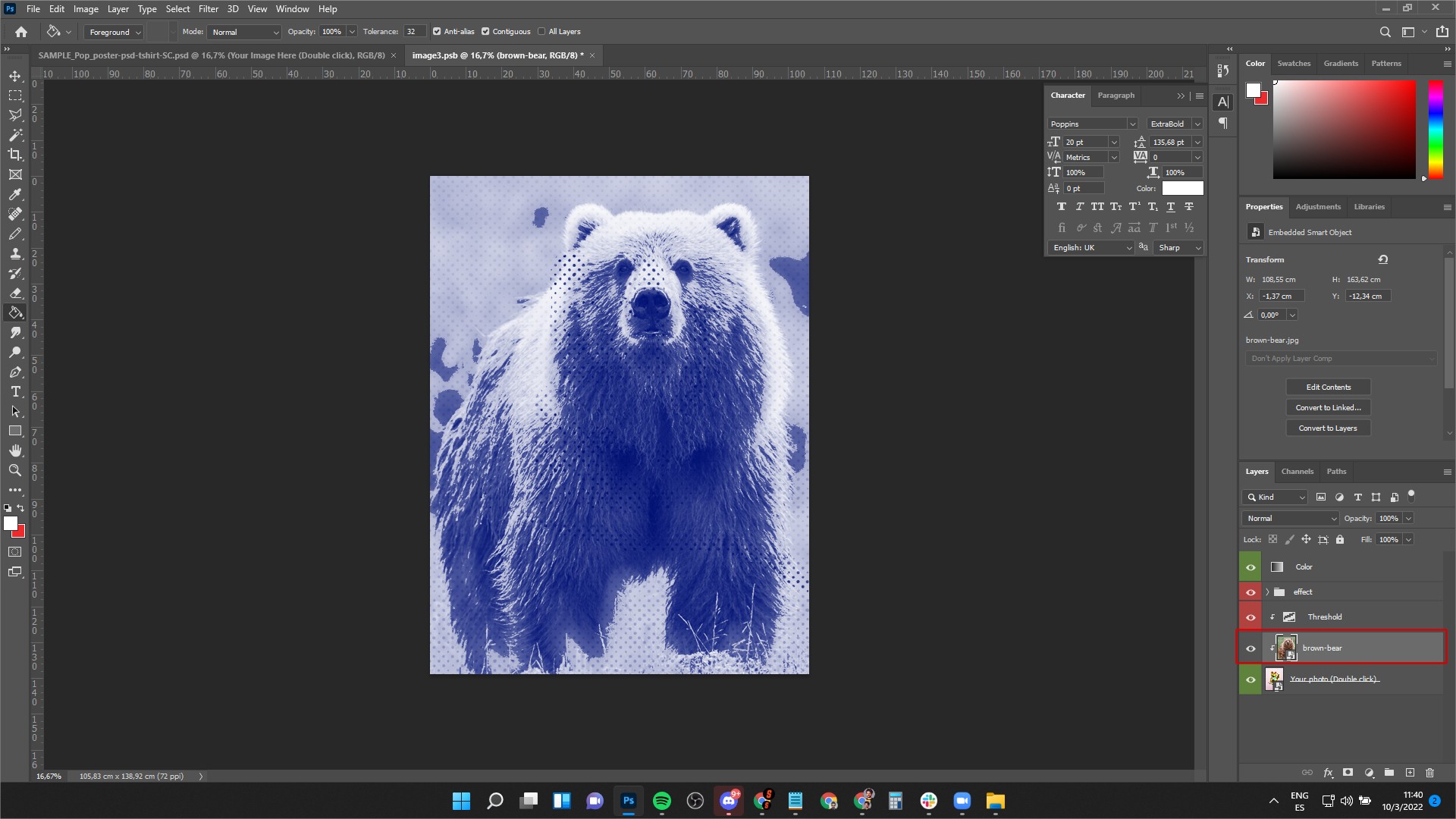 Step 5: When you're done editing the image, go to File > Save and go back to the main PSD
Step 6: Double click on the YOUR TEXT layer to edit the text. If you don't have the font previously installed, Photoshop will prompt a message asking if you want to replace the font, which you totally may!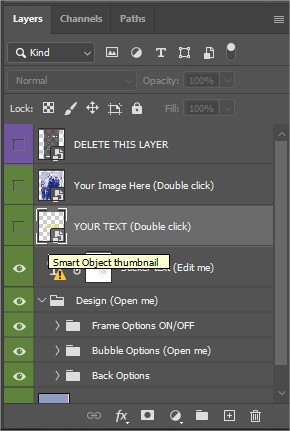 Step 7: Select the Type tool and change the text. You can change the color and text size if you need it to.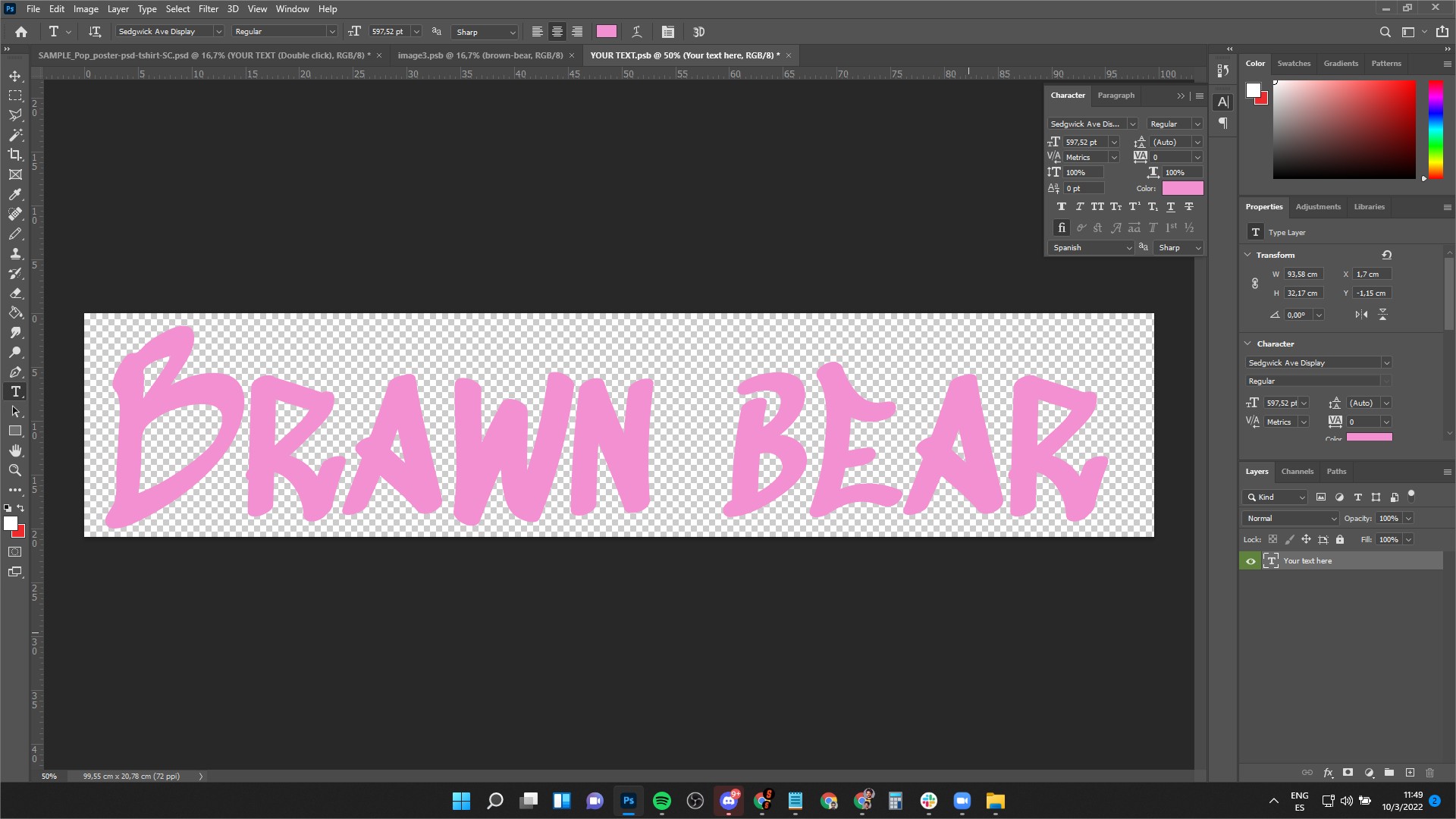 Step 8: Same as with the image, Save this progress and go back to the main PSD.
Step 9: Check the Design folders and explore the shapes, elements, and effects as you see fit.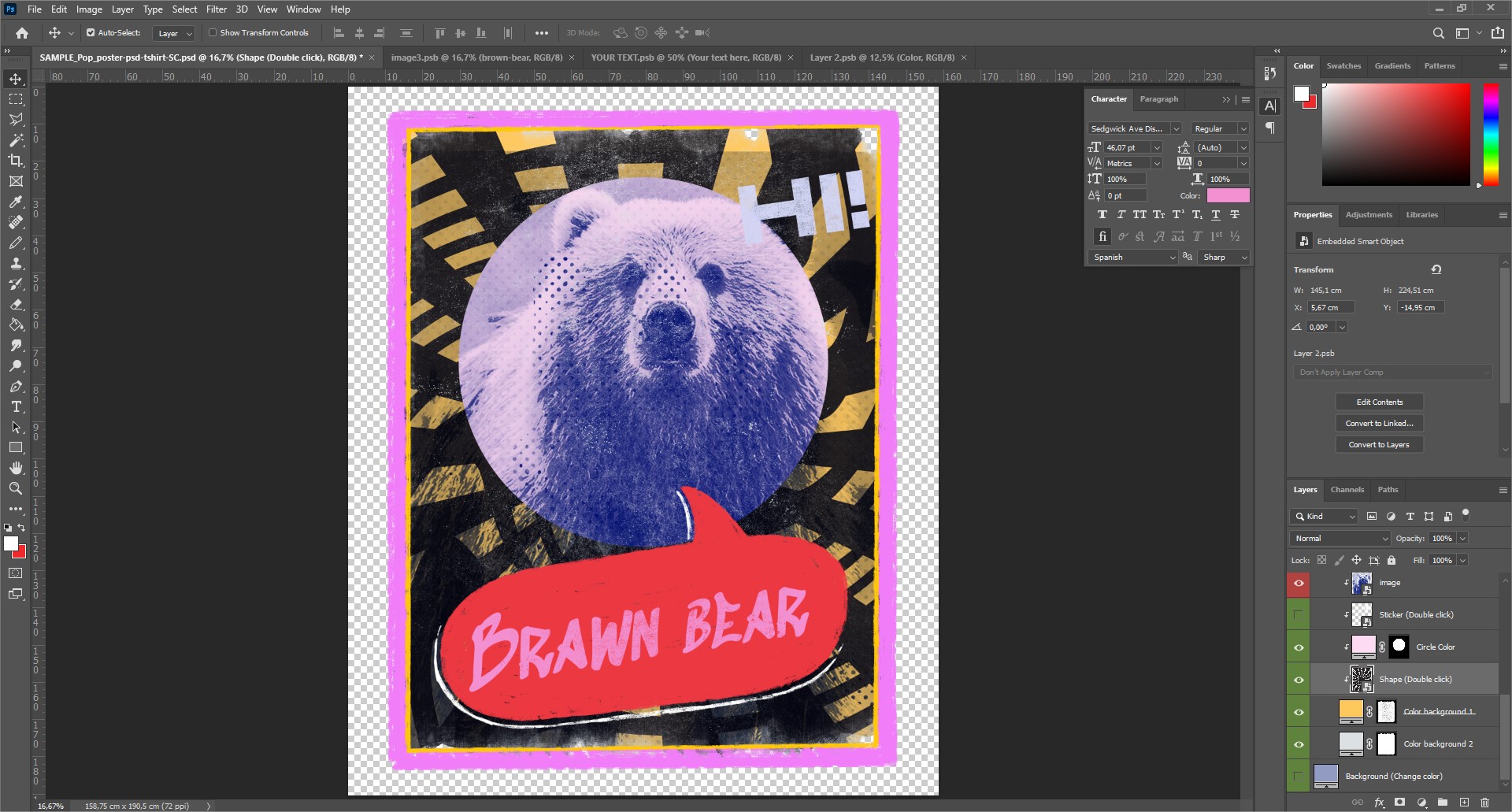 Step 10: Once you're finished, hide the Background layer at the bottom of the layers just so you have a transparent background.
Step 11: Finally, go to File > Export > Save for Web – Make sure you select the PNG-24 preset option so the transparent background works!
And you're done! Repeat this process as many times as you like, using different colors, effects, elements, texts, and images.
You don't need to be a Photoshop expert to create tons of unique t-shirt designs fast. PSD t-shirt design templates make it extremely easy to scale design ideas into multiple t-shirt designs, allowing you to expand your portfolio onto various products and marketplaces.
Vexels PSD templates are made by Vexels' team of professional designers and artists, who also create transparent PNGs that can be used for these PSD templates as well. All of these are unique templates that you won't find anywhere else and are exclusive to Vexels members.
Is Adobe Photoshop paid?
Yes, in order to use Photoshop you are required to have an active service subscription, which can be paid for monthly or annually.
That being said, they do offer a 7-day trial in full if you want to check it out.
You can learn more about Adobe's product at this link.
Are PSD templates safe to use?
Absolutely! Templates give you the ability to create unique original t-shirt designs based on your edits, so whatever you create on your own will be entirely yours.
I don't have the font, what can I do?
In case you try to edit text and don't have the font installed, Photoshop will show you a message indicating the font you need, which you can browse, download, and install to then use on Photoshop. You can also choose not to download the font and replace it with another one you already have installed.
How many t-shirt designs can I make with one PSD file?
As many as you want! There are no limits to your creativity, nor to the number of t-shirts you can create.
Where can I find graphics to use on the PSDs?
Vexels offers thousands of transparent PNG graphics that can be used freely on PSD t-shirt templates.
None of the links in this blog post are affiliate of any product or service.