If you are a video producer or editor you may be dealing with the task of looking for the appropriated soundtrack for your videos or projects quite often. Choosing the right music for your multimedia project could be a difficult job, specially if want your video to have great music. We all know that we cannot use any song we want, just because we liked it, copyrights laws are very clear and strict on this matter. Therefore in order to be allowed to use a track for our videos we need to make sure about their terms of use, license or copyrights terms.
Here is when it comes the choice of looking for royalty free music, which in short means that once you get a license for one track, you can use it without worrying to pay royalties to the author every time it is reproduced.
Royalty free music doesn't mean free music, although some places or authors offer some of their tracks for free (usually in exchange of attribution, credit, etc.) some others offer more than one track license options for different uses, which leads to different prices, permissions and terms of use.
 We have collected the top 6 websites where you can find royalty free music for your project, based on quality, price options and more.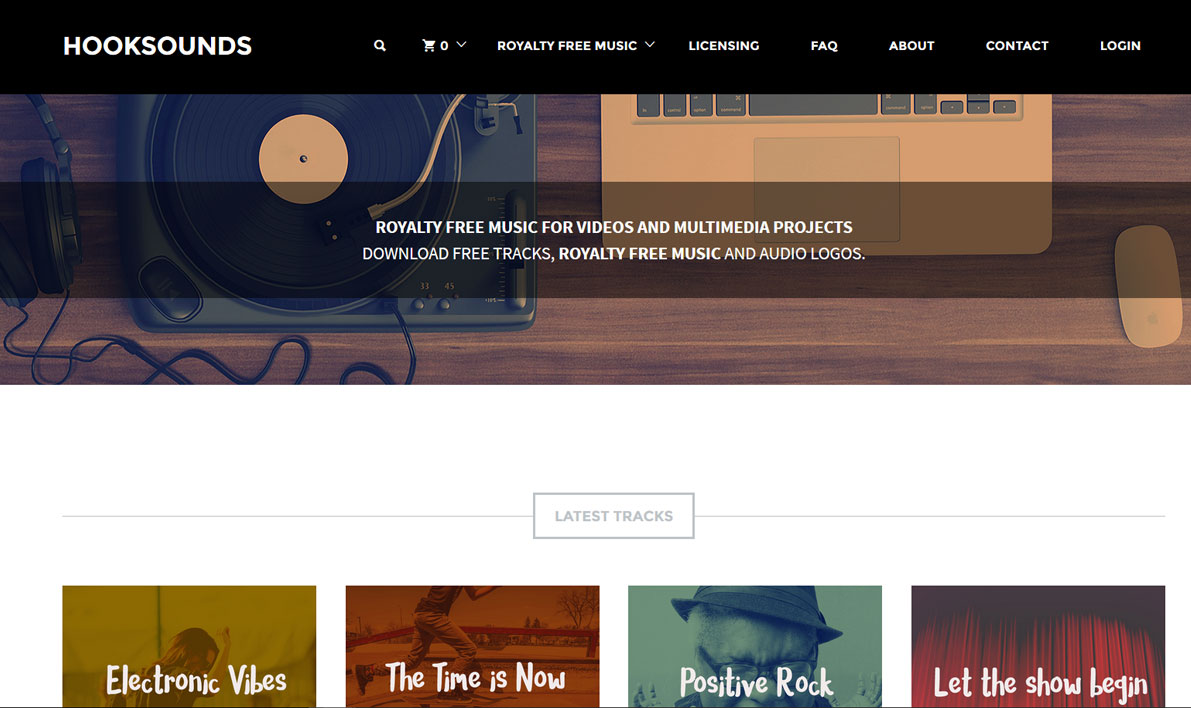 The site was created by composer Alvarokid, the music is great and you are allowed to use the music for free, the only thing you need to do is to credit the author in the video description in your Youtube video, website or wherever the project with the music on it is published. This is because the music is under creative common license.
There is a good collection of music of all kinds, the website is very intuitive and easy to use. HookSounds offer 3 license options more for other different uses you may need. A Standard License, an Extended License and a TV/Radio License besides the Free License we mentioned above. This is particularly useful when giving attribution is not possible or wanted.
It is without any doubts the place to go if you want high quality and non-expensive (or free) music for your project.
FREE: YES
QUALITY: HIGH
GENRES: ALL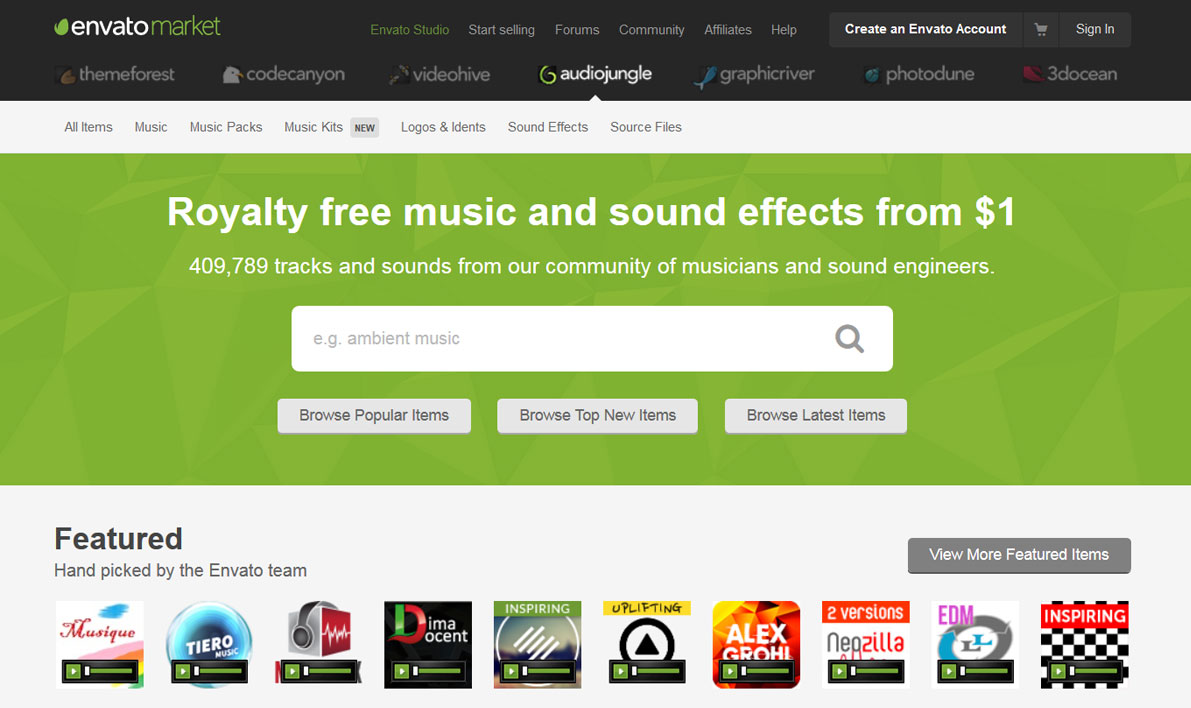 Audiojungle is also a great website under the system of multi-author marketplace. There are tons of users, so this basically means that you can find music of every kind, there is truly good music, and there is not that good music. Here you won't find the option to use a track for free and prices for extended licenses are a bit more elevated than the average. However, for those who are willing to pay for its items, you could be finding hundreds of talented musicians who offer their music for sale on this platform. Audiojungle belongs to Envato, a marketplace that offer Designs, WordPress plugins, Code among other useful resources.
FREE: NO
QUALITY: LOW, MID, HIGH
GENRES: ALL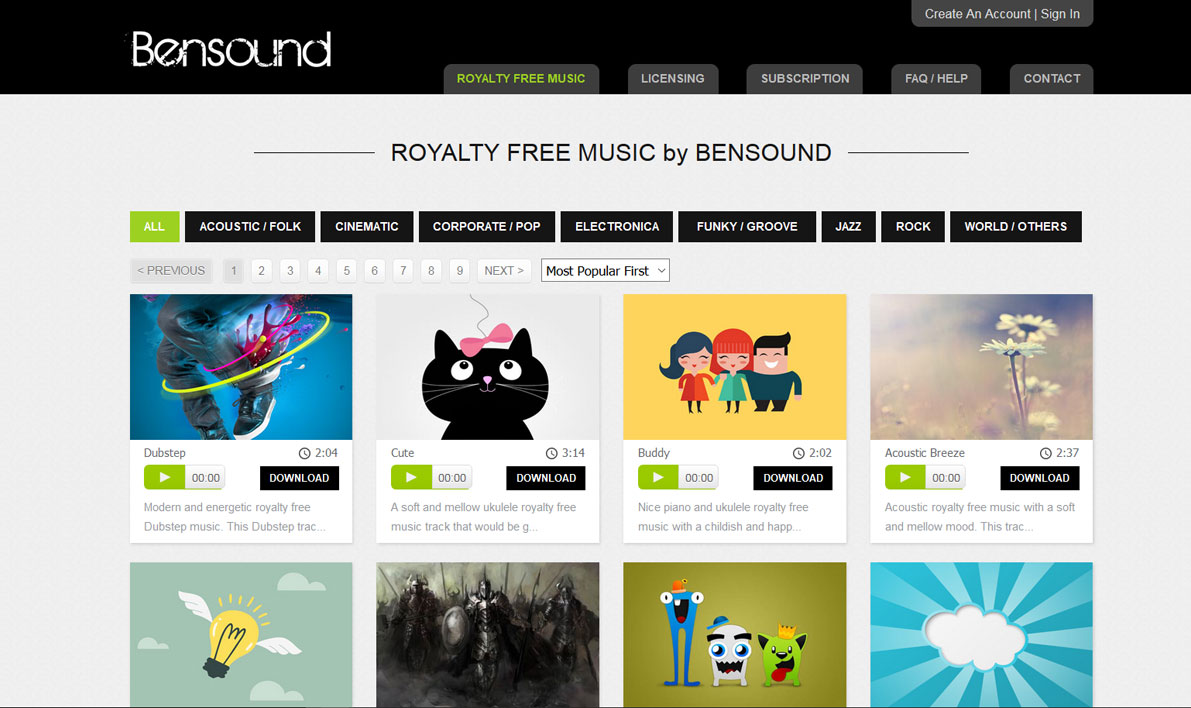 Bensound has been around for a while and is ran by his owner Benjamin Tissot. You also have to credit Bensound for the use of their files when downloading for free. You can also buy a license and avoid crediting.
Bensound offers a good collection of music in different styles and moods with an excellent quality and fresh sound. Bensound also offers an yearly subscription which allows you to use all published tracks without giving attribution. A good option if you are using a lot of music in your productions.
FREE: YES
QUALITY: HIGH
GENRES: ALL
Another good place to find royalty free music. This site is ran by Kevin MacLeod, with plenty of tracks and sounds his site has been around for a while. Since it covers the vast majority of genres, you will find great tunes for most of your projects. Some could argue that his music is not of great quality, specially for those looking for modern sounds, but it is a matter of taste. The author asks that you place credit for their artwork within your video , also under creative common license or again, you have the option to pay for a license for other extended uses. The design of the website looks a bit old, but as long as you find what you are looking for, it is still a good deal.
FREE: YES
QUALITY: MID
GENRES: ALL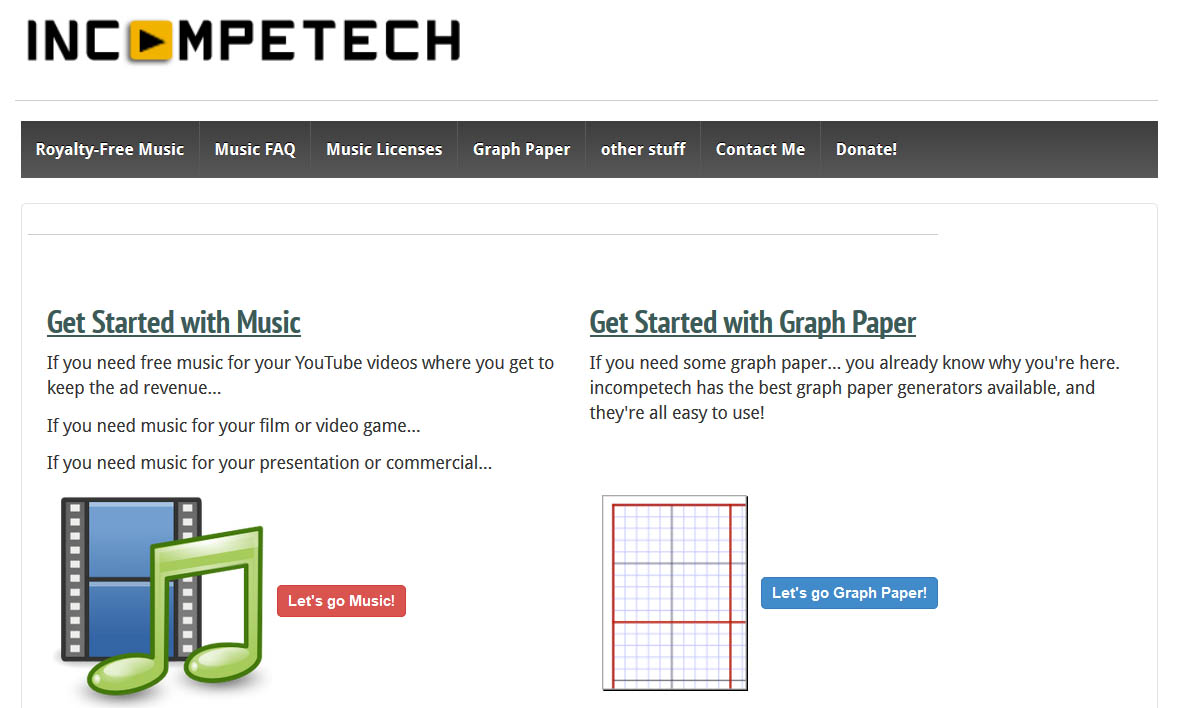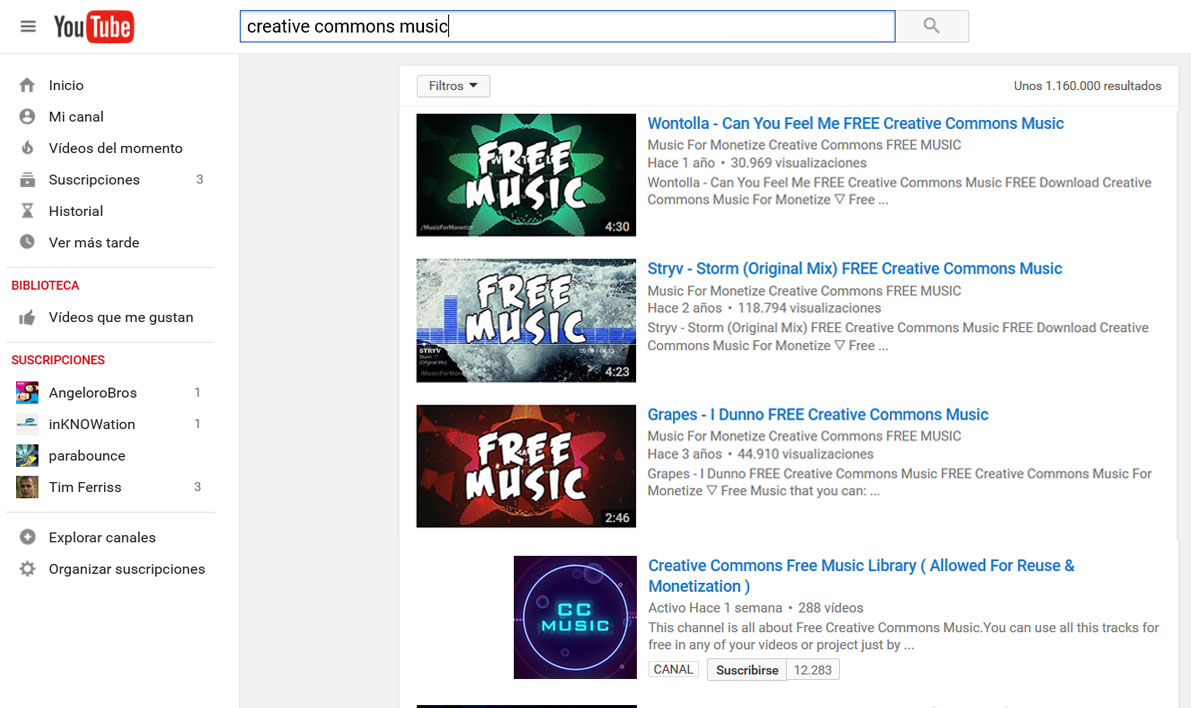 Another great resource for finding royalty free music is YouTube. Yes, the biggest video Internet platform could also be a good resource when what we are looking for is not videos. A lot of musicians upload their songs there looking to reach that huge audience. Most of the times you will find licensing information within the video description, commonly with a link to the website where the music is being offered. If you ever uploaded a video in YouTube, you may have noticed that you have the option to apply some music from their catalog, right in the video editor section, before being public. However, the music you will find there is overused, and not suitable for everybody.
FREE: YES
QUALITY: LOW, MID, HIGH
GENRES: ALL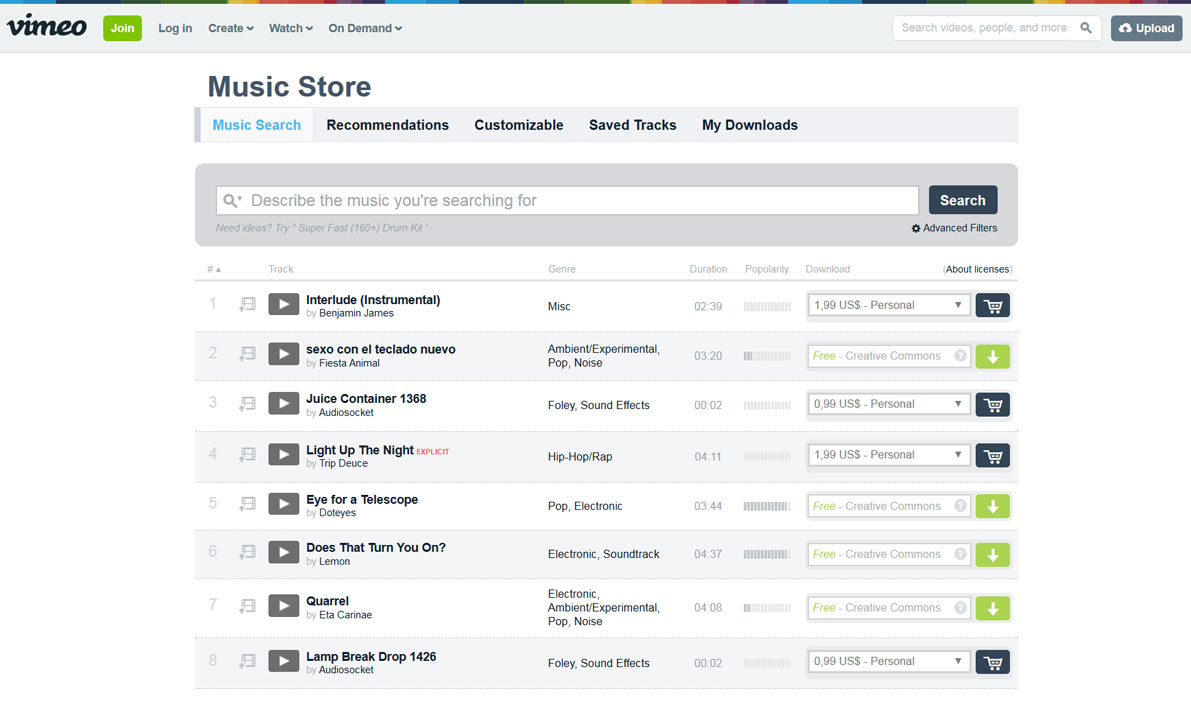 Vimeo is another video platform monster and just like YouTube it could be a great resource for discovering royalty free music. There is an entire section with music from some of their partners which you can use on your videos. Prices vary from store to store, you can look at this section here.
FREE: YES
QUALITY: LOW, MID, HIGH
GENRES: ALL
Do you know any other great Royalty Free Music website not listed here? Share it with us!