For the longest time, we've been working on a kick-ass mockup generator for all types of purposes and users.
We've done street signs for retail businesses and shops, we've done T-shirt and Poster mockups for Merch sellers and of course tech device mockups with editable screens to showcase web design work.
The best part is: everyone loves them!
This was enough for the Vexels team to get creative and productive, going back to the drawing board to come up with a powerful and useful design tool that helps users do exactly what Mockups are meant to do: showcase your design work the best way possible.
This time we went above and beyond our own expectations and created our Online version of it, where you don't even need to fire up Photoshop or any other design software to make the best mockups ever.
To create these, we formed a team of Producers, Photographers, Retouchers, and Designers to create unique new mockups every week. This way we ensure Vexels Mockups are exclusive and you won't find them in any other site.
What's great about it
Easily edit Mockups Online
See a mockup you like but want it in a different color? Not a problem with our Smart Mockup Generator. Feel free to change backgrounds and colors as you need to make your design stand out.
December '10 NEW FEATURE update: We heard your feedback and added +15 easy-to-use filters to help your products to be closer to the planned aesthetics!
Export in Different Sizes
Be in control of the output file at all times. Whether you need a mockup for your website or for social media, you can choose the size you want before downloading. It's all done within the platform, online, without you having to worry about getting extra software. We're taking care of everything.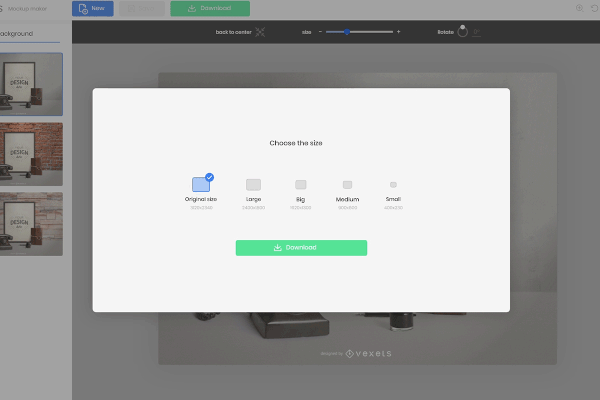 Adaptable to Your Needs and Formats
We created our Smart Mockup Generator with the idea of giving you free rein to edit. There's no set size for your image, so unleash your creativity and create the exact mockup you want. Also, its Quick mockup feature directly applies your chosen design to other related mockups so you have a better idea of how they look in the end product.
No Extra Software 
All the features you need, and none of the software needed. It's all done online and intuitively, without the need to learn complex tools or mechanics. Not to mention you don't have to worry about getting Photoshop or Illustrator. We got your back.
Ready for Mobile
Vexels Mockup Generator is ready to be used on mobile devices, giving you design power on the fly, and allowing you to save your progress for when you get back to your main workstation.
New Mockups Every Week
Every week we're doing different photo shoot sessions to cover the many different niches and businesses that can make use of our awesome content. From T-shirt mockups to packagings and stationery elements, members of our community can expect dozens, if not hundreds of awesome-looking mockups to come.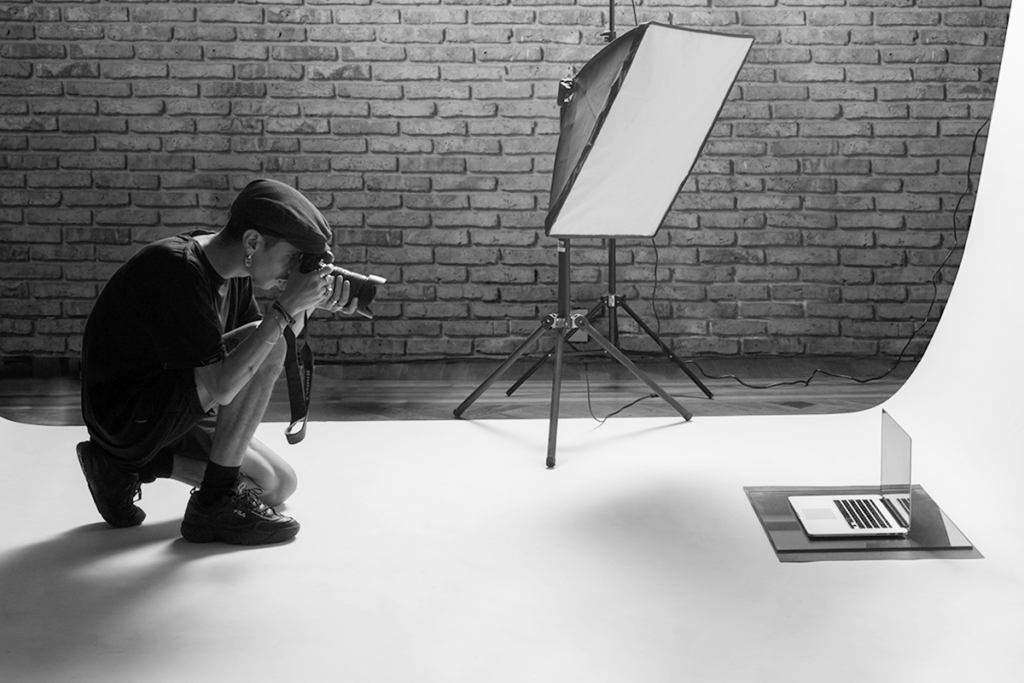 Mockup Generator FAQs
What is a mockup generator?
A mockup generator is an online tool where you can create mockups without using any external software like Photoshop or Illustrator. You upload your designs and end up with a high-quality mockup that you can download in the size and format of your choice.
Is the Mockup Generator easy to use?
Yes, absolutely! Just upload your designs and end up with a high-quality mockup that you can download in the size and format of your choice.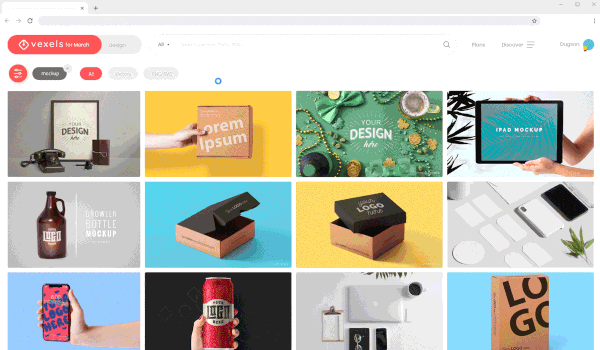 To show off your designs to clients and potential customers you'll need high-quality mockups. You can choose between different options and even customize the images, but a product mockup will definitely help your ideas and designs stand out.
How to use mockups with Photoshop?
You don't need Photoshop to make a mockup. Simply use Vexels Mockup Generator to insert your design into a mockup template made of exclusive images created by our own team. You can customize your mockup too! Change backgrounds, colors on t-shirts, and other items and make a truly unique final image.
The Mockup Generator is now available for all users! Free and unregistered users can test the tool out, while subscribers will be able to download the results.
What are you waiting for? Try out the Mockup Generator here.
If you are looking for awesome mockups to use for your business or project, you can register here.

Never stop creating,
The Vexels Team