If you still think stock photos cannot be a win-win option to fit the budget and satisfy your requirements for quality, purposefulness, and engagement, as well as be perfectly incorporated into the brand imagery, you've most likely been fallen into a trap of cheesy image stocks that provide nothing but vague & unoriginal photographs of faceless office monkeys in suits shaking hands. Chances are that happened to you for a very simple reason for choosing free photos over paid ones.
Indeed, the word 'free' is magic to most people: it's a powerful emotional trigger that makes us grab something that we would have never taken from the shelf if it hadn't been for the magnetic label 'fee' attached to the item. This psychology is all-encompassing and it often tricks us into picking tacky but free images that we for no reason believe would fit over much better in all aspects yet paid photographs.
But it's time to turn the tide. Top-notch paid stock image websites like Vexels and DepositPhotos are destined to supply high-quality photographs that perfectly align with your brand visual identity and, no less important, your inner censor.
#1 Vexels
Vexels.com is one of the leading Graphic Design platforms, featuring tens of thousands of graphics, designs, illustrations, icons, and t-shirt designs to use commercially with royalty-free licenses. They're the only graphic stock with Merch licenses that allow for their t-shirt designs to be used on merchandise and clothing, and they pack a whopping +80,000 PNG and SVG collection. Their subscription plans are among the most affordable and cost-efficient, especially for Freelance designers and Creative studios. For marketers into Merch design, they can find thousands of T-shirt designs to sell on print-on-demand stores or their own eCommerce site.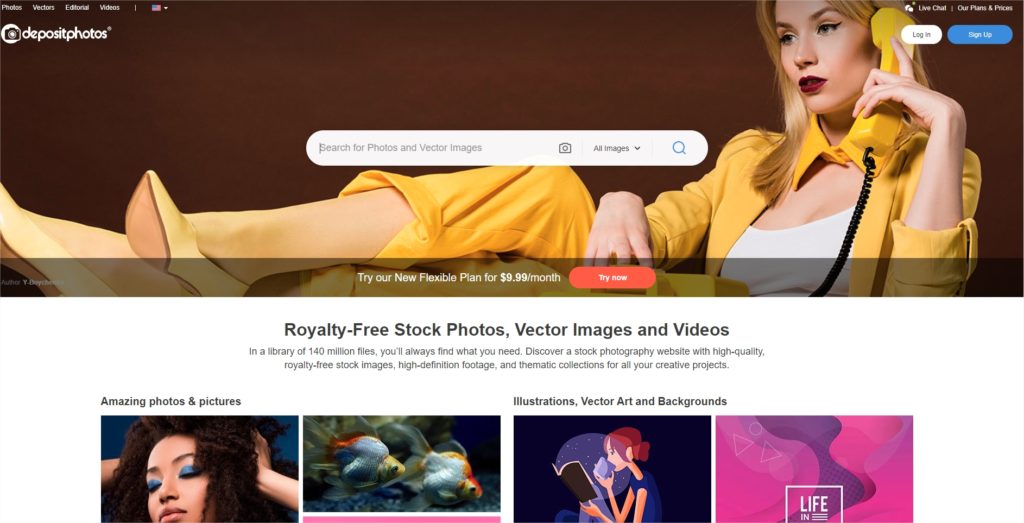 DepositPhotos might not be the most famous photo stock from our collection, but that's a 10-year-old beast gaining momentum at lightning speed and affordable to everyone. The library with 125 million files opens multiple photo universes in front of your eyes and the only thing left is to use your search skills to dig out photos, vectors, or visuals by orientation, gender, age, season, ethnicity, location, and other advanced parameters. And for those having stayed with the service for long, you can even search photos by contributor and get the best of what your favorite author has in his or her collection. Retail prices start from $49 only for 10 exquisite photos & vectors of any size.
#3 Shutterstock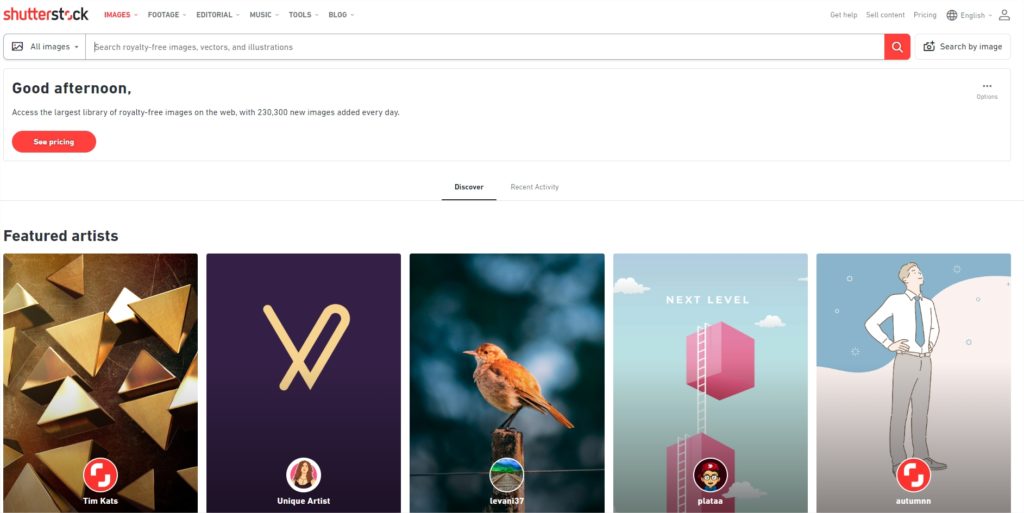 You must have heard of Shutterstock whether you are a designer or a plumber. The firstcomer in the stock photo subscription, the service employs over 220 million photos, illustrations, videos, and music tracks and adds dozens of thousands of images weekly. With fairly reasonable prices starting at $49 for a monthly 10-image plan, Shutterstock is a must-have on the radar of every aspiring designer, let alone seasoned gurus that really do not need any extra advice on using the renowned image library. Last but not least, Shutterstock provides a free 1-month trial, giving away 10 images on the house.
#4 Getty Images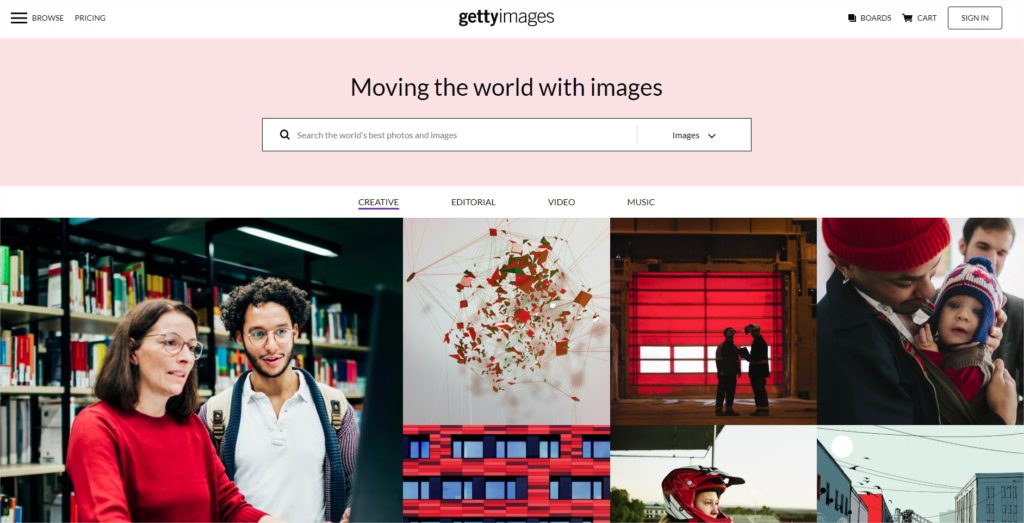 Getty Images is arguably the most famous stock photography agency, but it is very expensive. Even though it might be cheaper to hire a full-time photographer than buy a dozen images from Getty Images, I just couldn't help but include this stock into the top-list. Once in a lifetime, it may happen that you just can't find the photo that you need so badly and you are ready to pay literally any price. If that is the case, visit Getty Images to quench your thirst at a whopping $499 per exquisite, elegant, high-quality single image and no less breathtaking $175 for small yet still hand-picked & unique one. I know, it's devastating, but it is what it is.
#5 BigStock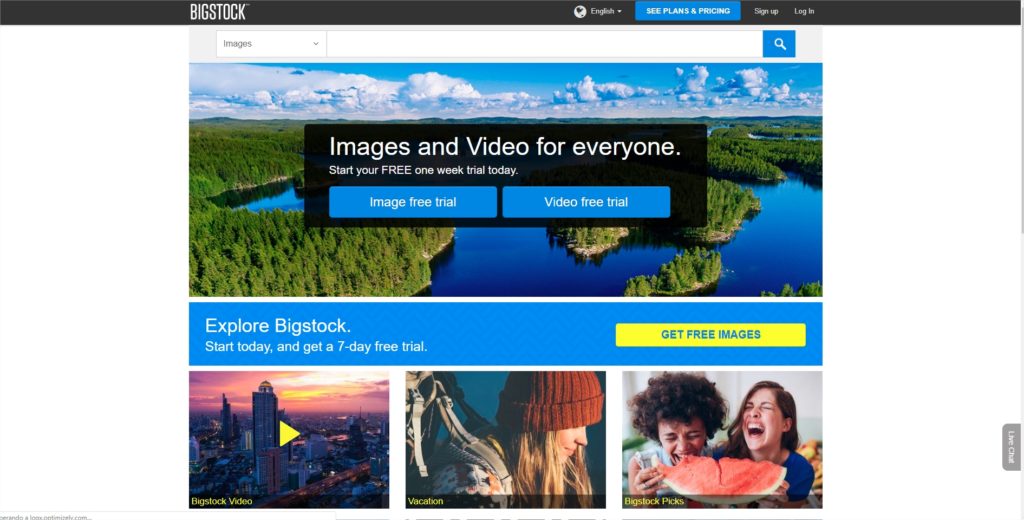 Be it food, vintage, technology, or spectacular winter photos, you can buy it all at a very reasonable price of 0.33$ per image at BigStock, a website with more than 70 million thematic photos conveniently split into categories. The only inconvenience you may encounter when skimming through the collection at BigStock is the image-enlarging feature that pops up the photo once you hover the mouse over it. If that really annoys you, think again of the beautiful image library that you would leave behind if you forsook BigStock…maybe this little hiccup is something that you can deal with.
#6 iStock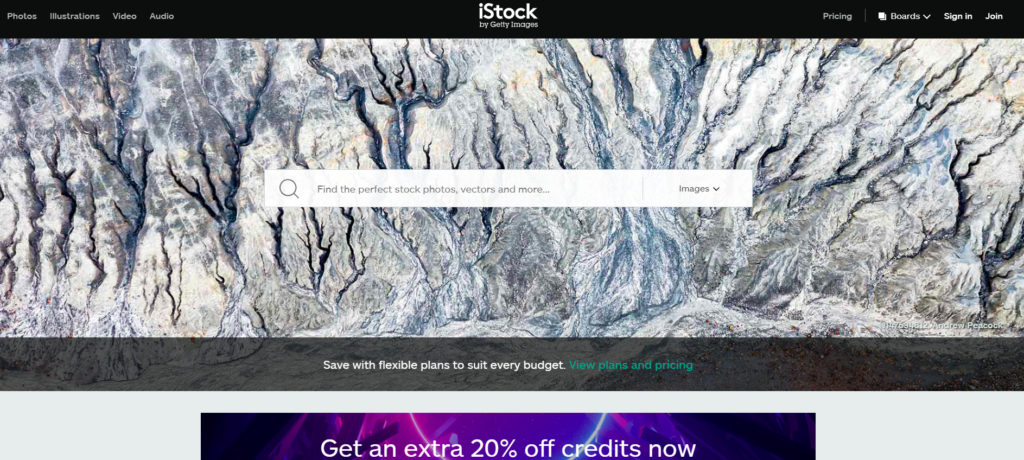 'Less searching. More finding.' That's the motto that iStock by Getty Images lives up to, and I have no reason to doubt that. Indeed, the website offers over 30 million royalty-free images, illustrations, and videos that every designer would love for their high quality and affordable price. Only $2.49 per image within the $24.90 monthly plan – quite a bargain, huh?
#7 VectorStock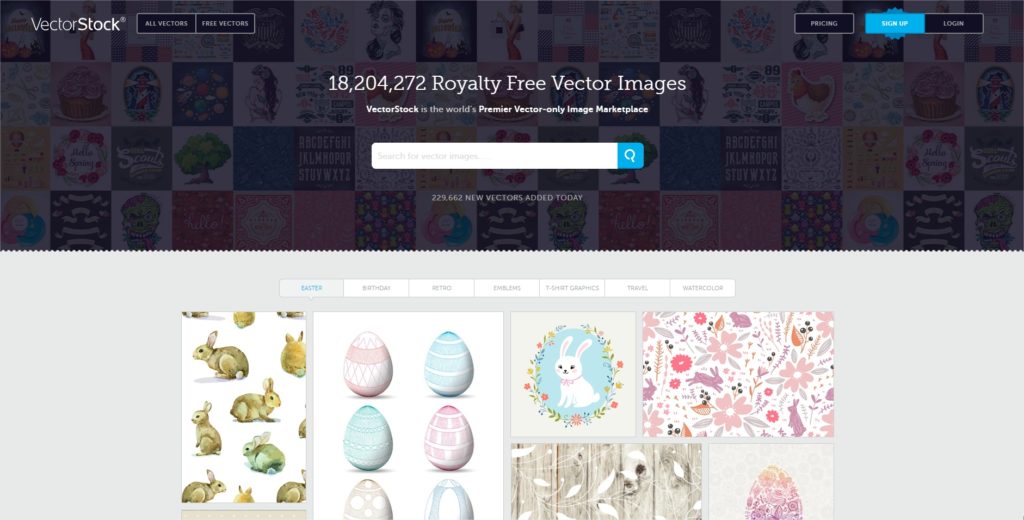 If you lack high-quality vector images for a print project or elsewhere, VectorStock might become your magic wand. Over 17 million categorized royalty-free vector images along with 336 000 totally free vectors have all the chance to make your day, especially if you are not too stingy to subscribe to a $49-worth-of-images monthly plan and get each picture for 82 cents only. Sound like a deal since retail prices for one-time visitors are quite inflated: $14.99 per image is a robbery on the background of what you get for a monthly subscription.
The Bottom Line
I don't say free photos are unworthy by default, but that is always the high demand for such images that makes them ubiquitous and therefore less attractive. After all, uniqueness is what you should crave, and as long as that holds true, don't neglect paid stocks as they may have something special for you. I do believe your designs are too valuable to be like everyone else's.