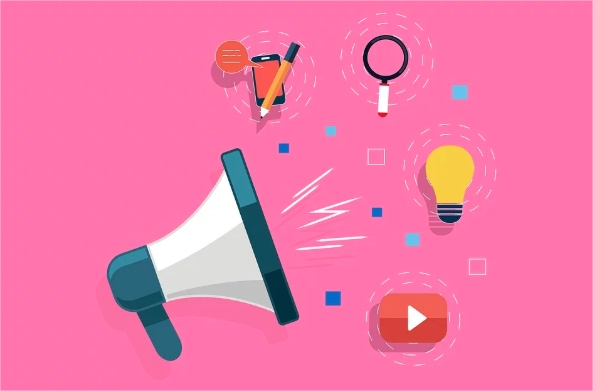 SMM-promotion is not only about hype, posting cute animals, selfies, contests, pranks, ordering cheap essay writing services for your posts, communicating with fans, and haters.
To get the growth of subscribers consistently, brand recognition, social traffic that will lead to an increase in conversion and income, you need to do statistics and analytics. You have to think about both creativity and numbers. Track how content, advertising, and other activities in social networks influence marketing and business metrics.
With the right tool, you will save time and be able to effectively manage social networks so that your social content strategy really kicks in. But how do you know which one is good?
It's even harder to choose if you've never used a social networking tool before. We offer you a list of five excellent management instruments for social media.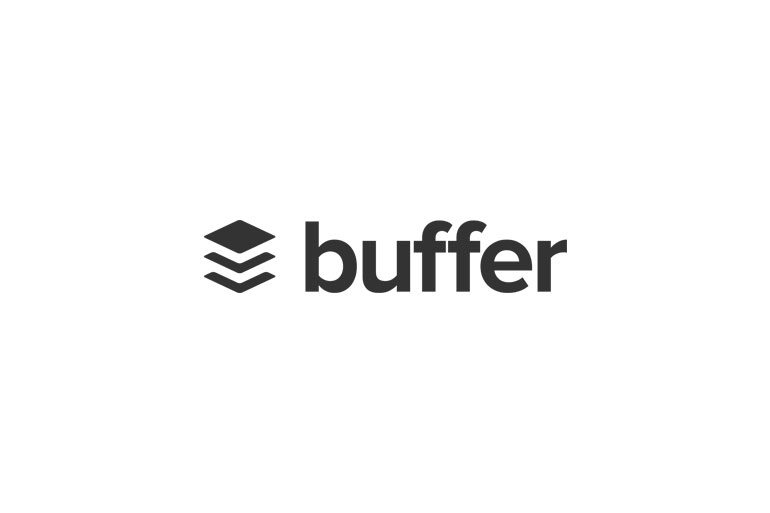 If you're looking for the best free social network tools, then you should include Buffer on your list. It offers many features in its free version and is incredibly easy to use.
Free Buffer subscription allows you to post on Twitter, Facebook, LinkedIn, and Instagram. But you'll have to upgrade if you want to post on Pinterest. You can work with different accounts on the same platform simultaneously. 
Buffer has an attractive, modern, one-page interface where you can upload text, images, and videos in just a few clicks. However, you will not be able to use the Instagram Image Gallery feature directly from the tool.
With the free version of Buffer, you will get basic analytics of your content. For more information about impressions, outreach, conversions, shares, and comments, you need to switch to a paid option.
Additional key features:
You are free to plan the publication of content as you wish (Buffer Publish);

Manage social media communication with your Buffer Reply command mailbox;

Evaluate the effectiveness of content using detailed analytics (Buffer Analyze, currently in beta)
If you want to have team features and more advanced analytics, you will need to purchase a professional Buffer plan at a reasonable price. Moreover, you will have a 14-day free trial to test the service. This app is perfect for bloggers and beginners.
Instead of searching for single mentions of the brand, this instrument analyzes the hashtags, keywords, and accounts you specify. You will get all the essential information — the best time to publish, analytics of views, likes, comments. This data can make your posting more effective. If you want to test Keyhole, there is a free period, but it lasts only for three days, so make sure to give it a try!
What will you get:
Statistics of posts: number per week, engagement per week (graph), best engagement, best engagement hashtags;

Hashtag Statistics: number of hashtag publications, number of accounts that have used a hashtag, best hashtag publications, most popular hashtag accounts, location, etc.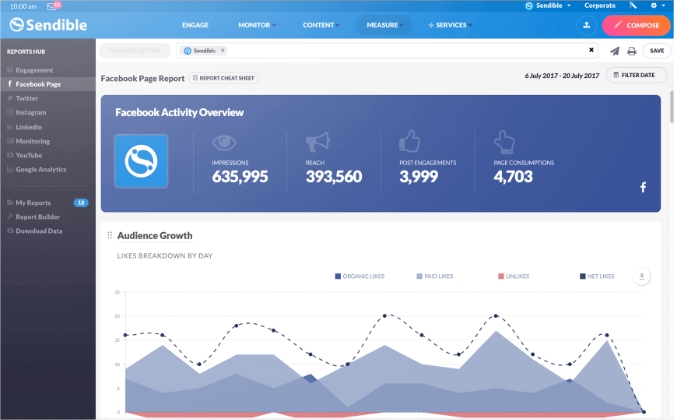 It is one of the best existing social media management tools offering features that everyone will enjoy. With Sendible, you can publish content on all social networks, including Twitter, Facebook, Instagram, LinkedIn, Pinterest, and YouTube.
This service makes it easy to schedule content for multiple platforms simultaneously and provides detailed information about the content you have already uploaded. If offers report templates that are incredibly convenient for agencies, you can have a customer-ready social media report in just a few clicks.
Additional key features
Centralized message management via a social media mailbox, allowing you to respond right away;

The ability to share your best social media content with on other social media platforms;

Team tasks and work processes to enhance collaboration and communication;

Content recommendations for getting more reposts and likes.
This instrument offers both low-cost monthly plans for individual entrepreneurs as well as small and large teams. Moreover, you will have a 30-day trial to get acquainted with Sendible.  
Another service that is considered to be one of the best social network tools for business that provides useful features for brands and companies. It allows you to post on Facebook, Twitter, Instagram, Pinterest, YouTube, and LinkedIn. You can connect the service to Google Analytics for additional insights.
With this tool, you can easily create and schedule content and change publishing times via calendar. Besides, it has a social media mailbox where you can see all the income messages, dialogs, mentions, and more, conveniently located in one place. You can respond to them directly from the platform, making it easy for you to manage all the accounts on various platforms. 
With eClincher, you can analyze the effectiveness of your social media posts in real-time, so you can instantly alter the strategy. The tool also makes it easy to create and customize reports.
Additional key features:
Monitoring hashtags and keywords to help you post and respond to relevant content;

Content creation through offered news feeds;

Content approval for teams;

A multimedia library for a team;

Integration with Giphy, Pocket, Sniply, etc. 
eClincher provides an affordable plan for a month, and you can also test it within 14 free days.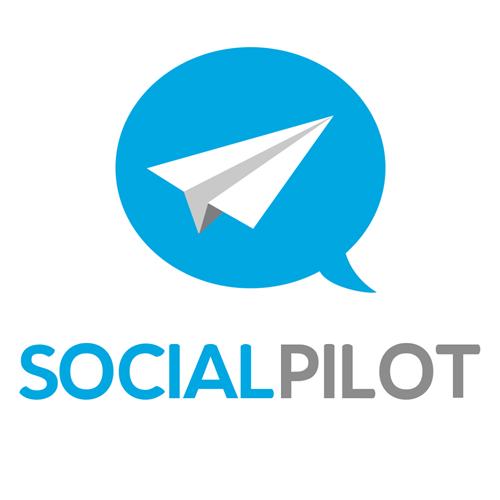 This tool is perfect for small teams and offers many features for collaboration. It is compatible with many platforms, allowing you to manage your social networks from a single application easily.
SocialPilot works with Twitter, Facebook, LinkedIn, Instagram, Pinterest, Tumblr, and Google My Business. You can manage up to 10 social network accounts with one tool using the cheapest rate. 
It has a great feature that allows you to analyze all your content on social networks, even if you have not used SocialPilot to publish it. Thus, you can analyze the content you post, get information about your audience, and influencers, which will help you improve your strategy.
Planning your content is easy, and once you're done with it, you can manage it through a drag and drop social media calendar. SocialPilot also includes a social networking mailbox to manage your messages in one place. 
Additional key features:
Plan the upload of your content in advance with the ability to schedule up to one thousand posts;

Use the keyword search to get ideas for social media content;

Filter your content by account or group on social networks;

Manage your team content with the system of approval.